About
The Wool Company is a family-owned business that started on a farm in Cornwall with a small range of mohair socks for children and adults. After realizing the shortage of high-quality natural wool and luxury natural fiber products in the UK market, they began manufacturing wool duvets, blankets, and pashminas.
scandiweb's Service Cloud had been supporting The Wool Company online store for a while when the team decided to plan out and tackle various SEO issues.
Challenge
We set out to increase The Wool Company online store's rankings and attain new keywords at the peak of the pandemic, during lockdowns in most countries. For luxury item sellers, this period was especially challenging.
Approach
Technical SEO
In the scope of technical SEO, scandiweb SEO team proceeded with the following improvements:
Fixed internal linking and all cases of links that are either returning a 404 status code or are affected by redirect chains
Fixed meta attributes for PDPs 
Updated alt tags for images.
On-page SEO
First, we identified pages and products that were either losing traffic or had a great opportunity to reach higher positions in search results. Then, we performed keyword research for each of these PLPs and optimized page content based on the research.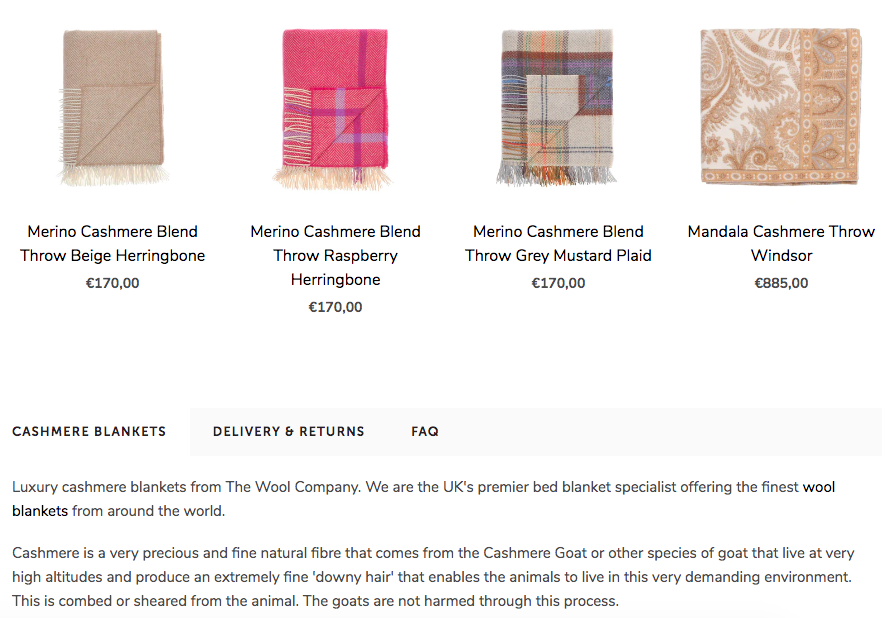 Off-page SEO
As for the off-page SEO efforts, we performed a backlink audit and:
Fixed broken links
Disavowed spammy links
Created backlinks in NAP pages.
Results
Our SEO efforts proved to be successful, especially if we look at the performance of the updated content. The Wool Company online store's organic performance grew after the lockdown, which cannot be said for other similar companies.
For PLPs, the organic clicks and impressions have doubled since the optimized content upload, as well as the rankings for target keywords on these pages. For example, the Merino Wool Blankets product page was ranking for 71 keywords, 7 of which were in the top 3 positions on Google before optimization. 2 months after the content update, this page had 14 new keywords ranking in the top 3 positions and 24 new keywords ranking on the first page of search results in positions 4-10. 

Additionally, the domain ranking for The Wool Company website has been optimized from 18 to DR 22 by building backlinks in local directories.
KPI improvements YOY
+66% organic sessions
+56% revenue from organic traffic
Need a new SEO strategy to improve the search rankings of your store? Our SEO team is up for any challenge! Browse the SEO services we offer or write us a message, and we'll get back to you within 48h.