What is one piece of information your Google Analytics reports can't do without? It's where your traffic is coming from. You have to be able to look at the data and tie every visitor back to the traffic source. That could be a referrer, a paid search or email campaign, or a combination of several. Whatever the case may be, this data displays high-converting sources that drive the most traffic, which tells you where to focus your marketing efforts.
A great helper in that is UTM tagging.
UTM (Urchin Tracking Module) tags are snippets of text attached to the end of any URL. They help to track website traffic and measure the success of different marketing campaigns by pinpointing specific sources. Adding UTM parameters is a simple and effective way to track user activity on your website. However, there is a technique to master for the UTM tags to be configured correctly.
Correct use of UTM tags can provide valuable insights into your traffic patterns that will help you improve your campaigns and refine your digital marketing strategy. Broken UTM tags, on the other hand, will only cause broken or recurrent landing pages and unique IDs to appear and make data much harder to analyze.
Standard UTM parameters
UTM parameters or the so-called tags will usually include a traffic source, a medium, and a campaign name.
Campaign source
The source parameter shows which search engine, social network, or other specific source did the traffic come from. For example, a source facebook allows you to count how many users during the campaign came from Facebook.
Example: utm_source=facebook
Campaign medium
The medium parameter allows you to track which channel type, i.e., the general destination drove the traffic to your website. It can include emails, banners, social media, CPC, referral, and others.
Example: utm_medium=social
Campaign name
To keep track of traffic, you should give every campaign a unique name. Whether it is a contest, a sale, a special deal, an ad for a specific product, the campaign parameter helps you to summarize all the data regarding the campaign in one group. See the example below where the UTM code would allow you to get the information about a 20% discount campaign to analyze its effectiveness.
Example: utm_campaign=20percentpromocode
Here's how the full UTM tag appears at the end of your URL:
https://example.com/?utm_source=facebook&utm_medium=social&utm_campaign=20percentpromocode
UTM tagging tools
For convenience, use the following tool to create campaigns with GA templates: GA Campaign URL Builder. In the form that appears, fill in the URL, Campaign, Source, and Medium fields.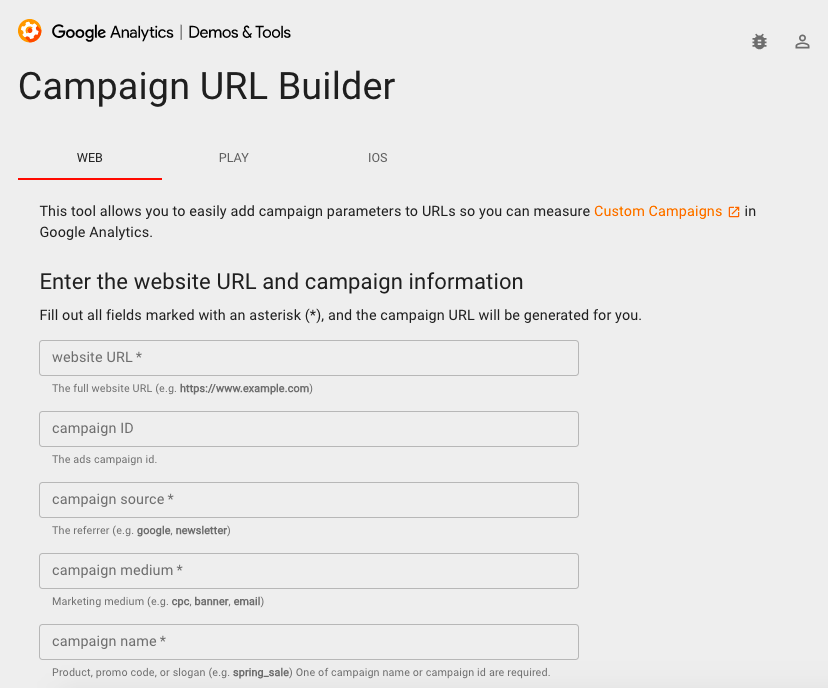 After building the UTM tag, copy the final URL and implement it into the campaign, whether it's a banner, email, PPC, or other kinds of sources, and monitor and easily analyze the traffic in your Analytics reports after.
Need assistance in setting up proper UTM tags? Could you use help in analyzing Google Analytics data? Send us an email at [email protected] or schedule a free consultation with our Analytics experts.