The European sportswear market is on an upward trajectory, fueled by the growing popularity of eCommerce and direct-to-consumer sales. As sportswear companies continue to innovate and adapt to the changing landscape, they are well-positioned to capitalize on the increasing demand for sportswear products in the region. Join us as we discuss the key features of and trends in the European sportswear market.
Industry overview
The European sportswear market is experiencing steady growth and presents lucrative opportunities for companies in the industry. The market was valued at €71 billion in 2022 and is expected to reach €83 billion by 2026, with an impressive compound annual growth rate (CAGR) of 6.7% from 2022 to 2026.
The Impact of eCommerce on the European sportswear market
eCommerce has played a pivotal role in transforming the sportswear market in Europe. Sportswear companies are leveraging online platforms to enhance their product management, expand their customer base, and boost sales. Many brands are adopting direct-to-consumer (D2C) sales strategies, which have proven to be more resilient during challenging times, such as the pandemic.
By embracing eCommerce, sportswear brands have harnessed the power of hyper-personalization, loyalty programs, and affiliate marketing to attract and retain customers. The utilization of shoppable content and influencer marketing has also been instrumental in engaging consumers and driving sales.
Challenges faced by the European sportswear market
Despite its overall positive performance, the European Sportswear Retail industry has encountered several challenges in recent times. These include intensified competition within the market, the looming threat of a recession in Europe, rising interest rates, and disruptions in the supply chain.
It is crucial for sportswear companies to address the challenges and uncertainties posed by the competitive environment, economic conditions, and supply chain disruptions to ensure sustained growth and success in the market.
Online consumer behavior in Europe
Online consumer behavior in Europe's sports retail industry indicates that Western European markets, including Germany, France, Italy, Spain, the United Kingdom, and the Netherlands, dominate the continent. However, the analysis shows that less than 10% of European sports consumers actively make online purchases for sports goods.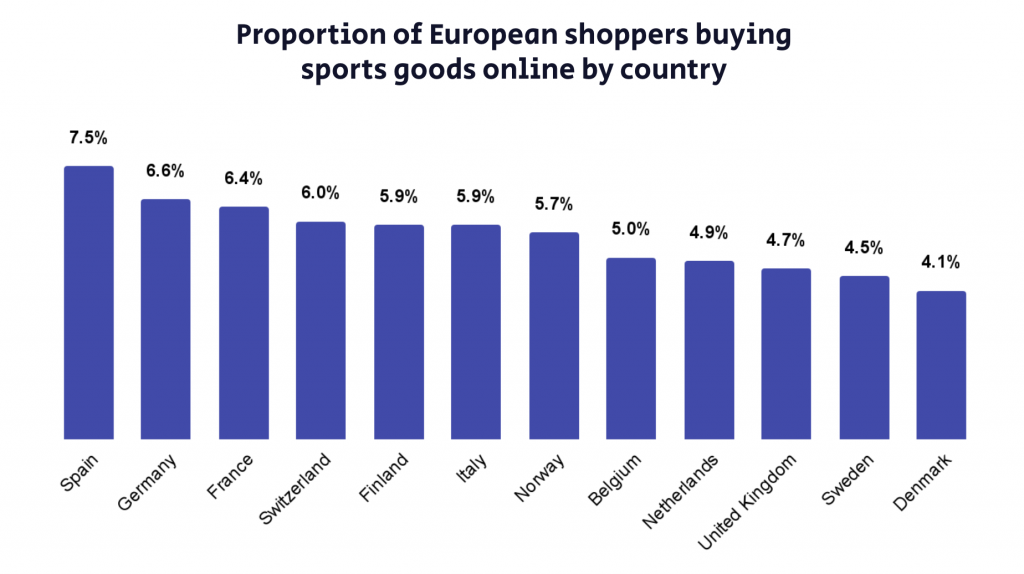 The primary reason behind the low level of online shopping for sporting goods is the value European consumers place on the physical experience of browsing and selecting products in brick-and-mortar stores. This preference for in-store shopping is particularly strong in countries like the Netherlands, where the population is highly sporty, leading to relatively low sports eCommerce penetration. In such sporty countries, consumers often opt for more expensive sporting goods and prioritize getting the right fit, making offline stores a preferred choice.
Among the top 50 sports retailers in Europe, Germany and Denmark have the largest concentration, accounting for 14% and 12% of the market, respectively, as reported by RetailX. This indicates the significance of these markets in the sports retail landscape across the continent.
Popular sports and leagues
Interest in sports viewing has surged globally since the COVID-19 pandemic, with significant growth in the UK, France, Germany, and Italy. European football remains highly popular, with top leagues, clubs, and players attracting a devoted fanbase. The FIFA World Cup 2022 also achieved record-breaking viewership worldwide.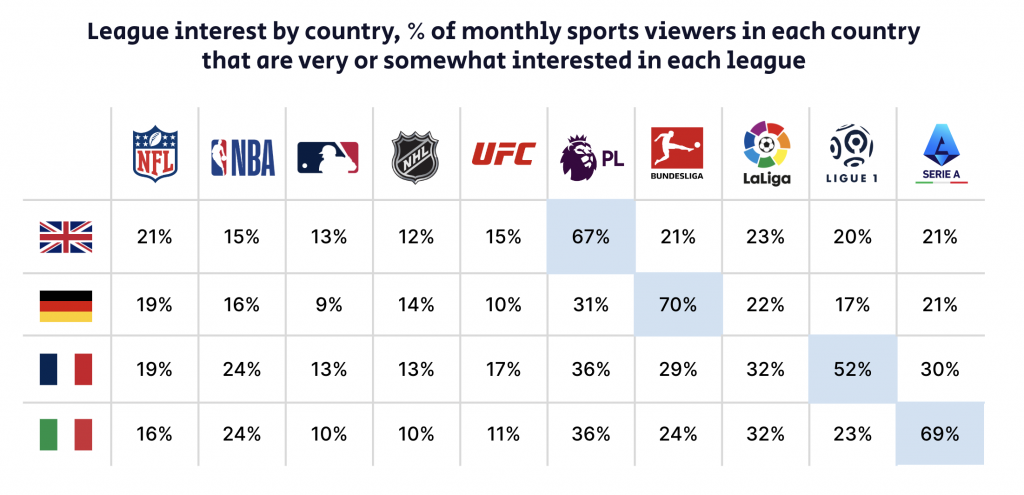 Several key trends are impacting sports properties and their partners/investors:
Changing fandom: Fans now seek direct engagement with sports properties and prefer shorter-form, "snackable" content.
Growth in women's sports: The women's game is experiencing rapid growth, establishing itself as a distinct and proud product.
Evolving content consumption: Augmented Reality (AR) and Virtual Reality (VR) technologies are captivating fans, offering exciting viewing experiences and new ways to interact with favorite leagues and teams.
Emerging digital technologies: The adoption of cryptocurrency and NFTs (Non-Fungible Tokens) in sports is on the rise at the league, team, and athlete levels, fostering deeper fan engagement.
These trends are shaping the landscape of popular sports and leagues, as well as redefining the relationship between sports entities and their enthusiastic audiences.
Key trends in sports retail
The sports retail industry is a constantly evolving landscape, with brands embracing innovative strategies to stay ahead in the game. As consumers' preferences and expectations continue to change, successful sports brands are quick to identify and leverage key trends that can make all the difference. Let's explore four major trends that are shaping the sports retail sector.
Shifting to D2C sales
A decade ago, wholesale distribution dominated the sports retail market. However, the rise of eCommerce and shifting consumer behavior have catalyzed a significant shift towards D2C (direct-to-consumer) sales models. Brands like Nike have been at the forefront of this transformation, with D2C sales accounting for 42% of their revenue in 2022, up from 17% in 2012. By 2025, Nike aims to take this figure to an ambitious 60%.
To succeed with a D2C approach, brands must intimately understand their customers. Successful companies are investing in integrated digital ecosystems that collect valuable customer data and insights. For instance, Under Armour's "Innovation Idea House" engages directly with consumers, allowing them to share their ideas on products and innovations. This strategy not only fosters a deeper connection with the brand but also helps in tailoring offerings to meet customer demands effectively.
Collaborations with high-end fashion brands
To broaden their appeal and reach new audiences, sports brands are forming creative partnerships with high-end fashion companies. These collaborations combine technical expertise with design and craftsmanship, resulting in unique and sought-after products. For example, partnerships like On and Loewe, Arc'teryx and Jil Sander, and The North Face and Gucci have garnered significant attention.
Data from the online fashion platform Lyst reveals that the announcement of the On with Loewe partnership led to a remarkable 41% increase in online searches. Such collaborations not only boost brand visibility but also open up new customer bases for both partners.
The power of community
Building strong communities around sports brands has become a game-changer in the digital age. Companies are investing in various digital marketing strategies, including social media, affiliates, search, apps, and media networks, to foster connections and loyalty. By sharing compelling brand stories, promoting hero products, and personalizing marketing campaigns, sports brands are successfully engaging with their audiences beyond mere transactions.
Leading sports-focused digital communities, such as Strava, Freeletics, and Relive, are playing a pivotal role in building meaningful customer relationships. Brands like Nike, Lululemon, and Gymshark are reducing traditional media spending in favor of nurturing their communities. Such digital communities also offer the unique advantage of enabling individuals to be part of a group while participating in solitary sports, enhancing the overall experience.
From celebrity endorsement to influencer marketing
Influencer marketing has become a dominant force in shaping brand awareness and loyalty, especially among Gen Z consumers. Leveraging social media, sports brands are reaching new audiences through athlete influencers and other prominent figures. McKinsey's research indicates that social media influences Gen Z and Millennials up to 20% more than the general population.
Top brands like Nike and Adidas have secured partnerships with renowned athletes, such as Cristiano Ronaldo and individual influencers like Adriene Mishler. Brands like Alo and Gymshark collaborate with influencers like LICK and Nikki Blackketter, supported by pop-up stores, world tours, and fitness events. The success of these influencer-driven campaigns has significantly contributed to their revenue growth and market influence.
Dive deeper into the key trends shaping the sports retail industry by downloading our free industry report on the European Sportswear market.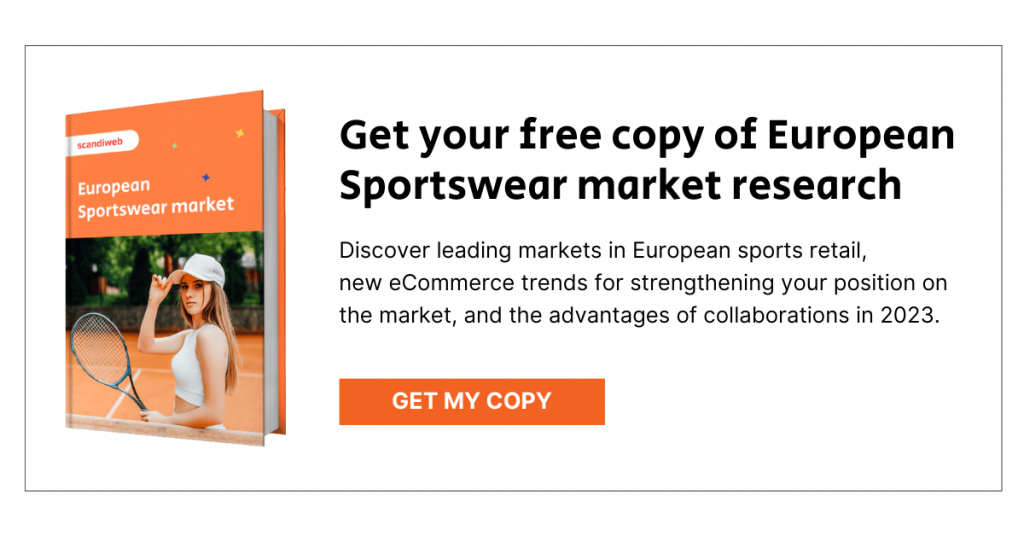 Wrapping up
The sports retail industry is a dynamic and fast-paced arena where brands must continually adapt to changing trends and consumer expectations. By embracing D2C models, forging unique collaborations, nurturing strong communities, and harnessing the power of influencer marketing, sports retailers can remain at the forefront of this vibrant market, catering to the diverse needs of active consumers worldwide.
By staying agile and customer-focused, European sportswear brands can continue to thrive in this dynamic and promising market. As the industry evolves, staying ahead of trends and embracing digital transformation will be key to maintaining a competitive edge and driving further growth in the years to come.
Explore our extensive collection of eCommerce industry reports covering the latest trends and strategies across various industries. All reports are free to download!