The Fashion eCommerce sector is experiencing rapid growth, with revenue projections reaching $1370 billion by 2025. This dynamic industry is shaped by various factors, including digital innovation, globalization, changing consumer habits, and the impact of the COVID-19 pandemic. Join us as we delve into the current state of the industry, challenges, and key trends driving the Fashion eCommerce industry forward.
Industry overview
Valued at $990 billion in 2022, the Asian market led the Fashion eCommerce industry in terms of revenue generation. Overall, the industry is projected to reach $1370 billion by 2026, reflecting a compound annual growth rate (CAGR) of 11.4% during the period of 2022-2025.
eCommerce has significantly transformed the fashion industry, driven by digital innovation, increased globalization, and shifts in consumer spending patterns. Various factors contribute to this transformation, including the rise of mobile eCommerce, the adoption of a multichannel approach, the utilization of engaging shoppable content and effective email marketing strategies, as well as the integration of augmented and virtual reality, and visual and voice search technologies. These advancements have propelled the Fashion eCommerce industry forward, enhancing the overall shopping experience for consumers.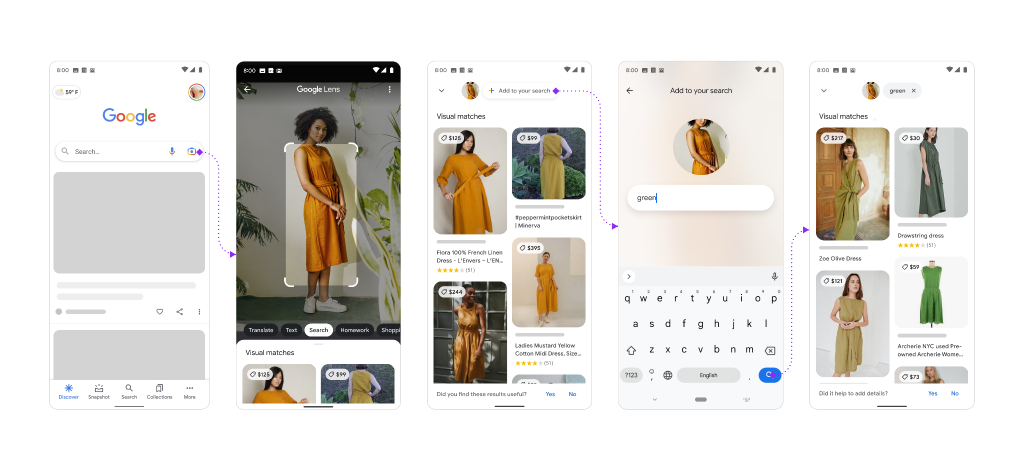 However, the Fashion eCommerce industry also faces a set of challenges. The COVID-19 pandemic necessitated a reevaluation of marketing, fulfillment, distribution, and sales strategies for fashion brands. The changing consumer behaviors, logistical obstacles, and temporary closures of physical stores posed significant challenges. In 2022, key challenges impeding the industry's growth included ongoing supply disruptions, intensified competition, and the need to provide free and fast shipping services.
Furthermore, cyber-attacks targeting eCommerce platforms, the availability of counterfeit fashion products, and the high rate of order returns present additional obstacles for fashion eCommerce companies.
Key industry trends
In this section, we'll explore some of the key industry trends that are shaping the Fashion eCommerce landscape and driving its growth and innovation.
Hyper-personalization
Fashion's hyper-personalization trend is on the rise, using customer data to deliver tailored experiences. Zalando, for instance, offers personalized interfaces and is exploring 3D body scanning for better size selection and fit, catering to individual preferences and needs.
Mobile eCommerce
SaleCycle data reveals that 69% of fashion purchases occur via mobile devices, while only 30% happen on desktop computers. This highlights the fashion industry's need to adapt to the preferences of digitally reliant consumers. Brands are increasingly investing in mobile eCommerce development, leveraging mobile apps to enhance brand image, improve accessibility, track consumer behavior, send push notifications, and boost conversion rates.
Omnichannel approach
Omnichannel strategies create a seamless customer experience by integrating online and offline channels. Through a unified view of customer data, brands can engage customers across three points of purchase: their eCommerce website, owned retail locations, and through wholesale partnerships or marketplaces. This approach ensures consistency and convenience, enhancing customer satisfaction and driving sales.
AR/VR shopping
Fashion giants like Converse, Zara, Ralph Lauren, Louis Vuitton, H&M, Burberry, Chanel, and GUCCI are embracing AR/VR technologies to revolutionize the way they sell clothes, shoes, and accessories. These technologies offer various applications, including in-store navigation, interactive displays, virtual try-on, fitting rooms, tailors, and makeovers. As costs decrease and immersion increases, AR/VR is transforming the fashion industry.
Fashion in metaverse
According to a survey by Profitwell, 46% of online fashion shoppers are willing to shop in the metaverse, mainly comprising Gen Z and Millennials. Luxury brands like Gucci, Louis Vuitton, Nike, and Burberry have found success in the metaverse. Digital fashion startups like Tribute, DressX, and Replicant offer virtual-only clothing. The advantages of entering the metaverse market include higher margins, secondary market profits, innovation, creativity, and the elimination of intermediaries. In 2022, the first digital fashion week took place in Decentraland, featuring over 60 brands and 500 looks.
If you're interested in delving deeper into the latest trends and statistics in the Fashion eCommerce industry, we highly recommend downloading the full research report.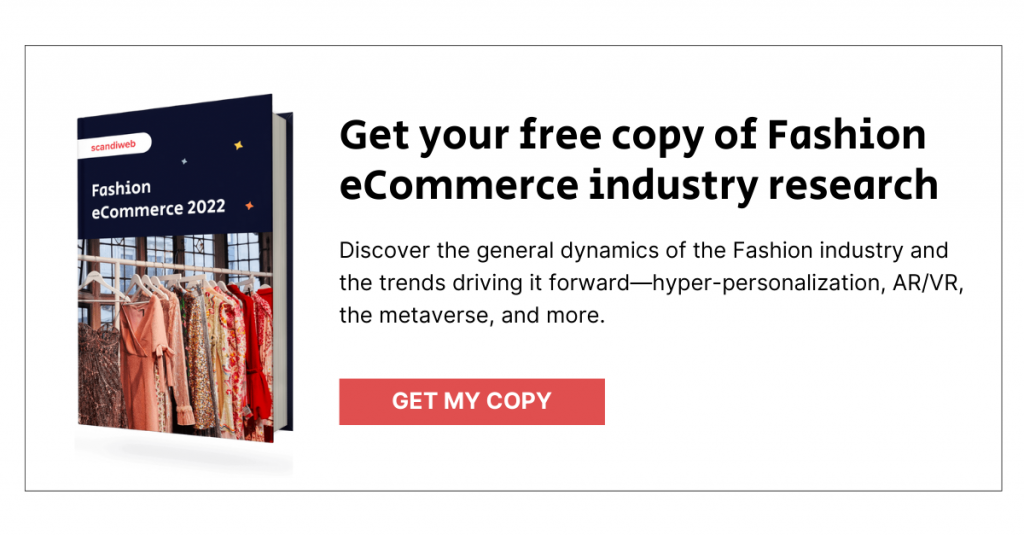 This comprehensive report provides in-depth insights into market projections, consumer behaviors, emerging technologies, and the impact of recent events on the industry.
By accessing the complete research, you'll gain a comprehensive understanding of the industry's current landscape and be equipped with valuable knowledge to make informed business decisions. Don't miss out on this opportunity to stay ahead of the curve and unlock the full potential of the Fashion eCommerce industry.
Wrapping up
The Fashion eCommerce industry continues to expand at a remarkable pace, driven by factors such as digital innovation, globalization, and evolving consumer preferences. However, industry players must address the challenges posed by the ongoing pandemic, supply chain disruptions, competition, cybersecurity, counterfeit products, and order returns. By navigating these challenges effectively, the Fashion eCommerce industry can capitalize on its growth potential and provide enhanced shopping experiences for customers.
Are you seeking valuable market insights and predictions to stay ahead of the competition? Explore our extensive collection of eCommerce industry reports covering the latest trends and strategies across various industries. All reports are free to download!