Every company needs a tradition.
Something to look forward to, to prepare for, to wait for every year, especially if the team is large (and counting) and doesn't get the chance to get together daily. Something to introduce newcomers to, and appreciate seniors at the same time, to bring everybody together in not just any team-building festivities, but in something that continuously shapes the whole company culture and leaves a mark for its legacy.
ScandiFest, the annual community-driven summer gathering of epic proportions which has fully formed over the recent years, is the epitome of Scandiweb's long-lasting 'work hard-party harder' mindset and by now – our cherished company tradition.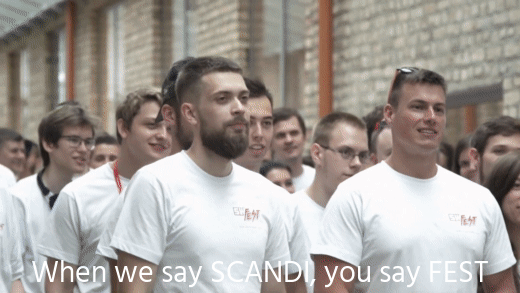 Let's take you back to where it all began.
2003 – 2013
In the far 2003, when Scandiweb was just forming as a company, we used to organize small-scale travel getaways together. Year after year we organized weekend breaks in Germany, Sweden, or longer trips, with one of the most memorable ones to St.Petersburg, Russia. We also traveled around Latvia, exploring what activities the homeland offers.
With none of these trips though did we take it further than casual team-building events outside the office. Yet.
2014
The summer of 2014 with the whole Scandiweb team gathering at a place called Rakari marks the first large company event which set the benchmark for all the future summer events we now know and love as ScandiFests.
You can see Glebs, one of the co-CEOs, lying there on the grass, and Valerijs, the founder of SW Jekabpils office, taking a turn towards Latgale on a jet ski. It was still a rather small camp on the beach, but the party felt massive. Take a look at ScandiFest 2014 in more pictures!
2015, 2016
ScandiFests that followed were a quintessence of good karma earned by the team delivering great websites to our customers. There were fireworks, amazement, thrill, surprises, with no limits! I remember I used to be silent for a few days after these parties…
ScandiFest 2016 was a rave with the local rap artists and other musicians after an eventful day. See the gallery!
2017
In 2017, we came to an idea to offer two types of parties for two types of people, in other words, Party Hard and Chill&Relax.
Usually, ScandiFest starts right after work on a Friday and lasts till midday on Sunday. The choice meant either taking a bus to a remote calm place to have a nice dinner with colleagues and enjoy a good night's sleep or jumping on another bus which takes you to location X. In Party Hard, there are blindfolds involved, the phones are taken away, and no one knows what is about to happen. Eventually, after the craziness, the same bus takes this group to meet the other and relax before day 2 activities.
This is how day 1 went down:
And the festival part that followed:
2018
The split-party concept saw another rendition next year, here's a highlights reel of ScandiFest 2018 (we've got it in ENG, LV & RU):
Would you dare?
2019
With the next ScandiFest approaching, organizers began figuring out the new theme. It just so happened we had recently taken the personal journey of the Burning Man festival, which only meant one thing –ScandiFest'19 was going to be crowdsourced – us ourselves being that crowd.
In the middle of nowhere, 150 km from civilization, with complete freedom of expression. Read the full story of the first-ever crowd-sourced ScandiFest and check it out in more pictures!
2020
And the year 2020… well, something went a bit… out of hands, to say the least. With that, the event format changed completely and radically, although some people called it the best ScandiFest ever. What took place? You probably wouldn't believe it if there wasn't video proof:
Browse the two albums: before and after the revolution we were all part of.
What to expect this year?
First and foremost, no challenges, no stress – we got enough of that during lockdowns. ScandiFest 2021 is going to be a Decompression Party with a focus on friendly activities to get to know colleagues we do not know personally yet since the team has gotten bigger, spend time together, forget about the problems the world is facing right now, refresh and recharge.
See you next weekend, next year, and the next one, and the next.