Episode 5: Once more, it's the developers!
Learn how a music course led to a programming career. Find out who to turn to, if you're looking for some homemade sweets & cakes. Discover who overcame their fear of heights. Time to meet 5 more awesome developers!
Scandiweb boasts a large and continuously growing team of brilliant minds. In this, the fifth instalment of our team stories, Scandiweb would like to introduce you to 5 more developers out of our team of 160+. They shared their stories, their skills, their experience, their passions and the advice they would give to their younger selves.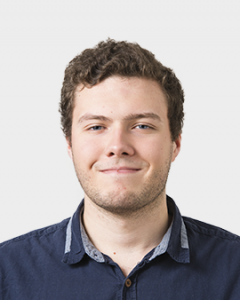 "Buy bitcoin"
Dairis Rozenfelds
When Dairis was very young, he made a valiant attempt at being his own barber, resulting in such a mess, he had to shave his head entirely. Now he's a software developer, developing Magento 2 software solutions. Always eager to learn Dairis absorbs knowledge like a sponge. Emphasizing teamplay and communication as imperative skills for success at Scandiweb, Dairis is happy to be in a dynamic environment, constantly working with the latest technologies.
Always on the move, Dairis enjoys going to the gym or going for a run. Having gone from skinny to fat, to fit, Dairis is proud of the control he has established over his body through sheer discipline and hard work. He's also a great cook — a useful skill for those with a healthy lifestyle.
Dairis appreciates the open atmosphere and flexible hours at Scandiweb. A frequent attendee of work parties and team-bonding events, Dairis has made lasting relationships with his colleagues.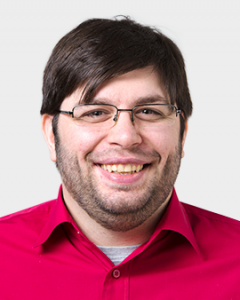 "Join Scandiweb earlier — would have more experience by now"
Yuri Egorov
Yuri used to be convinced beyond any doubt that Santa Claus exists. Now he's a systems administrator, doing all kinds of infrastructure tasks, currently developing a docker environment for upcoming projects. When prompted for his most useful skill, Yuri answers that it's the ability to explain server things to developers and project managers in an understandable way. Yuri frequently hosts workshops and meetings to get everybody on the same page and has perfected his communication and instruction skills by doing so.
During his free time, Yuri follows all things IT, especially the latest hardware developments, and loves to explore and contribute to GitHub. When not at his computer, Yuri is either playing tabletop RPGs, such as Starfinder, or baking some cakes and sweets!
Yuri finds inspiration in his colleagues — people are striving to achieve new heights every day, pushing the limits, and inventing and adopting new technologies!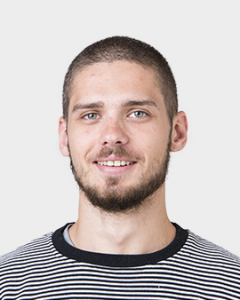 "Keep learning and never give up on your dreams"
Emils Brass
As a child, Emils held a terrifying belief that spiders could fly and shoot venom. Now he's a developer at Scandiweb, programming Magento 2 stores. Emils' diverse programming skill-set, developed through studying and broad practical experience, landed him an invitation to join the team. An opportunity to learn new things, meet new people and improve himself was what drove him to Scandiweb, and he's done just that, referencing his teammates, the parties, and interesting projects as the biggest advantages of his work.
Binging TV shows, following sports, playing computer games, hiking, walking (he once walked 100km in 30 hours) — Emils has a very broad range of interests and he's up for anything, as long as it's in good company, in which he usually is.
Being a communicable guy, Emils makes friends with ease and is a joy to spend time with both inside and outside work.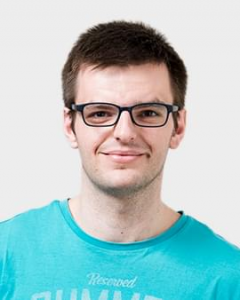 "Get "real" experience, before you start freelancing"
Kevin Le Goff
Kevin was born and grew up in Auray, France. As a child, he would believe that when you would open a cereal box, the cartoon character would pop out like in the ads. Now he's an Android and Shopify developer at Scandiweb, currently working on the PINS android application. Kevin holds a Masters degree in Computer Science for Multimedia and Network. Kevin is always learning and a useful byproduct of that is developing the skill to learn quickly — something that he highlights as one of his most useful assets.
Active by nature, Kevin is often out running and is able to comfortably complete half-a-marathon. Previously afraid of heights, Kevin managed to overcome that fear, landing him a fun summer job at a treetop obstacle course. When he's not doing something athletic, Kevin absolutely loves to mellow out and is a self-proclaimed expert of relaxation.
Kevin enjoys the freedom at Scandiweb — as long as you are able to deliver, you can do pretty much anything you like!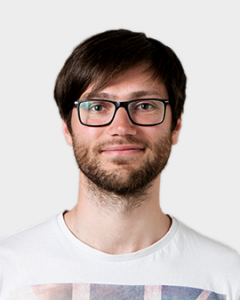 "Be humble"
Rihards Ozols
A Riga man, born and bred, Rihards' first programming experience was during an Algorithmic Composition course during his music technology BA studies. Now he's a JS developer working on the FluzFluz project. With a fervent passion for what he does, Rihards will dive head-first into any challenge and resurface with a solution and welcome every opportunity for professional self-improvement. Managing his time with an iron fist, Rihards is always highly organized — a useful habit for work at Scandiweb.
Rihards takes this philosophy home and applies it to his personal life as well. Leading an active, disciplined and open-minded lifestyle has produced tangible results for Rihards in terms of both physical and mental well-being and capacity. Rihards has participated in a triathlon, played concerts as a guitarist and as a drummer, travelled all over the world, programmed numerous personal projects — if you want all the juicy details, you'll have to ask him yourself!
When it comes to Scandiweb, Rihards' favorite thing is that the community reflects his own passion and love for what they're doing.
Don't miss next week's stories! Follow Scandiweb on medium, facebook, and twitter!