Episode 6: Meet the Digital Marketers
Did you know that on average over 75% of people who begin reading these stories, read them through to the end?
This week you'll meet 5 Digital Marketers, experts at selling, optimizing, raising money and more — their stories are as captivating as their sales pitch.
Scandiweb boasts a large and continuously growing team of brilliant minds. In this, the sixth instalment of our team stories, Scandiweb would like to introduce you to 5 amazing members of our Digital Marketing team. They shared their stories, their skills, their experience, their passions and the advice they would give to their younger selves.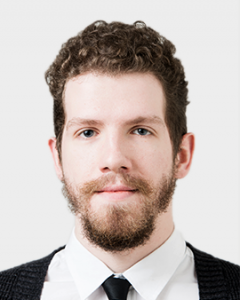 "Study something more practical and start hustling early"
Arturs Petersons
Arturs, who was born in Riga and grew up in Olaine, used to believe that cotton candy was made from actual cotton, and was certain that adding 1 and 1, you'd get 11. Now he's a marketing specialist, working on the crypto project "Publica". Arturs earned a degree in Culture Management, specialising in advertising and PR, which, along with his immersion with the English language, has helped him excel at the most time-consuming aspects of his job — copywriting, digital and content marketing.
Music is a big part of Arturs' life — he's a skilled guitarist and singer. Indie folk speaks to his soul, but you'll often find him enjoying tunes from different ends of the musical spectrum. Another significant talent of his used to be drinking, but he drank it away.
Arturs is an open, supportive and friendly colleague, who fits right in with the Scandiweb community, which mirrors his own outgoing personality.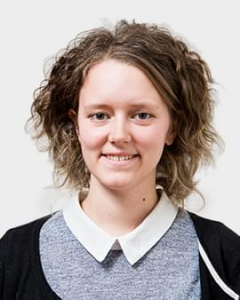 "The road has been rich with experiences — don't change a thing!"
Jana Bihanova
At a very young age, Jana had a fear of getting goosebumps, thinking that it's something terrifying and painful. Now she occupies the digital marketer position at Scandiweb and her day consists of market research and data analysis. Jana has a natural ability, perfected with time and experience, for orientating herself in large data systems. Also, with a keen eye for spotting problems, supplemented by knowledge gained during her MA in Marketing and experience as a sales project manager, Jana has all the soft and hard skills required for shining in her position and she does just that!
Intricate system and data analysis, oriented towards holistic resolution, or, in other words, Sudoku and Japanese crosswords, are a treasured passtime of Jana's. In addition, Jana is an expert 'Alias' player and enjoys most tabletop games. With a book always in progress, Jana likes the perplexing mysteries in detective novels and enjoys deciphering them in tandem with the characters, oftentimes beating them to it!
Passionate about what she does, Jana is glad that Scandiweb helps keep the fire burning!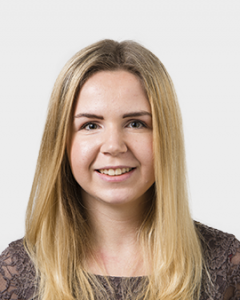 "You are AMAZING, just believe in it and take the most of life's opportunities!"
Ilze Slukuma
Ilze has a memory of there being a spider in her house when she was younger. She used to believe that it would show up when she had done something she could get in trouble for. Originally hired as a contacts manager, Ilze is now part of the Digital Marketing and Analytics team, working with marketing client ICOs. Patience, dedication, and responsibility are Ilze's strong suits, propelling her productivity. The ability to work in an international environment, developed through her International Economic Relations BA studies and previous work experience, is where Ilze truly shines and the reason why Scandiweb insisted she become part of the marketing team!
For Ilze, the summer's for rollerblading and the winter's for ice-skating. Another passion of hers — music. Concerts and festivals of all kinds are where she feels in her element. In terms of preferences, Muse tops her interminable list of favorite bands and musicians. Listening not only to music, but people as well, Ilze is a perceptive listener, with a good understanding of people.
Dynamic work, devoid of routine and blandness, and an encouraging learning environment is what stands out in Scandiweb for Ilze!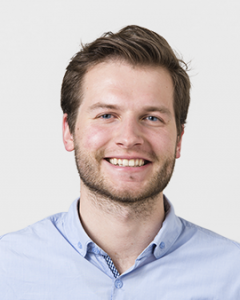 "Avoid those dumb mistakes!"
Reinis Zlaugotnis
When Reinis was younger, he accidentally burned a hole in the floor with the coal from a hookah pipe. To try to cover it up and hide it from his parents, he pulled a table over it, as if they wouldn't see that there is suddenly a table in the middle of the room and completely out of place. Now he's on the marketing/CRO team at Scandiweb and his days are filled with various digital marketing tasks, with the spotlight being taken by capital raising for startups. Reinis combats the volatility innate in these kinds of tasks with quick-learning and adaptability, making sure to always be in the forefront of the latest tendencies and occurrences!
Reinis has a broad variety of interests and he's always open to adding new ones to his collection. In terms of sports, Reinis both plays and watches basketball, beach volleyball, and tennis, following the progress of the Latvian national teams and athletes. When not on the field or the beach, Reinis is hanging out with family and friends, playing board games, helping out wherever he can, getting new experiences, or just simply taking it easy and having a good time.
His colleagues are hands down Reinis' favorite thing about Scandiweb.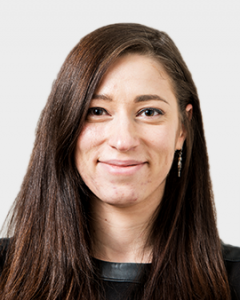 "The experiences I've had have made me the person I am — a happy one"
Lina Ivanova
As a child, Lina was convinced that unicorns and other mythical creatures are real and live together in hiding from people. Now she's a digital analytics specialist, with a diverse set of tasks, ranging from general SEO optimization work to UX improvement. The SEO environment is constantly evolving and updating, and Lina points out that being a proactive learner is what helps her succeed. Being always in the know about the latest SEO tendencies and happenings, Lina has a talent, developed through hard work and hands-on experience, for picking the best solution for a client.
Lina can't live without books. A fervent reader, Lina is currently breezing through Hawking's "A Brief History of Time", and highlights Tolstoy's "War and Peace" as a personal favorite. When Lina is not reading the stories and experiences of others, she's making her own — attending various events, hanging out with friends, always seeking fresh adventures. She's also a hip-hop dancer — a great way to refresh the brain after a day in the office.
Lina is fond of the Atomic parties and the Scandiweb marketing team and when these two things overlap, a good time is guaranteed!