Episode 7: More stories, more developers!
Who used to believe that the past is black and white? Who thought that rocks grow when watered? Or, crazier yet, who used to believe that grown-ups have their stuff figured out? Meet the who's and learn the why's in this week's episode! 
Scandiweb boasts a large and continuously growing team of brilliant minds. In this, the seventh instalment of our team stories, Scandiweb would like to introduce you to 5 more developers out of our team of 160+. They shared their stories, their skills, their experience, their passions and the advice they would give to their younger selves.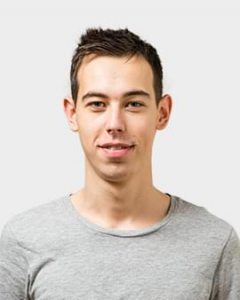 "Take care of your health and don't waste money on knick-knacks!"
Deniss Dubinins
When Deniss was younger, his grandfather convinced him that rocks could grow when placed in water, by periodically replacing the rock in Deniss' experiment jar with a bigger one, when he wasn't looking. Now Deniss is a developer, primarily working on Magento eCommerce solutions. In-depth knowledge of PHP is what makes Deniss' day easier — mostly self-taught and with a wealth of practical experience, it's his most valuable skill put to good and constant use.
When not at his computer working or playing games, Dennis is behind the wheel. With a passion and skill for driving, Deniss loves using his car for travelling to scenic destinations and sometimes simply cruising around. A funny guy by nature, Deniss is always joking around brightening the days of his coworkers and friends!
The treatment of employees is Deniss' favorite aspect of work at Scandiweb — there's always an open ear to any problems one might have and management is constantly striving to make the atmosphere as open and inclusive as possible.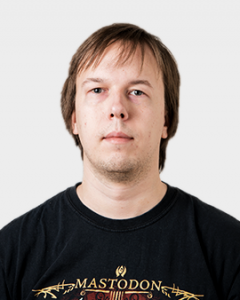 "Learn more stuff"
Rihards Paskausks
Born and raised in Liepaja, Latvia, Rihards is now a developer at Scandiweb. Currently a dedicated developer, working on the store and OMS application of the New York Times, Rihards is continuously applying his versatile experience to produce the best results. Working for 5 years in his family-owned IT company, Rihards was responsible for bringing the client's vision to life from scratch — making websites, android applications and even creating an internet store from the ground up. Rihards' toolkit is packed to the brim, but his defining characteristic is the insatiable desire to constantly update it with the latest tools and knowledge.
When not at work, Rihards is reading books, skateboarding, coding personal projects, playing video games, favorites being Rocket league currently, and old-school arena shooters more generally. He's also an accomplished guitarist, having played numerous concerts with his band both at home and abroad.
The community feeling is Rihards' favorite thing about Scandiweb. With such friendly and knowledgeable colleagues, it is easy to find the inspiration to push yourself to the limit!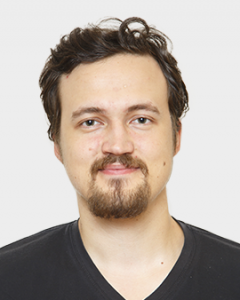 "Stop doing so many things and focus on a few"
Davis Dalmanis
As a child, Davis used to believe that the past was colourless, because of old pictures and TV features being black & white. Now he's a web developer, currently a dedicated one on the Magento 2 Topankovo project. When it comes to programming, Davis is a true polyglot with experience by the handful, and his diverse knowledge is often applied to projects at their infancy and maturity — whenever an extra pair of hands is needed the most. This versatility and high adaptability allows Davis to step into any task and get involved immediately as if it were his own project.
Davis is a man of many hobbies — he plays Dungeons & Dragons on a weekly basis, and he enjoys most light strategy tabletop games, as well as competitive video games and RPGs. Davis is a wonderful guitarist who also happens to sing in a choir. In terms of sports — he's an active participant of the local amateur ice hockey league.
Davis appreciates the enthusiasm and competence of his co-workers — a source of inspiration for his own professional endeavours!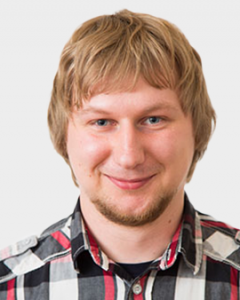 "Learn Git"
Martins Olekss
Right until university, Martins used to believe that grown-ups have their stuff figured out, only to realize that they're simply better at hiding their confusion. Now, a developer in the Support department, Martins makes sure that the problems and worries of clients are dealt with quickly and efficiently. Despite being a certified Magento specialist, with hefty work experience, Martins highlights perseverance and willingness to learn as his most valuable skills — always looking to do things better, quicker and on time!
These two character traits define not just Martins' professional approach, but his personal life as well. Overcoming failure and developing a hunger for knowledge is what brought Martins to where he is today. Always thinking about how little he knows and how much there is to be known, Martins' modesty is surpassed only by his desire for self-improvement.
When it comes to Scandiweb, Martin's favourite aspect is his colleagues, with whom he shares the drive to constantly strive to do better.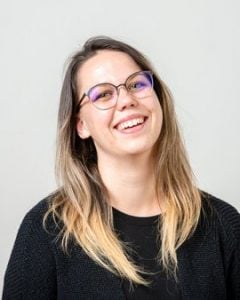 "Don't be afraid to do things, just because someone told you not to!"
Kitija Cepule
At a younger age, Kitija, influenced by a cartoon, believed that fairy godparents are real and patiently waited for the moment she would get her own. Now she's a developer working with Magento, dabbling both with front-end and back-end tasks. Quick learning and efficient teamwork are the ingredients for making progress! According to Kitija, it is vital to orientate yourself in a team structure — understanding other people's perspectives and needs not only helps in work with clients, but also when it comes to your colleagues!
When not at work, Kitija likes to go on trips, hikes (she once completed a 17km hike in Norway!) and just general outings with friends, other times — settling-in in front of a Sci-fi TV show is just what's needed to relax after a long day! Also a great dancer and cook, Kitija loves to interact with people, and lift the mood of close friends and family, be it with a supportive shoulder, or with an appetizing meal!
The people are open and friendly, and so is the atmosphere! The delicious coffee though — definitely one of Kitija's favorite things about her work!
Don't miss next week's stories! Follow Scandiweb on medium, facebook, and twitter!