Despite the shortage of chips during the pandemic, supply chain disruptions, and growth in capital expenditures, emerging technologies will continue to drive Semiconductor industry growth. This research outlines the general industry dynamics, highlights key industry trends, the barriers faced by major players, and the new perspectives emerging in this area.
General overview
The global Semiconductor industry size was $590bn in 2021, and it is projected to grow to $1,065bn in 2030, exhibiting a CAGR of 7% during the forecast period.
The digital transformation has significantly affected semiconductor manufacturers and distributors during the pandemic. Therefore the main eCommerce trends in the Semiconductor industry are improving company loyalty on social networks, providing personalized experiences, introducing AR & VR into marketing and sales strategies, and supply chain management.
The main challenges facing the increasingly complex and expensive Semiconductor industry include regional specialization of manufacturing, supply chain disruptions, geopolitical tensions, growth of capital and R&D expenditures, and striving for sustainable development.
Semiconductor industry trends
Specialized chips
With technological advancement, general-purpose chips are getting better, and many companies that weren't in the chip business before are now making their own. There is a strong demand in the market for non-standard silicon chips because many require specialized ASICs for a sustainable competitive advantage. Companies can achieve significant technology differentiation through custom-made chips.
3D printing
Nowadays, most chips are less than 10 nm in measure. In 2023, the physical limit of chips is expected to be 3 nm. Unlike injection molding, 3D printing allows the creation of more complex designs at a lower cost. Also, additive manufacturing will optimize the strength-to-weight ratio with a smaller size.
New generation materials
Since the cost of copper is increasing with the growing demand for it, alternative materials such as graphene and indium are emerging. Graphene has 250 times higher mobility than silicon and low loss requirements, small scale, and flexibility. 2D material manufacturing will play a critical part in the global Semiconductor industry.
Enclosures compatible with wireless transmission
High-quality metal materials provide durability, corrosion resistance, and weather resistance. Composite materials such as polycarbonate and fiberglass are excellent alternatives for Wi-Fi applications.
Environmentally-friendly manufacturing
As the demand for semiconductors grows and companies take steps to increase capacity, this threatens a massive surge in energy consumption and water usage and a huge release the ozone-depleting gasses into the atmosphere. Corporations are already taking active measures to ensure sustainability efforts.
Industry trends within eCommerce
Global personalization
Social media (Facebook, YouTube, Twitter, and Reddit)
Improved supply chain management
AR in electronics
If you're interested in Semiconductor industry statistics and trends in more detail, get your free copy of the research and guide below!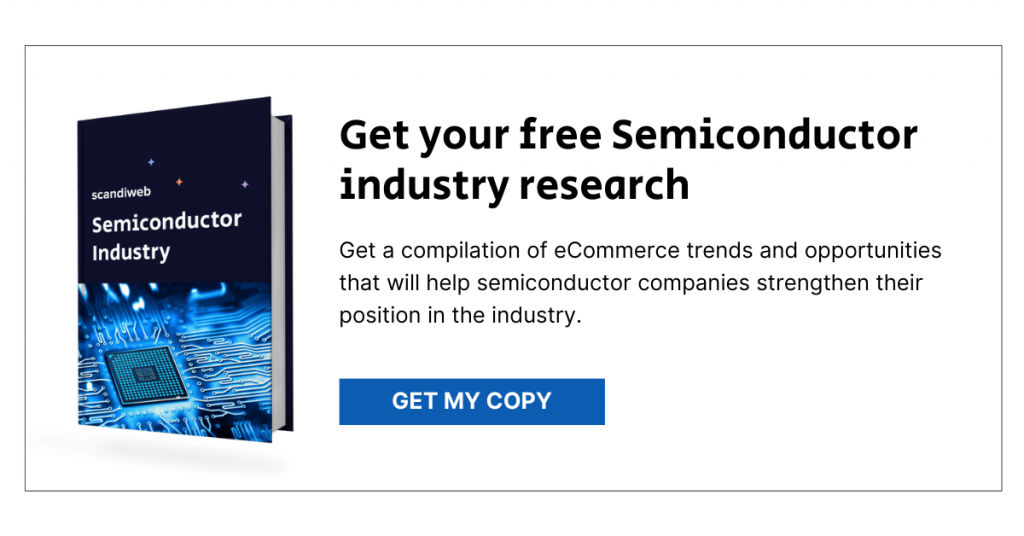 In this report, you will learn more about:
Semiconductor industry size and global growth rate
The current state of the US Semiconductor market
Major industry players
Main trends to impact the Semiconductor industry
Main eCommerce trends within the industry
Threats and opportunities
Interested in more market insights and predictions? Browse our collection of research papers on the latest trends and strategies in different industries. Request research if you don't find your industry there. Download the research PDFs for free!