Driven by technological advancements and increasing demand for innovative healthcare solutions, the Medical Device industry is experiencing remarkable growth. In this blog post, we will embark on a journey to understand the current state of the industry, explore the challenges it faces, and uncover the key trends propelling its growth and innovation. Come along as we navigate through the interesting landscape of the medical device sector, where advancements in technology and healthcare converge to shape the future of patient care and well-being.
Industry overview
Valued at $550 billion in 2021, this industry is projected to reach $850 billion by 2030, showcasing a compound annual growth rate (CAGR) of 5.5% during the period of 2022-2030. One of the key drivers behind this growth is the transformative power of eCommerce, which has revolutionized the way medical devices are bought and sold.
How eCommerce is reshaping the Medical Device industry
The COVID-19 pandemic has accelerated the global digitalization of the Medical Device industry, leading to a significant shift towards online purchasing and streamlined customer experiences. With eCommerce, ordering medical devices has become easier, more efficient, and more convenient for healthcare providers, practitioners, and patients alike. Moreover, eCommerce platforms enable the Medical Device industry to provide exceptional customer service, an aspect that customers are willing to pay a premium for.
Challenges facing the Medical Device industry
While the Medical Device industry is thriving, it also faces several challenges that need to be addressed to sustain growth. The major challenges impeding the growth of the Medical Device industry include the complexity and tightening of medical device regulations, high cybersecurity risk, low reimbursement limits, the emergence of non-traditional competitors, and continuously changing consumer requirements.
Some of the major challenges
Key industry trends
Internet of Medical Things (IoMT)
The Internet of Medical Things (IoMT) is a network that connects medical devices, infrastructure, and software applications, enabling seamless communication. This technology encompasses wearable devices, in-hospital equipment, home-based devices, and community healthcare solutions. The IoMT market was valued at $73.5 billion in 2021 and is projected to reach $190 billion by 2028. The IoMT empowers healthcare companies to engage in remote patient monitoring and accurate diagnoses, transforming the delivery of healthcare services.
Medical device integration in home care
The US home medical equipment market reached $56.1 billion in 2021 and is expected to grow to $84.4 billion by 2028. Factors related to the pandemic have significantly accelerated the adoption of home medical devices. Telehealth utilization surged, with usage in February 2021 being 38 times higher than pre-pandemic levels. Remote patient monitoring devices enabled healthcare providers to effectively monitor patients from a distance. Integrating medical devices with electronic medical records (EMR), wearables, cell phones, and telehealth platforms brings greater value and improves patient care.
Blockchain technology
Blockchain technology provides secure and decentralized storage of real-time patient data, ensuring authenticity and anonymity. Surveys indicate that more than half of patients are willing to share their digital health information. By utilizing blockchain, the Medical Device industry enhances data security and privacy while streamlining the development and certification processes. This transformative technology focuses on patients and diseases, revolutionizing healthcare practices.
Additive manufacturing for complex medical devices
Additive manufacturing, also known as 3D printing in medicine, plays a vital role in producing intricate medical devices such as models, implants, surgical guides, external aids, and biomanufactured products. This innovative manufacturing technique not only accelerates production but also allows for precise customization, saving time and materials. Additive manufacturing is reshaping the Medical Device industry by enabling the creation of complex and tailored solutions that enhance patient care and treatment outcomes.
What we've shared here is just the tip of the iceberg. Download our free industry report today and unlock a treasure trove of information about the Medical Device industry.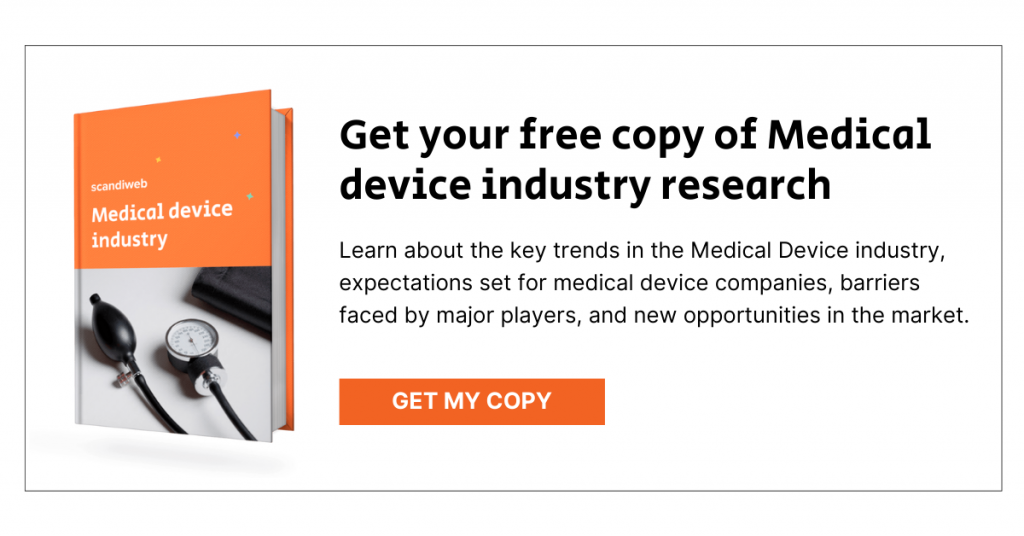 Discover the major global players driving innovation, delve into market insights by region to uncover regional dynamics, stay ahead of the curve with the latest eCommerce trends shaping the industry, and gain a comprehensive understanding of the threats and opportunities that lie ahead.
Wrapping up
The Medical Device industry is experiencing a transformative journey driven by technological advancements and evolving healthcare needs. The current industry trends are reshaping patient care, enhancing operational efficiencies, and opening new possibilities for improved healthcare outcomes.
By staying informed about major global players, market insights, eCommerce trends, and threats & opportunities through our free industry report, you can position yourself at the forefront of this dynamic industry and drive innovation in the pursuit of better healthcare for all.
Explore our extensive collection of eCommerce industry reports covering the latest trends and strategies across various industries. All reports are free to download!