BUFF® is a well-respected brand in the sports and lifestyle accessories industry, known for its innovative products, commitment to quality, and dedication to sustainability. Headquartered in Barcelona, the company has successfully expanded globally and now operates in more than 70 countries around the world.
scandiweb has been working with BUFF® since 2017, supporting them with development, migration, CRO, analytics, SEO, and other projects. In this case study, we are zooming in on how we've helped them stay on top of their data tracking needs, including ensuring their compliance with data protection regulations and accessibility standards.
Business needs and challenges
We have done two migrations for BUFF®—the first being migration to Magento 2 and the second one to PWA. In both cases, our Analytics team stepped in to ensure data tracking accuracy, including complete and proper migration of 3rd party platform tracking, and improve macro and micro conversions tracking.
Beyond that, the company also needed specific solutions to its unique data requirements. The challenges they faced were mainly related to the multi-store tracking setup. And ensuring that the data was properly segmented was crucial.
Region- and country-specific tracking
With 45 store views supporting different languages, BUFF® required specific services and marketing platforms to run seamlessly at all times. We had to ensure that all the regions were tracked and the services, implemented.
Consent management implementation
BUFF® experienced data loss because of region-related GDPR implementation issues. To maximize data gathering and avoid further data loss, we had to update the consent management platform (CMP) templates and tracking setup—and, eventually, migrate them to a new CMP.
Checkout tracking
We had to ensure that the checkout funnel tracking was working seamlessly, given the limitations of eShopWorld, the checkout plugin they were using. BUFF® had two checkouts—one for the global store and another for the main store views.
Approach and solutions
Through improved data analytics, our Analytics team has enabled data-driven optimization and decision-making for BUFF®.
Advanced GA4 tracking setup and full user-journey tracking
We set up advanced data tracking for Google Analytics (GA). And long before the scheduled sunsetting of Universal Analytics (UA), we migrated all the data tracking setup to Google Analytics 4 (GA4). This ensured that all relevant macro and micro conversions were accounted for and the region- and country-specific data tracking requirements were covered.
Also read:
GA4 API Quota Apocalypse and How to Survive It
How to Overcome GA4 API Request Limits with BigQuery and Looker Studio
We provide BUFF® with ongoing analytics support and consultation for new feature implementations and data monitoring. Over the years, we have fully supported their GA tracking setup—making sure it's up to date and that all issues that come up are quickly resolved:
Enhanced eCommerce tracking
Custom event tracking
Server-side tracking
The 3rd party tracking software/platform we have implemented for them includes:
Criteo
Floodlight
Impact
Linkedin
Google Ads
Zemanta
Migration to new consent management platform and accessibility setup
We helped BUFF® migrate to OneTrust, a compliance management solution, to simplify CCPA and GDPR compliance and address the data loss they experienced with their old setup. For improved data tracking, we also implemented Google Consent Mode.
To ensure that BUFF® stores comply with accessibility standards, we used Equalweb, a leading compliance platform for websites.
Also read:
Case Study: How to Ensure GDPR Compliance with Server-Side Tagging
Google One Tap Sign-in Implementation (First-party data collection)
Monthly eCommerce business intelligence reporting
The CRO team, together with the Analytics team, prepares monthly business intelligence (BI) reports that highlight analytics data and insights. These reports feature data visualizations and recommendations related to the following eCommerce KPIs:
Sessions
Product adds to cart
Number of transactions
Conversion rate
Average order value
Online revenue
Server-side tracking for marketing and web analytics
To ensure that relevant data is always captured and to reduce data loss, we implemented Google Tag Manager (GTM) server-side tracking for the following marketing platforms and web analytics:
GTM server-side tracking executes the tracking logic on the server before delivering the webpage or application to the user's device. This approach allows for enhanced data privacy, improved performance, and the ability to measure user activity across different devices and platforms.
Results
Tracking has been successfully implemented for BUFF® stores in over 40 markets. Pivotal user interactions are captured and used within performance dashboards to analyze the monthly performance of the website.
Here's a sample of the positive trends we see for the company: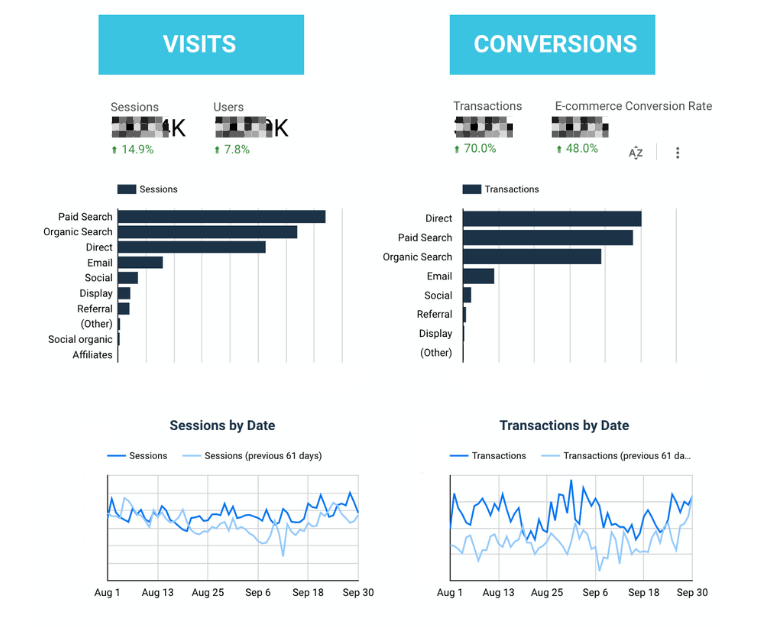 Our implementation of the Google Consent Mode resulted in a 75% increase in the user data captured.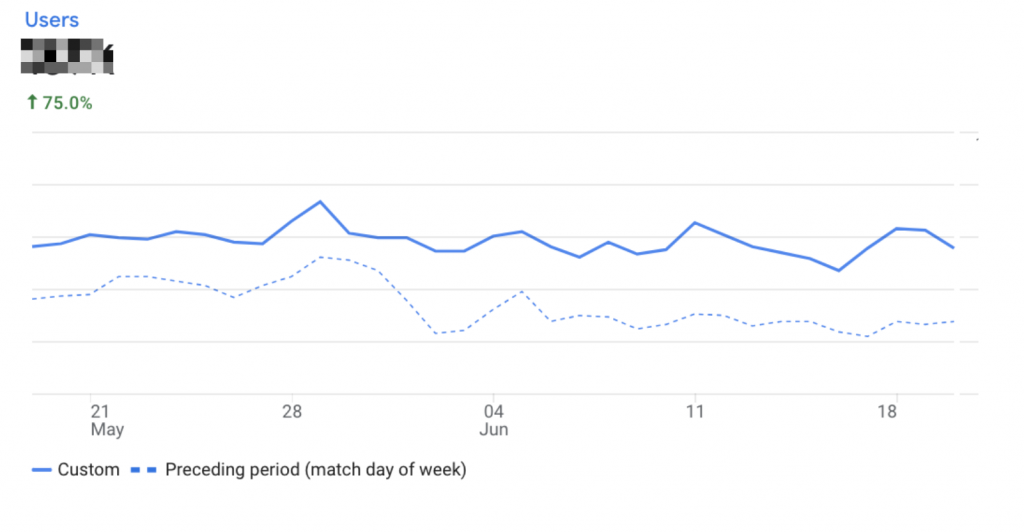 Performing qualitative and quantitative data analysis, the Analytics team helped drive website performance improvements. scandiweb rebuilt the navigation menu on BUFF® stores after extensive CRO research, including analysis of product list data and frequently searched products. Using the insights gathered from data analysis and other information from the CRO research, we updated the navigation menu and saw the following results:
eCommerce conversion rates (first month after optimization vs previous period)

+ 49.8% on desktop
+195.2% on mobile

+69.9% visitors (vs same period last year)
+176.1% revenue (vs same period last year)
As part of the conversion optimization program scandiweb is running for BUFF®, the Analytics team has also performed checkout trends analysis and post-launch analysis.
On the whole, analytics data and insights help clients like BUFF® make better decisions about what next steps to take to achieve their eCommerce goals and address issues that hamper growth.
Let's get your data tracking set up and start receiving regular eCommerce business intelligence (BI) reports that will help drive results. Ask us how or learn more about our BI and Analytics services.