We implemented Google One Tap for a leading European sportswear retailer and immediately saw amazing results. Their eCommerce store is a PWA on Magento 2.
As the online world is moving toward becoming cookieless, as it is fraught with privacy concerns, marketing teams can no longer rely on third-party data to reach and engage customers. It is a crucial time for businesses to start owning their data. Google One Tap provides users an easy way to create accounts with brands they value while allowing businesses to get more information about their customers, allowing them to create more effective marketing campaigns down the line.
Business goals & challenges
Our client's specific goal was to make customer login faster so they could personalize the online user journey. For example, logged-in users who have saved their shoe size in their account will be shown products available in their sizes as a priority.
Account creation is an important micro-conversion that helps brands move users further and faster through the purchase funnel. Making account creation and customer login as easy and simple as possible minimizes friction and encourages more users to take action.
At the same time, getting users to create an account and interact with the website while logged in addresses a significant challenge marketing teams are facing now: retargeting. For many years, marketers have relied on third-party data—or data from various sources collected via cookies—to help them target the right audiences and improve the user experience. But privacy regulations and the blocking of third-party cookies are changing the game.
First-party data
First-party data is data collected directly from customers. As such, it allows companies to gain direct insight into customer sentiments, behavior, and preferences.
The shift to first-party data at a time when third-party data cannot be relied upon only makes sense, and something that brands should start prioritizing as the cookieless era draws nearer. 
For an in-depth look into first-party data marketing for eCommerce, watch our webinar, hosted by scandiweb's co-CEO Glebs Vrevskis:
3 reasons you should start collecting first-party data
1. The data privacy landscape is changing quickly
The General Data Protection Regulation (GDPR) is Europe's data privacy and security law, and the most comprehensive in the world. When it came into force in 2016, it was the first of its kind. In the years that followed, we saw similar legislations, imposing strict privacy standards and fines for non-compliance, coming into place in other countries.
The California Consumer Privacy Act (CCPA) took effect in 2018; it was then amended and expanded in 2020 when the California Privacy Rights Act (CPRA) was passed, with the new law becoming operative in 2023.
Inspired by the GDPR, the Lei Geral de Proteção de Dados (LGPD), or General Data Protection Law, came into effect in Brazil in 2020.
Privacy concerns will only grow over time, and everyone must comply.
2. A cookieless world is on its way
With the imminent death of third-party cookies, as Apple and Google move to block them in their browsers, brands need to find other ways to get information about their customers to allow them to continue doing this and keep their offerings relevant to their target audience.
First-party data is the only way to target audiences in a cookieless world. You can no longer rely on third-party data to power your ads and marketing strategy.
3. Owning your data will future-proof your business
Customer data enables businesses to create marketing strategies that work. Understanding customer behavior, interests, and preferences allows you to tailor your ads and campaigns to what your customers want to see and experience. If you want to thrive in the future that's coming, you need to start collecting your own data.
Approach
Google One Tap allows for seamless sign-up and sign-in if a user is already logged into their Google account in a supported browser. A pop-up prompts the user to either sign up for an account or sign in if they have previously created an account with the brand's website using their Google account. One Tap works even if users change devices or switch platforms.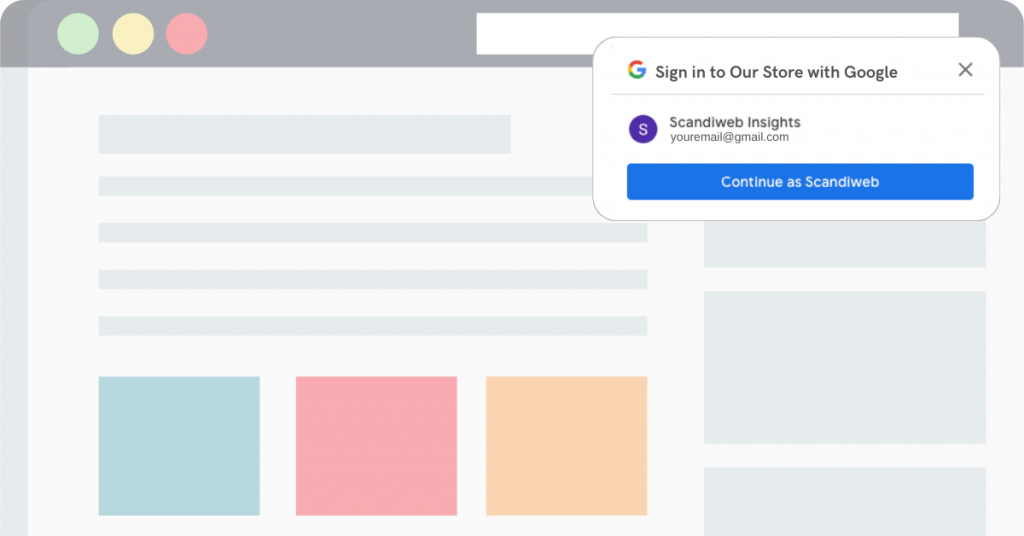 Google One Tap implementation
Google One Tap sign-up
The user is presented with the Google One Tap pop-up, which enables them to create a new account with the eCommerce store linked to their Google account
The pop-up appears only if the user is signed in to a Google account in the browser
In the backend, we extended the Scandiweb Social Login module with the required configurations for the One Tap service and created the necessary data exchange between endpoints.
When a user creates a new account with the eCommerce store, we trigger the registration dropdown requiring the user to confirm consent checkboxes and then allow them to proceed with the registration.
Google One Tap sign-in
The user is presented with the Google One Tap pop-up and they are able to log in with their Google account
The sign-in pop-up appears only if the user has already signed up for an account via Google One Tap
An automatic sign-in feature is not expected
Enable/Disable Google One Tap
The admin can enable/disable the Google One Tap implementation globally and on a website/store view level
Google One Tap integration needs to be properly configured, with respective domains verified
Social Login module by scandiweb
Our client's eCommerce stores are on Magento 2 with ScandiPWA, which uses scandiweb's very own Social Login for Magento 2 module. Building Google One Tap on top of this existing module significantly reduced the implementation time because the core connection with Google was already in place.
Results
Right after the Google One Tap implementation, we saw a surge in user logins and new registrations:
+195.1% user logins
+600.4% new registrations
An immediate impact on revenues was also seen:

And we can only expect even greater revenue growth in the future as new registrations create golden opportunities for conversion.
We can help you set up Google One Tap for your eCommerce store, whether or not you're on Magento and PWA. Reach out today and let us know of your business goals, and we'd be happy to create a plan for you. Or find out how we can help you adapt your eCommerce marketing strategies to a cookieless future.