When we talk about redesigning eCommerce for a client, we do not just mean giving their store a new look. It's really about funnel optimization and improving customer experience every step of the way. The objective is to achieve business goals by addressing customer pain points and clarifying what's working and what's not.
The process for each store is unique, but the main milestones stay the same.

And we can generally move along the process in two phases: (1) identifying improvements in the current site and (2) rolling out new branding and design.
Phase 1: Existing site improvements
This phase involves several scopes and focuses on improving the customer journey through content and design optimization.
Scope
Task
Research
Deconstructing existing customer journeys and running a content gap analysis
Solution Ideation
Preparing suggestions on missing content
Creating wireframes with suggested structure and content
Content
Preparing final copy and visuals
Design
Creating final UI designs
Research
User testing
Development
Implementing final designs
Phase 2: New branding and design rollout
This phase is about implementing the solutions we came up with in Phase 1 and validating them.
Scope
Task
Design
New design
Validation
Benchmarking against best practices
User testing
Design
Applying improvements
Development
Implementing final designs
Funnel Optimization
We start the process by examining the existing customer journeys and looking for optimization opportunities. Running a content gap analysis will tell us where customers' needs are not being met so we can start filling those gaps.
The marketing and sales funnel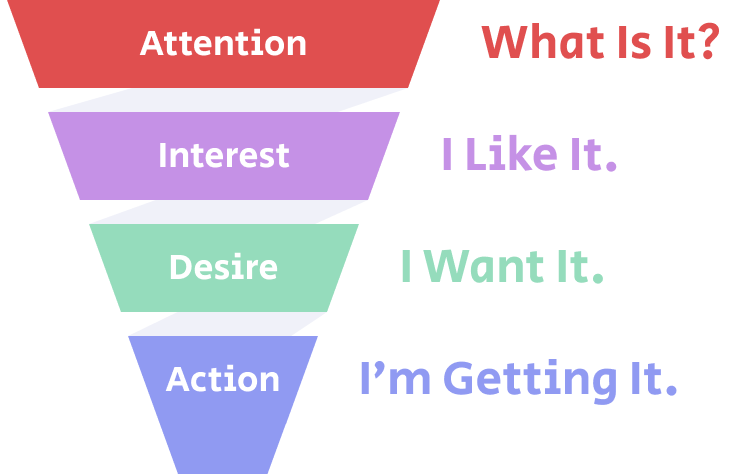 The AIDA model is probably the best-known marketing model out there and what first comes to mind when we talk about the marketing and sales funnel. It describes the four stages a customer traverses before completing a purchase: Attention, Interest, Desire, and Action.
Attention is the first stage and it's where a brand catches the attention of its target audience. This is where content marketing and lead generation efforts are started.
Interest is the next step and where the brand has the opportunity to create a deeper connection with their prospects. A brand learns more about what the prospects' goals, wants, and problems are and makes an effort to address them.
Desire is the stage where consumers begin to appreciate the solutions being offered to solve their problems, satisfy their wants, and achieve their goals—and carefully consider making a purchase to acquire the said solutions.
Action is where the prospect finally makes the decision to either purchase or not. All the previous stages are designed so that when a consumer reaches this stage, they would make the positive action of making a purchase.
Optimizing the funnel is not as simple as setting up signposts that say "go this way" and expecting the customers to follow through. And the funnel can be expanded to include the post-purchase experience. Getting the customer to move further until they reach the final stage and actually decide to make a purchase, or even become brand advocates as loyal customers, entails improving every aspect of their experience as they take the journey across that funnel.
The customer journey

The customer journey is not a straight line that cuts across the sales funnel. It follows an intricate path that depends on what customers are presented with along the way, and of course, how they respond. Whether or not customers are properly engaged, meaning they are successfully nudged towards moving to the next stage of the funnel, is driven by the content and triggers they encounter as they interact with an eCommerce store. That's why it's crucial to closely examine what types of content are already available on the site and ensure that they are in line with what customers want and need to know in order to convince them to take a step further in the journey.
Mapping the customer journey is about tracing that complex path the customer takes and understanding how your target audience learns about your brand, what engages them, what makes them decide to buy and when, and how you can more effectively guide them to get to the bottom of the funnel.
So really, the customer journey is a more detailed representation of your marketing and sales funnel—a better picture of how you take consumers from mere prospects to being loyal customers.
8 markers of a powerful marketing and sales funnel
Further in this article will share with you funnel optimization strategies that you can implement in your own funnel. But we want to continue on with the big picture first. So, what does an optimized funnel look like? Here are 8 markers of a powerful marketing and sales funnel.
Products are positioned in such a way that the problems your brand is solving for your customers are clearly defined. Offers appeal to the target audience because their pain points, interests, and expectations are specifically addressed.
Each stage of the funnel has clear goals, which will allow you to measure whether your efforts are working or not. These goals could be anything from getting newsletter signups and product demo bookings to closing a sale.
Preliminary offers created to generate leads are present. You should know your target audience well enough to come up with worthwhile offers that will successfully capture their attention and make them comfortable sharing their contact information—like a free trial or product samples.
Prospects are kept engaged by leveraging different types of content—text, photos, videos, animation, design, and so on—at every touchpoint, including your corporate website, eCommerce store, social media page, and so on.
Customer confidence and trust are built throughout the journey by highlighting brand credibility and product quality through social proof (e.g., customer reviews and testimonials), relevant brand information (e.g., how many years the brand has been in the business), and transparency (e.g., shipping and returns policies). You are providing prospects reasons to trust you.
Calls to action are clear and strong. It's clear what step you want prospects to take next and you provide a strong motivation for them to do so.
Friction is reduced as much as possible. Obstacles to getting your prospects to complete the actions you want them to take are identified and addressed. Whether you want them to sign up for a newsletter or make a purchase, you remove anything that may cause resistance on their part.
Customers are nurtured post-purchase so they remain loyal to your brand. You show them that you care about their experience even after the purchase and provide additional resources to help them enjoy your products/services even better.
Funnel Optimization Strategies
Here are some optimization strategies you can implement in different stages of your funnel to boost your eCommerce store's performance.
Email marketing lead-capturing funnel opportunities
1. Timed pop-ups
As users start to browse around the Homepage, present them a pop-up offering an incentive to make them consider signing up.
The pop-up could show after some 5 seconds after landing or on exit intent and not take too much space on the screen, not to distract or irritate the user during browsing.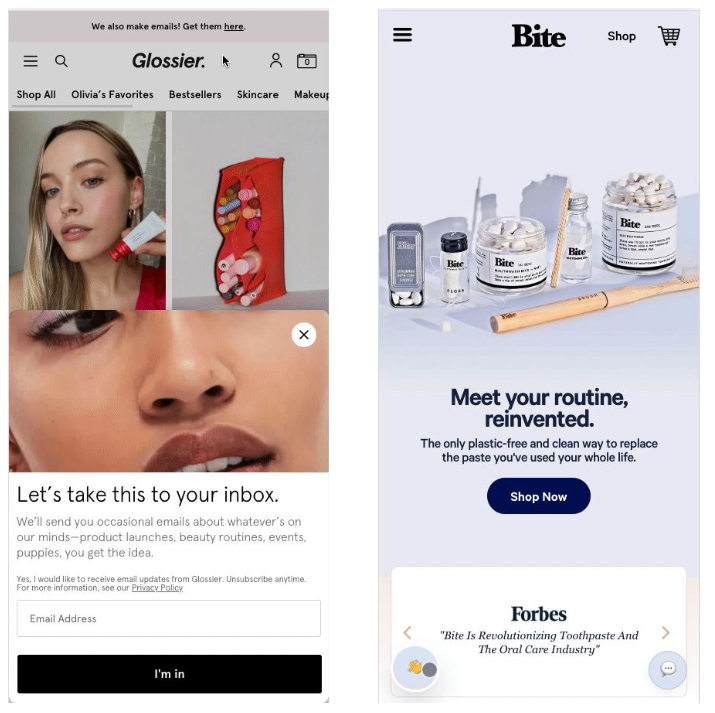 Timed pop-up best practices
By clearly listing newsletter content, more users will be aware of what to expect and might be willing to sign up if they see content that interests them.
By formulating the "No" CTA as a negative action such as "I don't need the latest news" or "I don't want to join the community," more prospects will be psychologically nudged to sign up for the email newsletter.
2. Header promo bar
Another way to promote email sign-up opportunities is in the page's header.
This can be a great way to engage with returning users who won't see the welcome email pop-up once again and might not scroll down till the prominent sign-up block in the footer.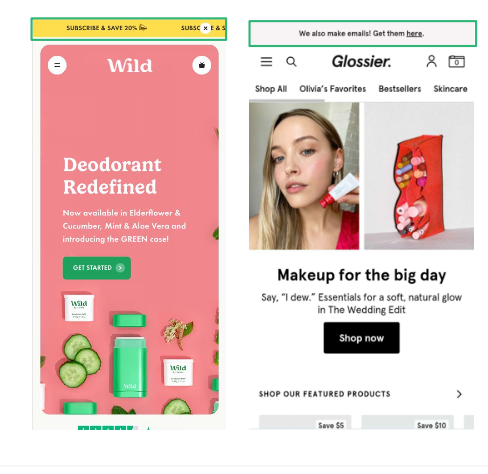 3. Giveaways
A special landing page could be created to communicate that signed-up customers can participate in an exclusive giveaway, e.g. to win a product, get information about upcoming limited edition products, and so on.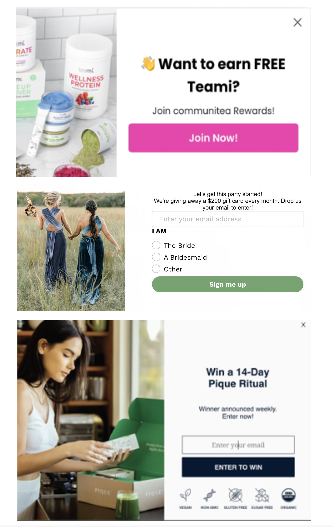 4. Social media
To increase your subscriber base, you can promote exclusive content on social media channels. Some examples are ebooks and guides.
In order to access the content, users would have to provide their email addresses.
Marketing automation
1. Transactional emails
These are emails sent out to prospects or customers once they make a purchase or a specific action related to the website.
Welcome emails: Your first chance to make a great impression on subscribers. Using marketing automation, you can create a stellar experience for your subscribers with a one-time welcome email or a series of emails that help onboard them, building meaningful and long-term relationships with them.
Cart abandonment emails: 59% of the products added to the cart never get checked out. A significant part of the drop-off can be attributed to users being in the research stage, which is just browsing the site and comparing products. Cart abandonment emails can help remind those prospects about their intention to buy and help boost sales.
Post-purchase follow-up emails: One of the key ways to ensure you meet customers' expectations is to be transparent about the order status & delivery progress.
2. Marketing emails
These are emails sent out to prospects or customers to inform them about upcoming offers or events to nurture them into customers or into loyal ambassadors.
Sale emails: Inform your subscribers about sale events and special offers.
Reminder emails: Sending a reminder email based on a date is a great opportunity to not only deliver a timely message to your customer but also keep them buying your products and services over time, .e.g., upcoming event reminders, sale reminders, feedback reminders, subscription expiration/renewal reminders.
Birthday or anniversary email: Customer loyalty is one of the keys to retention and business success; hence, making customers feel appreciated is extremely important. Sending special birthday or anniversary emails is a highly effective strategy to increase customer happiness while, at the same time, nudging them to make a purchase.
Reengagement email: According to studies, the average decrement rate of your email marketing database is more than 25% per year. By sending reengagement emails, you have a chance to win back those unengaged subscribers and get them to start opening and clicking your emails again.
Newsletter: Gives you direct access to your audience's inbox, allowing you to share engaging content, promote sales, and drive traffic to your website.
Content gap analysis: Are the products worth the price?
1. Homepage
Hero banner: Make the product the center of attention. Use an image that very well represents the product and helps the user imagine what it's like to enjoy it, evoking a sense of craving.
Brand credibility: Emphasize the brand's expertise in the field. Letting visitors know how long the brand has been in the business or that it is renowned for its product quality helps increase trust in its products.
Competitive advantage: Highlight differentiating qualities of the brand that could help convince visitors to try its products.
Brand authority: Increase the trust visitors have towards your brand by mentioning well-recognized companies or brands that have trusted you to become their partner.
2. Product page
Appealing visuals: Leverage visuals to put your products in the spotlight, making them look more desirable. Also, add a creative textual description to further drive your point.
Product content: Highlight what customers will get when they purchase a product. This information should be communicated in an easily digestible format.
Unique features: Showcase unique product and brand features through images, videos, and other visuals—for example, how the product is made and how much care goes into its manufacture, encouraging users to try it.
Store location: Make store locations available near the "buy" section to encourage users to visit the store before purchasing.
Product sampling: This could be a powerful first step in getting visitors to try your product and allowing them to find out how they might feel about it, creating an emotional connection between your brand and your prospects.
Social proof: Encourage users to express their opinion about your products. This increases your site's overall credibility and can potentially eliminate visitors' questions over time.
There are so many other strategies that you could implement to ensure that you effectively nudge visitors to move from the first stage of your marketing and sales funnel to its very end, but we have shared here the ones that you can start doing right away.
If you want an expert analysis of your marketing and sales funnel along with recommendations specific to your own customers' journey, we can help. Send us a message or hit that chat bubble to get a response immediately.
Related articles:
Marketing Strategy Examples—5 Brilliant Ideas to Supercharge Your Business