A marketing action plan is absolutely essential for cutting through today's digitally driven and competitive business world. The key to developing your marketing plan involves focusing on a specific niche and a target audience—this will help narrow down your company's overall strategy.
For instance, if most of your customers follow you on Instagram, then social media (e.g. IG Stories) and influencer marketing would be your call. Similarly, if your audience is on YouTube, then video marketing should be your main focus. Don't stretch yourself too thin by implementing more than 1-3 marketing strategies for your business.
Some of the benefits of a digital marketing strategy include:
Global exposure and brand recognition
Budget-friendliness
Trackable and measurable results
Personalized content
Wider range of sources
Higher conversion and customer engagement
Instant communication
In this blog post, we're going to walk you through 5 different types of successful marketing strategy examples for increasing sales and customer conversion. No more confusion trying to figure this out on your own—we're here to give you the inside scoop on marketing tricks that'll help you expand your reach and drive traffic to your website!
Our marketing strategy examples list will cover the following:
Email marketing
Social media and PPC marketing
Content marketing
Influencer marketing
Video marketing
Pro tip: Be mindful of your customers' needs and preferences when experimenting with marketing strategies!
1. Email marketing
Email marketing is the most effective marketing strategy of all because it works for any type of business. Most people check their email on mobile, making email marketing the ideal tactic for capturing the interest of your audience.
According to Statista, 49% of consumers say they would like to receive promotional emails from their favorite brands on a weekly basis. In fact, Statista also predicts that mobile use will surpass desktop in 2022. That alone should compel you to start crafting a winning email campaign! However, make sure your email copy is readable on mobile.
Email marketing strategy examples you can run:
Tip 1: Create an irresistible offer. Instead of promoting everything at once, focus on the one product or service you feel is the most popular. Run a jaw-dropping best-seller sale to attract customers.
Tip 2: Gamify your email with a fun quiz about your product or service, e.g. "find the perfect gift for yourself!" Use free tools such as Interact or PlayBuzz, and add the quiz link to your call-to-action button to make it interactive.
Tip 3: Mention a new product or service. Trigger your customers' curiosity with a sneak peek of an upcoming product or service using an image or a link to a product/service showcase video.
Tip 4: Announce a flash sale or special deal to drive urgency. The combination of limited time and great deals can result in your sale going viral. Use a visual email header and limit the number of products or services to create a sense of exclusivity.
Tip 5: Put together a product or service bundle, e.g. "top-rated [product name] our customers love!" Your followers will feel confident in their selections by shopping top-rated products from other customers. You can use Canva to pick a free template and create your bundle guide, then add it to your email.
Pro tip: Don't forget the power of email subject lines!

2. Social media and PPC marketing
In this day and age where 42% of the world's population is on some type of social media, it is no wonder why more and more businesses are using it as part of their marketing strategy. Combining social media marketing and paid advertising (also known as PPC marketing) is without a doubt one of the easiest ways to connect with your followers and reach new customers.
To ensure brand consistency, make sure your display picture, cover photo, bio and website are updated on the channels relevant to your target audience.
PPC and social media marketing strategy examples you can run:
Tip 1: Host a special giveaway as a one-time incentive for loyal customers. Consider offering gift cards, products, services or shipping to your customers free of charge.
Tip 2: Create a Facebook Page and use targeted ads to increase followers on Facebook. Paid advertising (you can control how much you spend with ads!) is a great way to get your product or service in front of your followers and acquire new visitors to your site. You can also boost your posts to ensure visibility to a broader audience.
Tip 3: Post polls, surveys and quizzes with Facebook List or Instagram Stories to drive engagement. Use these features to get to know your audience's expectations and needs. Or build up hype for deals and promote a new product.
Tip 4: Share visuals (infographics, banners, flyers, etc.) with interesting information or facts on all social media channels to promote your business. Visuals are a great way to personalize your content and aesthetically appeal to your followers. If you don't know how to do graphic design, consider using Canva.
Tip 5: Create a branded hashtag to improve your business presence on Instagram. Encourage customers to review your products or services using your hashtag. If they really like it, they might spread the word—remember that people buy from brands they trust!
Pro tip: Post diverse content suited to the social media channel you're using!
3. Content marketing
Creating premium content to keep your customers engaged with your brand is another effective way of growing your customer base. However, the purpose of content marketing isn't necessarily to promote but to stimulate interest in your product or service. Ideally, the content you publish should be innovative and build the reputation of your business as a trusted source of information for your target market.
Content marketing strategy examples you can run:
Tip 1: Publish quality eBooks on trending topics in your niche. Offer a free eBook download as an incentive for subscribing to your newsletter or mailing list. Use Canva to create a professionally designed eBook for free.
Tip 2: Start an SEO optimized blog to drive organic traffic and write how-to articles. Share these blog posts on Pinterest and Facebook to get traffic to your website. Make sure your posts have a header image and other visuals in the article body to avoid looking text-heavy.
Moreover, when it comes to creating impactful blog pages, it's not just about the content itself. Optimizing essential elements like title tags, meta descriptions, and strategically placed keywords is crucial for success. The On-page SEO checker tool can assist in supercharging blog posts and give them the competitive edge they deserve.
Tip 3: Launch an online course on your website or an online learning marketplace like Udemy. Take your business to the next level by establishing yourself as an authority in your niche and watch your following grow.
Tip 4: Create unique landing pages for certain topics, services, products, etc. For instance, you can create a landing page for quizzes or games related to your niche. Gamifying your website will drive more engagement as people love entertainment.
Tip 5: Write a compelling story about your brand's journey so your audience can connect with you and relate to you. Talk about the joy and pain of starting a new business. Include takeaway lessons and inspirational key messages.
Pro tip: Make it easy for your audience to transition from learning from you to buying from you!
4. Influencer marketing
Influencer marketing campaigns are collaborations between brands and social media influencers promoting your product or service on various internet channels. This type of marketing is supposed to work better than any other form of marketing because real people are relatable.
94% of marketers find influencer marketing effective for sparking interest and gaining followers. The more followers you have, the higher the chances of increasing your sales.
Influencer marketing strategy examples you can run:
Tip 1: Add an influencer to your content initiatives in the form of quotes. Share these quotes on your social media channels. However, this will only work when an influencer has already purchased a product or service from you.
Tip 2: Mention influencer shout-outs to your audience if you're lucky enough to spot one. The more favorable shout-outs you have, the more other customers will think they're likely going to enjoy the same product.
Tip 3: Publish short interviews with influencers in the form of an audio recording, a blog article or a video streaming platform such as YouTube.
Tip 4: Contact a YouTube creator or Instagram influencer and offer freebies. But do keep in mind that sometimes a free offer will not work—in that case, you can offer payment in exchange for word-of-mouth referrals. Just make sure that it falls within your budget.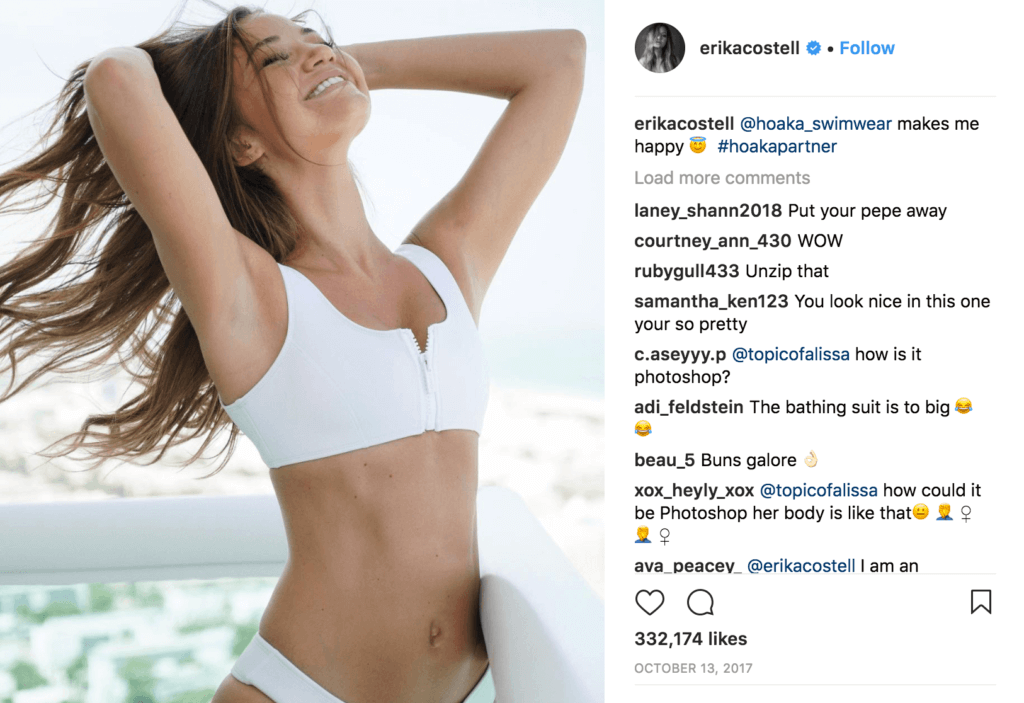 In the example above, Canadian swimwear brand Hoaka chose YouTuber Erika Costell as the influencer to represent their brand. A single post by Erika in a Hoaka swimsuit drew approximately 332,000 visitors to their website, resulting in massive conversion and sales.
Tip 5: Share video reviews by influencers on your website or social media channels. 92% of customers trust recommendations from other people over a brand's direct promo content!
Pro tip: Engage influencers before you need them—promote their stuff first for a mutual value!
Watch this interview from the eCOM360 2021 main event with OREO's Sr. Brand Manager Lauren Flanigan with tips on leveraging influencers to build successful integrated marketing campaigns. Learn how OREO remains relevant in pop culture and builds partnerships with influencers while bringing some fun & creativity to its social media content.
5. Video marketing
Video marketing is an ideal tactic for conveying product or service information in real-time. In fact, 90% of users say that product videos are helpful in the decision making process, and 76% of business owners report positive results with video. Live streaming has become one of the fastest growing mediums in recent history.
Video marketing strategy examples you can run:
Tip 1: Create excitement by sharing product teasers on social media—from showcase videos to mock-up demos using Placeit. You can also order product samples and shoot your own videos if you're an eCommerce business owner.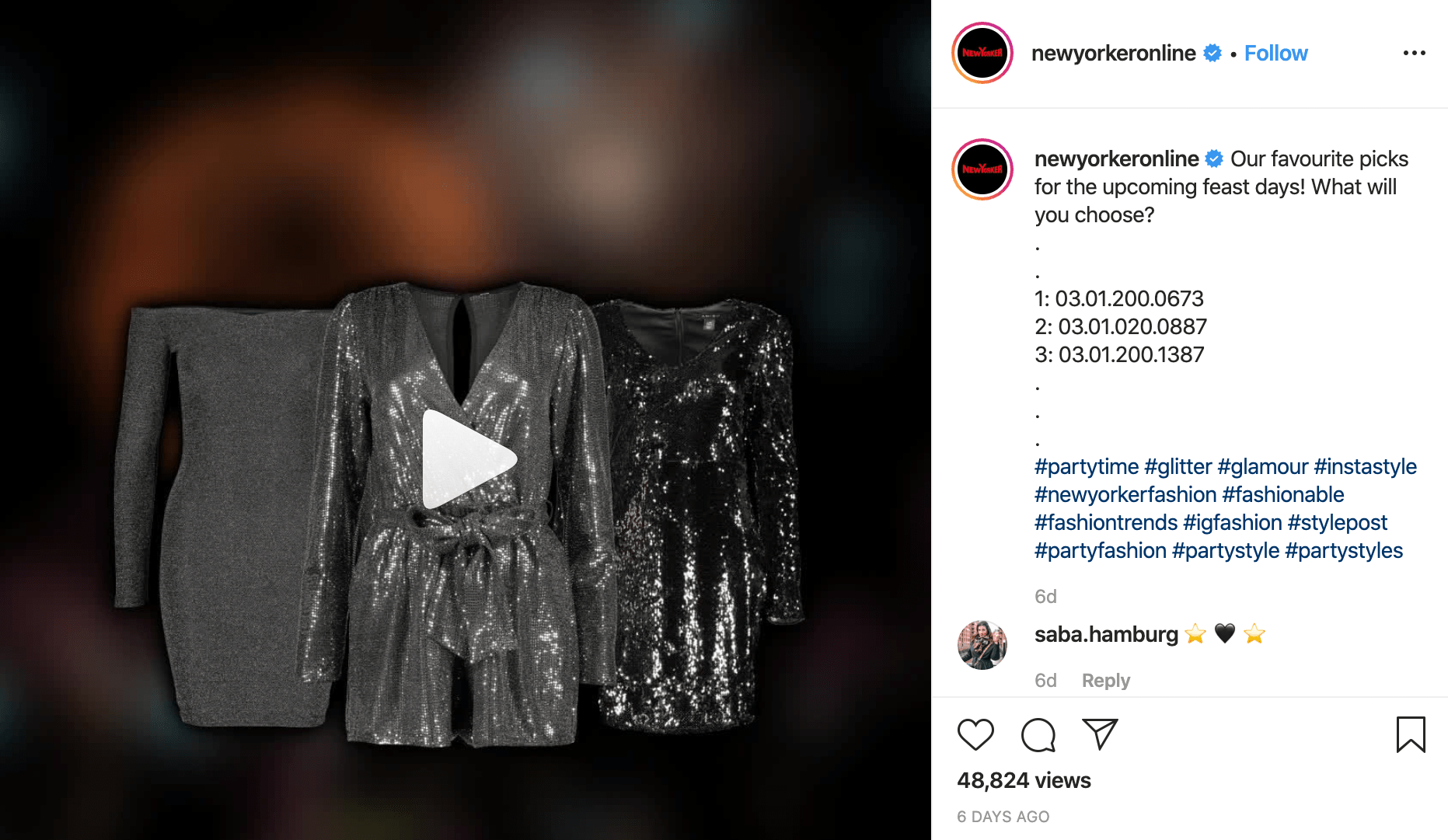 In the example above, German clothing retailer New Yorker posted a product teaser clip with a question ("What will you choose?") to drive engagement and spark curiostiry.
Tip 2: Live stream a new product launch or event on either Facebook or Instagram Live for customer engagement. Interact with your followers in real-time to build up hype around your brand.
Tip 3: Publish video lessons webinars or do podcasts on interesting and useful topics related to your business.
Tip 4: Use your existing content and turn it into a video. Repurposing content for video is possibly the easiest place to start if you want to experiment with video marketing.
Tip 5: Share video reviews by customers on your website or social media channels. 50% of internet users look for videos related to a product or service before visiting a store.
Pro tip: Use video streaming platforms that let you archive your live video and turn it into a permanent piece of content that will continue to drive website traffic!
Popular platforms for video marketing: YouTube Live, Facebook Live, Instagram Live, Livestream Studio, Google Hangouts, Vimeo Livestream, Placeit, Udemy.
We hope you found our tips useful! Got more questions about marketing strategy examples or developing your own marketing plan? Need help growing more organic traffic or optimizing your website? Check out our growth marketing and conversion rate optimization services! Alternatively, drop us a line at [email protected] or contact us right here within the orange chat bubble to your right.
Related articles: