Customers that interact with a brand on a regular basis are rewarded through customer loyalty programs. It's a customer retention approach that attracts new customers and encourages existing customers to stick with your brand instead of going to one of your competitors. Customers receive more incentives the more they buy or engage with the brand.
Loyalty and referral programs are effective ways to accelerate the growth of your business. Customers are more likely to return to your store if you have a loyalty program in place. A referral program also encourages clients to tell their friends and family about your business, providing you with qualified prospects.
Read in this case study how Scandiweb developed and implemented a customer loyalty program functionality for a client's eCommerce store.
Business overview
Holzkern is an Austrian startup that partners with watch manufacturers to transform various natural materials into unique accessories. They invest €1 from every sold watch into reforestation projects, development of sustainable packaging, occupation of people with physical or mental disabilities, and other significant and eco-friendly projects. Their online store runs on Magento 2.
Project background
Holzkern wanted to enhance their customer account features with a loyalty program within "The Holzkern Premium Club". The loyalty program would ensure customers can collect points (Tree Rings) with every order and earn more loyalty points by completing certain tasks. The points can be exchanged for exclusive offers, merchandise, and/or discount codes.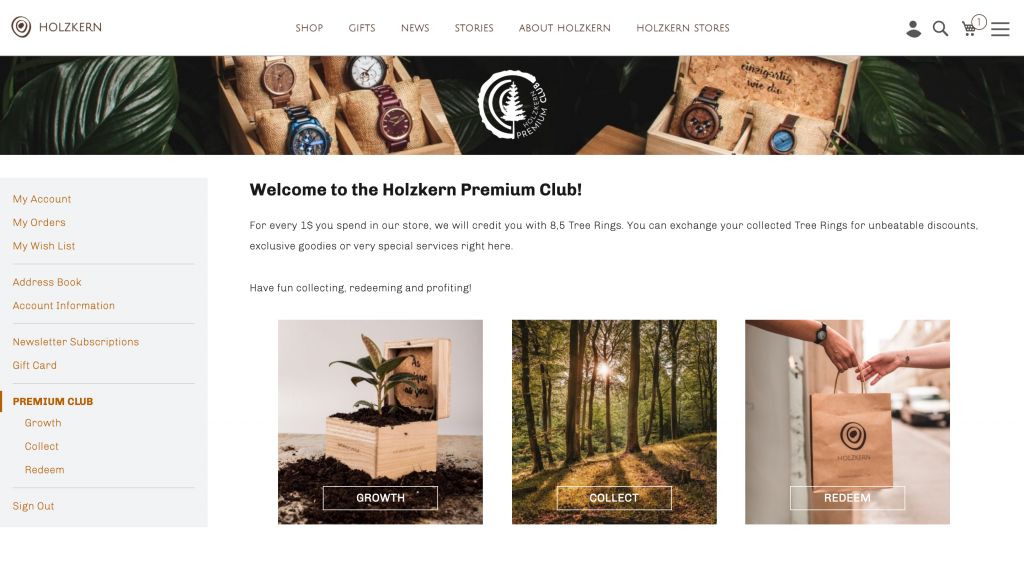 How customers can earn loyalty points:
100 points per € or $ spent in Holzkern online shop
Recommendations via WhatsApp, Facebook, Instagram, Twitter, and LinkedIn (every week)
Facebook Like of Holzkern page (once)
Facebook Share of Holzkern page (every month)
Newsletter subscribe (once)
Follow on Instagram (once)
Enter birthday and mobile phone number (once)
The default version of Magento doesn't include a loyalty program. To develop the Holzkern store's loyalty program, the client chose to use the Mirasvit Magento 2 Reward Points, Referral and Loyalty Program extension with additional custom functionality implemented by Scandiweb.
Challenge
We took the Mirasvit Rewards extension as a base and initially thought that it will be able to handle the required out-of-the-box logic but it turned out not to be the case. The extension could only handle awarded points from created orders. We customized the extension to be able to award customers with points for completing actions on-site, like newsletter subscriptions.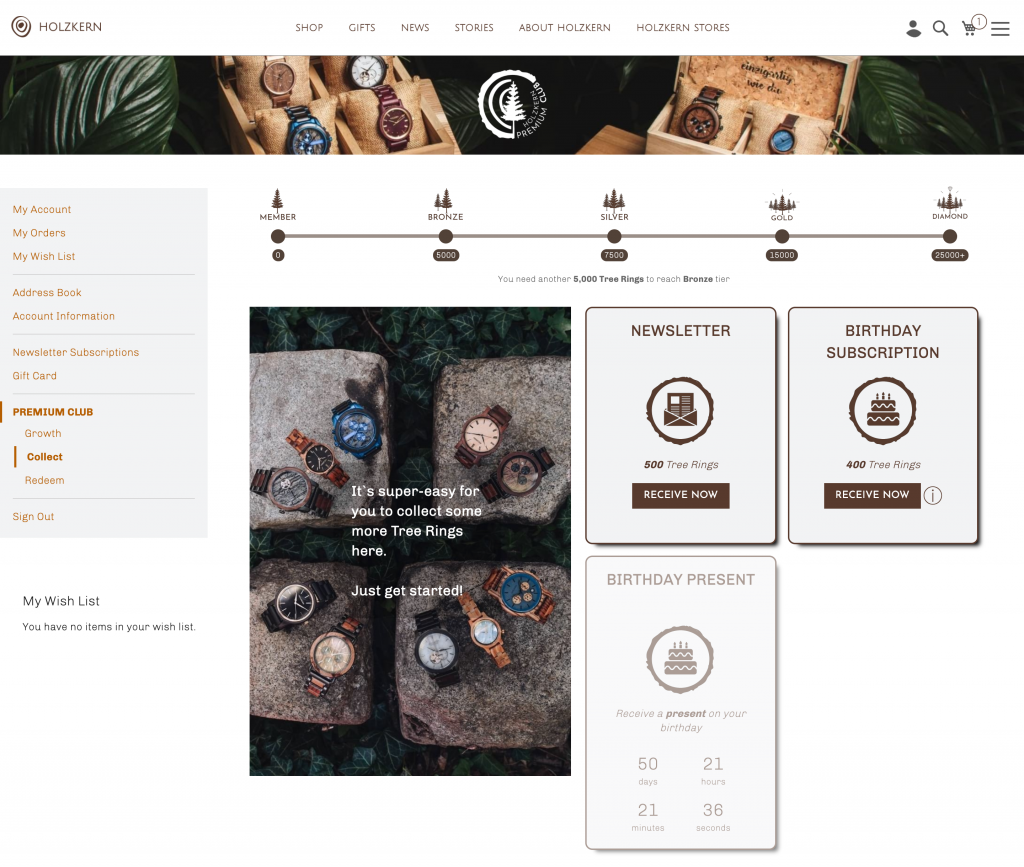 For customers to be able to earn points with every purchase, we created additional bonus logic for the Miraswit_Rewards module.
Given that loyalty points needed to be added to previous orders as well, the next challenge was to update all previous orders. To do that, we assigned each order to the customer account by their email. If a customer created orders as a guest and after a few days or weeks registered an account, we added this order to the customer and calculated loyalty points during the Loyalty program go-live.
As for the Instagram integration to award points for sharing and liking posts on the Holzkern IG account, it had to be skipped due to Instagram API limitations and data privacy regulations.
In the scope of the Holzkern loyalty program, we also created functionality to give customers coupon codes as a birthday gift, which can be received in the customer account 7 days after their birthday. 
A few days after the loyalty program was launched, we located incorrect points calculations. It turned out that the logic for partial refunds didn't work as expected. To fix this, we located all incorrect loyalty point transactions and created a script to update them, as well as recreate the points calculation logic. During the development, points logic had to be recreated several times to fit updated requirements.
Result
In the end, the required functionality for the Holzkern loyalty program was successfully implemented. Customers can exchange their earned loyalty points for products or coupon codes which gives them an incentive to return and keep shopping at Holzkern.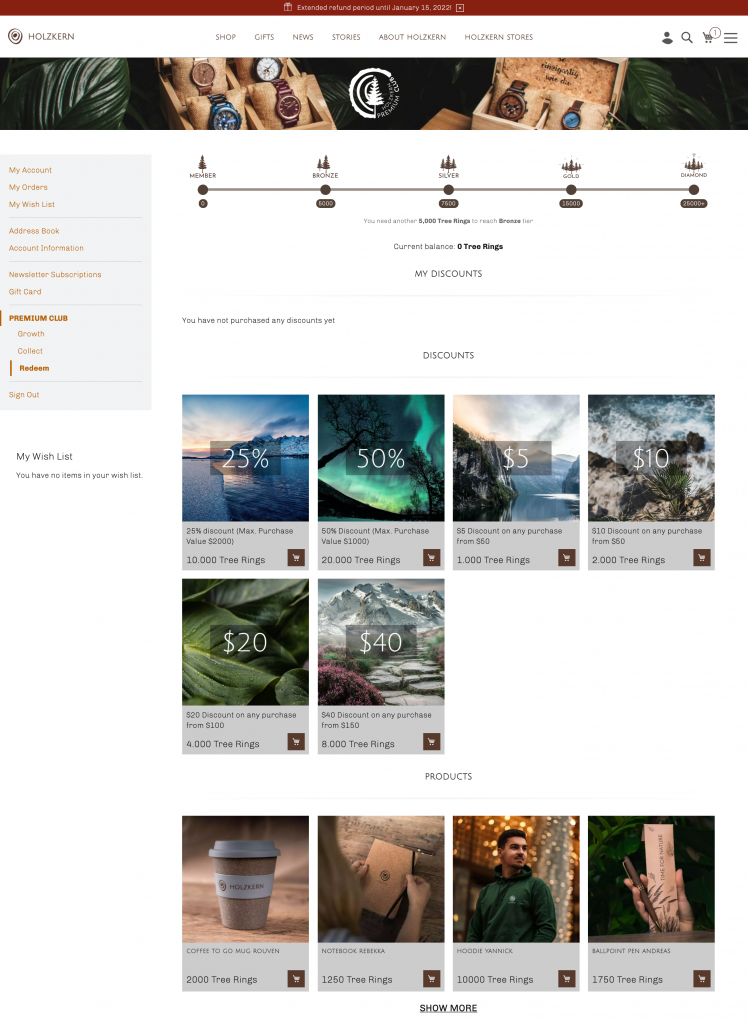 Want to implement a customer loyalty program or a referral program on your online store? Shoot us a message at [email protected] or use the orange chat bubble to your right, and we'll be happy to assist!