CHECKOUT OPTIMIZATION CASE STUDY SERIES
Read the last of the three case studies we have prepared and gain insights on how you can improve the checkout experience in your own store.
Remember, the goal is always to make the checkout process as simple and seamless as possible. And we do that by following these guiding principles of checkout optimization: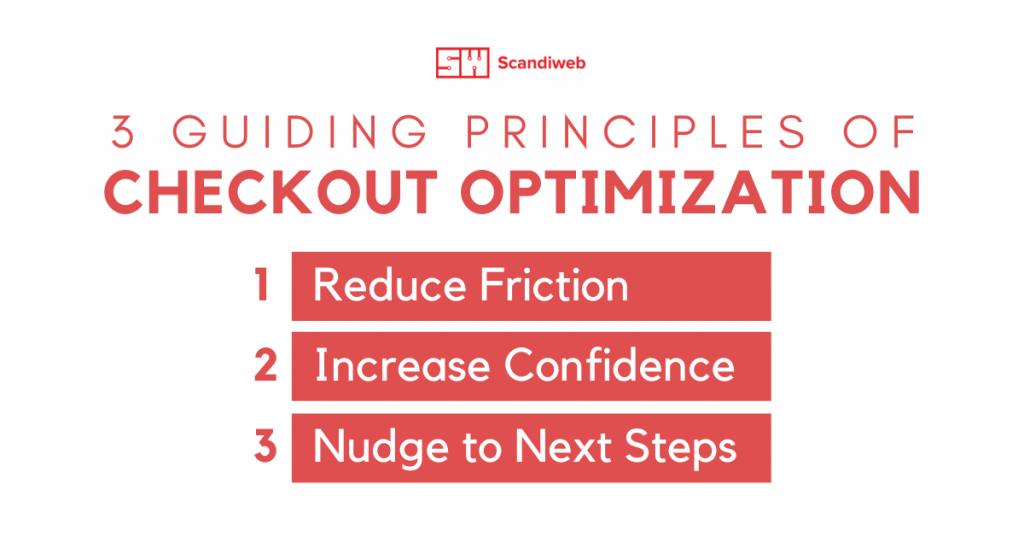 In this article, we are talking about nudging users to the next steps of checkout.
How much nudging do prospects need?
After making sure that you've addressed all causes of friction you've identified at checkout and given your prospective customers all the reasons to feel secure during the checkout process, how much more do you need to do to help them reach the end of the purchase funnel? Well, the answer is already in the question: All the work that's left is to help them reach the end of the funnel. You need to show your prospects the way. Keep the checkout flow logical and easy to follow.
Nudging prospects towards the next steps of checkout is about guiding them through each phase of the checkout process so that they reach the final stage—the purchase.
How to nudge users to the next steps of checkout?
To nudge users towards the next steps of checkout, you want to put in place the right prompts at the right time. Here are some quick recommendations for how you can guide your prospects through the whole checkout process:
Prompt the user to proceed to the next step. Use a logical call to action to send them to the next step. For example, a simple "confirm details" after they've entered their shipping address or credit card information, and "confirm order" to complete the purchase.
Make the next step obvious. Don't leave the user wondering where to click next after filling out a form or reviewing their last action. For example, make sure the CTA button is visible above the fold so users don't have to scroll all the way down to the bottom of the page. It doesn't always occur to users to scroll down too much to find a button they expect to be readily available.
Show all the steps involved and indicate progress. There's a psychological factor involved in nudging users to complete a task when they can see the progress of their activity.
Offer express checkout. Save the user's shipping address and payment details so you can send them to the order confirmation page right away the next time they order. They will be given the opportunity to review their details instead of being asked to manually enter them.
airBaltic checkout optimization program
airBaltic is Latvia's flag carrier and the leading airline in the Baltics. It's headquartered at Riga International Airport and operates direct and connecting flights to different destinations within its network covering Europe, Russia, Scandinavia, CIS, and the Middle East.
Not very long ago, we got an exciting call from airBaltic challenging us to redesign their checkout flow. We knew it was going to be tough, but we were over the moon to be working on such an exciting project.
We joined in when the client had already developed the user flow that consisted of six steps: tickets, flight class, baggage, seats, meals, and passenger info. We also received low-fidelity wireframes with the information and products to include on the page. Our task was to prepare designs based on the requirements provided by the client, ensure seamless user experience for the new checkout flow, and optimize it for micro conversions.
The goal of the project was to design a new booking flow that will increase ancillary product attach rate with a "one-decision-at-a-time" approach.
Basically, the challenge was to guide users through the checkout process, nudging them to the next steps, while also effectively offering upsells along the way—with dozens of user cases to keep in mind.
Two months and 400+ screens later, the project was delivered. Read on to find out what went on behind the scenes of creating a new checkout flow for the biggest airline in the Baltic region.
Nudging to Next Steps: Showing prospects the way
An airline booking funnel isn't your typical eCommerce Checkout. It requires you to be mindful of not only dozens of user cases but also specific systematic and legal requirements. For this project, our team relocated to the client's office to ensure constant knowledge transfer and fast feedback loops.
The decisions we made in redesigning the checkout process were guided by the following:
UX audit
Wireframe iteration
User testing
UX audit of developed wireframes
Nudge users to next steps with micro conversions
We reviewed the work the client had already done in-house. We studied all of the developed wireframes to understand what functionalities and information each step should have.
We split existing wireframes into smaller components and prioritized all micro conversions of the page. Micro conversions are small steps that users take on their path towards a primary conversion goal. They are small but substantial actions that indicate that users are in the right direction.
Wireframe iteration based on UX audit outcomes
Nudge users to next steps with personalization and scarcity marketing
Once we had a clear vision of what to sell on each step, identifying the most difficult user case requiring the largest amount of information and elements, we began iterating the wireframes.
To reach the goal of the project and increase ancillary attach rate, we leveraged personalization and scarcity elements.
Each product had a personalized value proposition, visuals, and notification tailored to different user cases. We wanted to make sure that whether it's a young mom trying to book tickets to fly with an infant for a week-long vacation or a group of friends booking a flight to go skiing together, the content and value proposition presented on the page are always relevant and on point.


With the help of visual hierarchy, tooltips, notifications, warnings, and other UI elements, we injected scarcity messaging that reflected that status of the flight users are trying to book throughout the checkout page. For example, we didn't want prospects to miss the best deals for purchasing meals for their flight. We used small pop-ups to save space and subtly offer upsells on each step.

To make sure we were going for what actually worked, we reviewed seven different flows for the baggage options step before settling for the final design, which we later optimized for 10+ different user cases.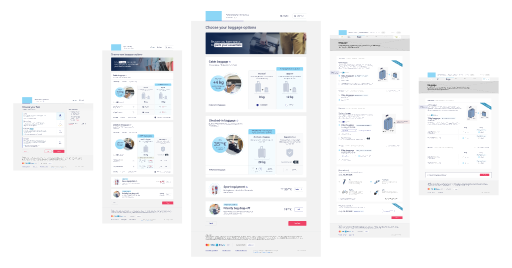 User testing on interactive prototypes to uncover design and user flow flaws
Nudge users to next steps with a flawless user experience
After finalizing designs for all the steps, it was time to see them in action and validate our decisions. To do so, we kicked off the user testing sprint.
In total, we prepared 6 interactive prototypes and conducted 18 user tests which helped us identify flaws in user experience and solve them before passing designs for the development. A smooth checkout experience will naturally push users towards the next steps of the checkout process.
We wrote a separate article on how we ran user testing for this project, learn more about it here.
Results
In just two months, we managed to revamp by design the airline's booking flow and deliver:
400+ screens for 17 user cases
6 interactive prototypes
18 user tests
100+ page technical documentation
Last but not least, a seamless user experience that nudges users towards adding ancillary products.
The Scandiweb approach to checkout optimization
And that's how we approach checkout optimization to help eCommerce businesses resolve issues that keep their visitors from converting at checkout.
With our tried and tested guiding principles of checkout optimization—reducing purchase friction, increasing user confidence, and nudging customers to the next steps—we successfully design checkout funnels that lead to increased conversion and lower cart abandonment rates.
Remember, this article is part of a series on checkout optimization. Read the first two case studies in the series if you haven't already: Reducing Purchase Friction for The MET Store and Reducing Purchase Friction for The MET Store.
If your current checkout approach is not working for your eCommerce business, you could benefit from our Checkout Optimization Program. Tell us what your conversion goals are and we will create a data-informed growth strategy to help you achieve them. Get in touch with us for a free consultation.