FREE EBOOK: "Data-driven business decisions made easy with Google Data Studio"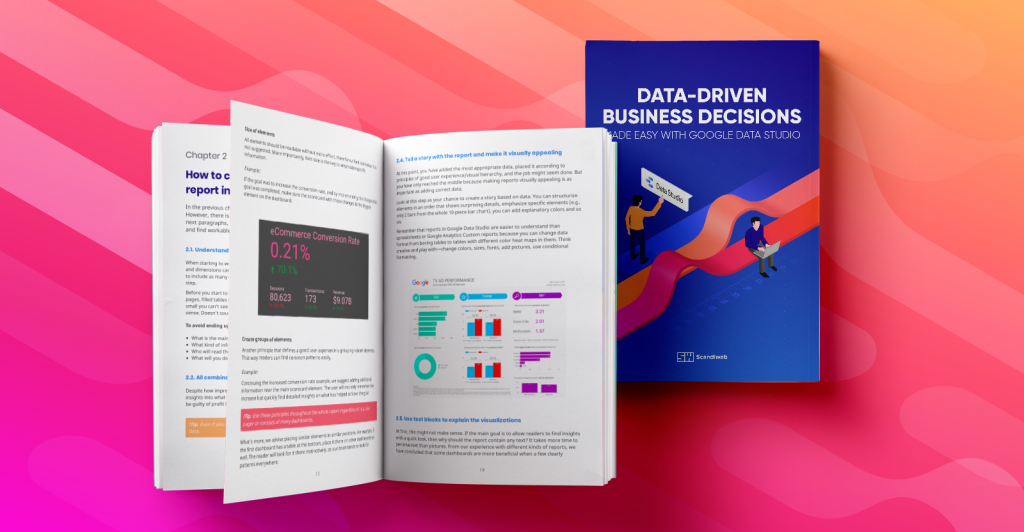 Get your free Data Studio guide:
Fill in the form below and get access to this guide.
Google Data Studio provides you with everything you need to turn the analytics data into informative, easy-to-understand-and-present reports through data visualization. It's a tool not to overlook given that future business actions will be based on data in the reports.
Get creative with a guide we've prepared, packed with tips on making beautiful and useful automated reports that help to make data-driven business decisions based on those.
Visibility principles to follow when creating a report

How to organize the report to spot the insights quickly

Practices to take into consideration during building

What mistakes to avoid in making your reports

Google Data Studio dashboard use cases
Brought to you by Scandiweb Growth:
We are part of Scandiweb – a digital agency developing eCommerce websites since 2003. To help our clients reach their full potential we tailor custom growth programs to each business's needs. Our days are filled with traffic acquisition, usability and A/B testing, data analysis and visualization.
Over the last few years, we were lucky to bring growth insights to bootstrapping startups, digital merchants, and Fortune 500 enterprises who want to generate bigger revenues online, with projects for Walmart, Thomson Reuters, The New York Times, Happy Socks, Rockar Jaguar Land Rover,  Lafayette 148 NY, Cervera, KURU footwear,  along with many others.  So we think it's time we start sharing our knowledge to help you bring your online business to the next level!