FREE RESOURCE: "eCommerce in the EU: A Legal Checklist"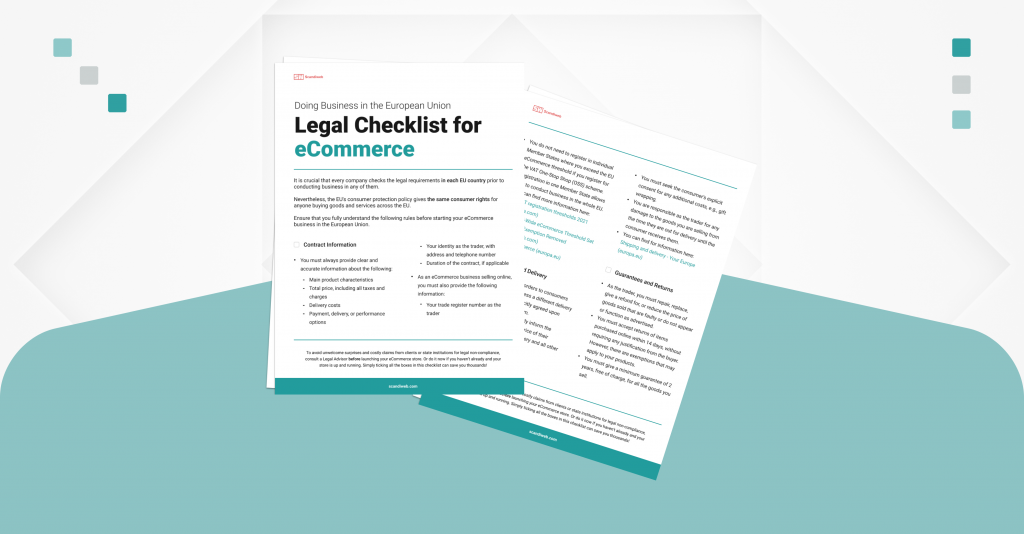 Get your free EU Legal eCommerce Checklist:
Fill in the form below and get access to this guide.
It is crucial that every company checks the legal requirements in each EU country prior to conducting business in any of them. Nevertheless, the EU's consumer protection policy gives the same consumer rights for anyone buying goods and services across the EU. Ensure that you fully understand the rules relevant to you before starting your eCommerce business in the European Union.
Claims for legal non-compliance can be costly. Simply ticking all the boxes in this checklist can save you thousands!
What you will find in this Checklist:
Contract Information

Pricing and Payments

Value Added Tax (VAT)

VAT Registration Thresholds

Shipping and Delivery

Guarantees and Returns

Directive on Privacy and Electronic Communications / Anti-Spam Regulations

General Data Protection Regulation (GDPR)
Brought to you by Scandiweb Growth:
Scandiweb has been a leader in eCommerce platform development and strategic marketing implementations since 2003. To help our clients reach their full potential, the Growth Team tailors custom growth programs that address specific business needs. Our days are filled with traffic acquisition, usability and A/B testing, data analysis, and visualization.
Over the last few years, we've been lucky to bring growth insights to bootstrapping startups and digital merchants as well as Fortune 500 enterprises who want to generate bigger revenues online—with projects for Walmart, Thomson Reuters, The New York Times, Happy Socks, Rockar Jaguar Land Rover,  Lafayette 148 NY, Cervera, and KURU footwear, among many others. Now we think it's time we started sharing our knowledge to help you bring your online business to the next level!