FREE EBOOK: "Transitioning to GA4: The Future of Analytics"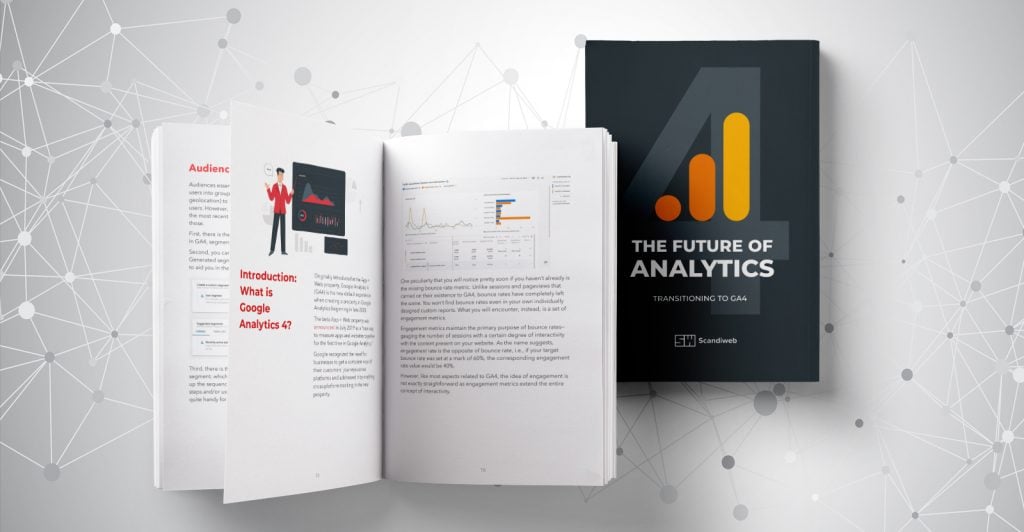 Fill in the form below and get access to this Google Analytics 4 eBook.
After a long history of iterations and reinvention, Google Analytics 4 brings you the future. And we want you to make the most of it.
Google Analytics 4 (GA4) was officially launched in October 2020 and has been continually updated with new features ever since. With machine learning at its core, GA4 is able to deliver on its promise to provide unified web and app analytics that enables businesses to make smarter marketing decisions that translate to better ROI. Alongside that, greater focus is given on customer experience, behavior, and privacy—ensuring that businesses that rely on Google Analytics are able to adapt to whatever uncertainty they are met with in the future when it comes to understanding their customers.
This eBook will introduce you to GA4 and highlight the benefits that its new features bring to your business. Of course, we'll tell you how to harness these benefits and why you shouldn't wait to get started with GA4. We'll also teach you how to use GA4 with powerhouses like BigQuery and Data Studio so you can reach the next level of data processing and reports creation.
What you will find in this eBook:
The key benefits of transitioning to GA4

Comparison between GA4 and Universal Analytics

Tips on how to migrate to GA4

How to ensure your data is complete and accurate

Integrating BigQuery with GA4

How to create highly insightful and visually stunning reports with Data Studio

Specific use case scenarios
Brought to you by Scandiweb Growth:
Scandiweb has been a leader in eCommerce platform development and strategic marketing implementations since 2003. To help our clients reach their full potential, the Growth Team tailors custom growth programs that address specific business needs. Our days are filled with traffic acquisition, usability and A/B testing, data analysis, and visualization.
Over the last few years, we've been lucky to bring growth insights to bootstrapping startups and digital merchants as well as Fortune 500 enterprises who want to generate bigger revenues online—with projects for Walmart, Thomson Reuters, The New York Times, Happy Socks, Rockar Jaguar Land Rover,  Lafayette 148 NY, Cervera, and KURU footwear, among many others. Now we think it's time we started sharing our knowledge to help you bring your online business to the next level!