FREE RESOURCE: "The Ultimate SEO Checklist:
Magento to PWA migration"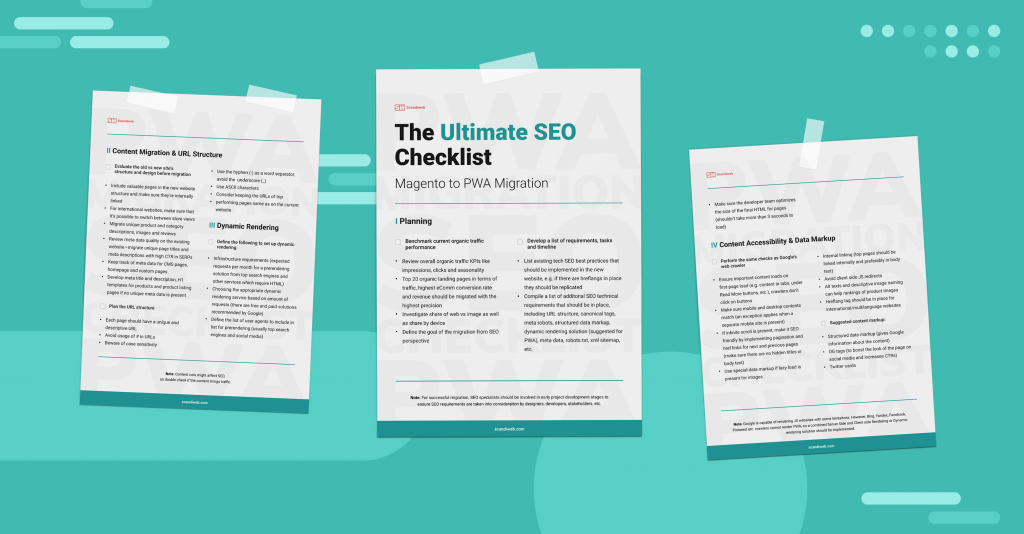 Get your free PWA SEO checklist:
Fill in the form below and get access to this guide.
Progressive Web App technology is getting more and more popular. However, there are quite a lot of questions and doubts about how well PWA and search engines are getting along.
This checklist will help you tackle one of the most challenging processes from an SEO perspective – migrating an existing eCommerce website to a new platform. Follow the checkboxes and you'll be all set.
All the steps from planning to after go-live monitoring

What it takes to migrate to PWA without losing rankings

What are the successful migration must-do's

Notes to keep in mind and ease the migration process
Brought to you by Scandiweb Growth:
We are part of Scandiweb – a digital agency developing eCommerce websites since 2003. To help our clients reach their full potential we tailor custom growth programs to each business's needs. Our days are filled with traffic acquisition, usability and A/B testing, data analysis and visualization.
Over the last few years, we were lucky to bring growth insights to bootstrapping startups, digital merchants, and Fortune 500 enterprises who want to generate bigger revenues online, with projects for Walmart, Thomson Reuters, The New York Times, Happy Socks, Rockar Jaguar Land Rover,  Lafayette 148 NY, Cervera, KURU footwear,  along with many others.  So we think it's time we start sharing our knowledge to help you bring your online business to the next level!