FREE EBOOK: "Magento 1-2 Migration"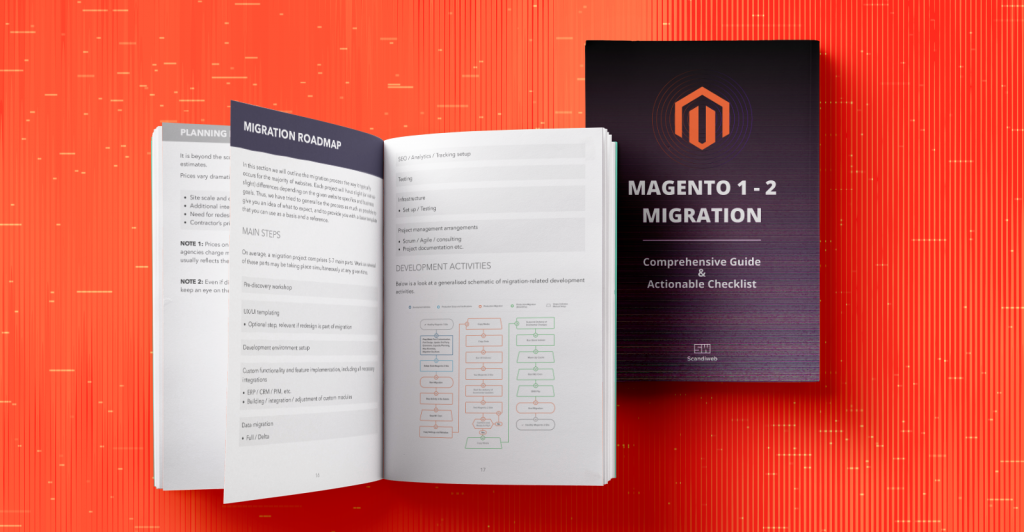 Get your free Magento 1-2 Migration guide:
Fill in the form below and get access to this guide.
With Magento 1 EOL in June 2020, it is now critical that store owners understand the risks involved in postponing migration to Magento 2 any further. Once a matter of preference, migration is now increasingly emphasised as a necessity.
This book takes a critical look at the new beneficial features Magento 2 has to offer. But more importantly, it aims to familiarise business owners with the technicality of the migration process from Magento 1 to Magento 2.
What you will find in this book:
Benefits Magento 2 has to offer to your eCom team, your business and your customers
Things you need to keep in mind prior to migration, as well as possible choke points to avoid
How to choose the right agency to perform your eCom store migration
How to plan your efforts and resources
An overview of migration process, including both generalised roadmap and detailed actionable checklist
Brought to you by Scandiweb Growth:
We are part of Scandiweb – a digital agency developing eCommerce websites since 2003. To help our clients reach their full potential we tailor custom growth programs to each business's needs. Our days are filled with traffic acquisition, usability and A/B testing, data analysis and visualization.
Over the last few years, we were lucky to bring growth insights to bootstrapping startups, digital merchants, and Fortune 500 enterprises who want to generate bigger revenues online, with projects for Walmart, Thomson Reuters, The New York Times, Happy Socks, Rockar Jaguar Land Rover,  Lafayette 148 NY, Cervera, KURU footwear,  along with many others.  So we think it's time we start sharing our knowledge to help you bring your online business to the next level!