FREE EBOOK: "Best SEO practices in eCommerce - 2021 guide"
Facilitate revenue growth by driving organic traffic and ensuring SEO excellence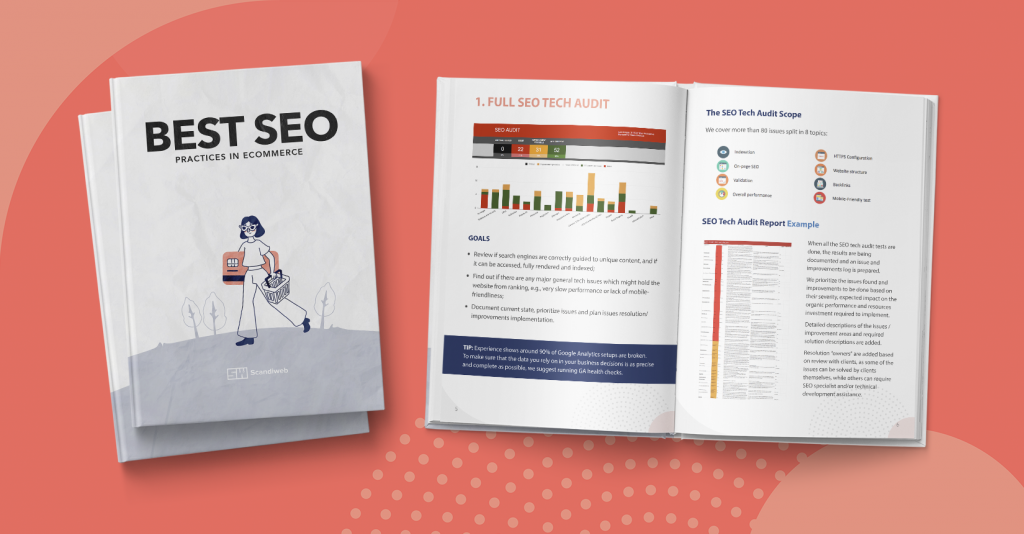 Fill in the form below and get access to this guide.
SEO always sounds like a sweet deal – add some keywords here, some internal links there and get more organic traffic, sales, revenue! Unfortunately, good SEO that gives great results is complex. There are countless things to consider, analyze, optimize both on-page and off-page. What's more, SEO is ever-changing, so keeping up with the latest developments is a hassle.
Scandiweb has gathered the latest tried and tested SEO practices for 2021, that we employ to improve SEO for our own clients right now. Find inside our tips & tricks on how to unlock the full potential of your site, improve conversions, and maximize organic traffic for your business.
In this eBook we offer to take a peek at a holistic 3-part SEO strategy, accompanied by two case studies of on-going Scandiweb clients that demonstrate the power of well-done SEO.
Learn by reading this eBook:
What is SEO technical audit and how to conduct it

How to do keywords research & competitors analysis

How to start optimizing on-site content

Our case studies and success stories
Brought to you by Scandiweb Growth:
We are part of Scandiweb – a digital agency developing eCommerce websites since 2003. To help our clients reach their full potential we tailor custom growth programs to each business's needs. Our days are filled with traffic acquisition, usability and A/B testing, data analysis and visualization.
Over the last few years, we were lucky to bring growth insights to bootstrapping startups, digital merchants, and Fortune 500 enterprises who want to generate bigger revenues online, with projects for Walmart, Thomson Reuters, The New York Times, Happy Socks, Rockar Jaguar Land Rover,  Lafayette 148 NY, Cervera, KURU footwear,  along with many others.  So we think it's time we start sharing our knowledge to help you bring your online business to the next level!