Ready to transform customer experience in your eCommerce store? We recently implemented augmented reality (AR) with a 360-degree product view for leading Baltic sportswear retailer Sportland, and we're excited to share everything about it.
To make it happen, we used AR technologies by Fibbl, a SaaS company specializing in solutions for visual product content, including product images, 3D models, AR, and virtual try-on. Fibbl estimates that 3D models and AR can result in up to 16 times longer customer engagement, 40% lower return rate, and 200% increased conversion. Who doesn't want to see such promising results, right?

Scope of Work: Sportland
3D product model with 360-degree view on PDP
Customers can open a 3D model of a product and have 360-degree viewing capabilities, meaning they can view the product from any angle and zoom in to see it closer on any device—like what you can find in Sportland Poland.
The standard product image gallery remains on the product display page (PDP). Where Fibbl is supported, the 3D model is launched with a separate button in an overlay, showing on top of the existing gallery container.
AR product visualization on PDP
Mobile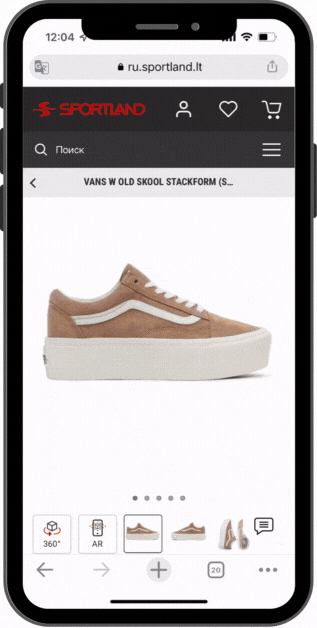 A dedicated AR button is added to product pages where Fibbl is supported. When AR is activated on a mobile device, the camera app opens up and a realistic 3D model of the product is displayed. AR product visualization allows customers to virtually place the product in their real environment using the camera viewer.
Desktop
When the AR button is clicked on a desktop computer/laptop, additional information is shown along with a QR code. Customers can scan this QR code using their smartphone or tablet to make the product available for AR environment placement. Scanning the QR code will prompt the user to open the Fibbl-supported product page in Google Chrome or Safari and then automatically open the camera app. Finally, a 3D model of the product will appear on the user's camera app, giving them a 360-degree view of the product and allowing them to manipulate it by adjusting its size and moving it around in the viewer.
General settings
The 3D and AR viewers are only available for Fibbl-enabled products.
The site admin has the ability to enable/disable the Fibbl AR and 360-degree viewing functionalities globally or for specific stores only.
Localization—elements related to the Fibbl functionality can be translated according to the store's language settings.
AR Technologies: Fibbl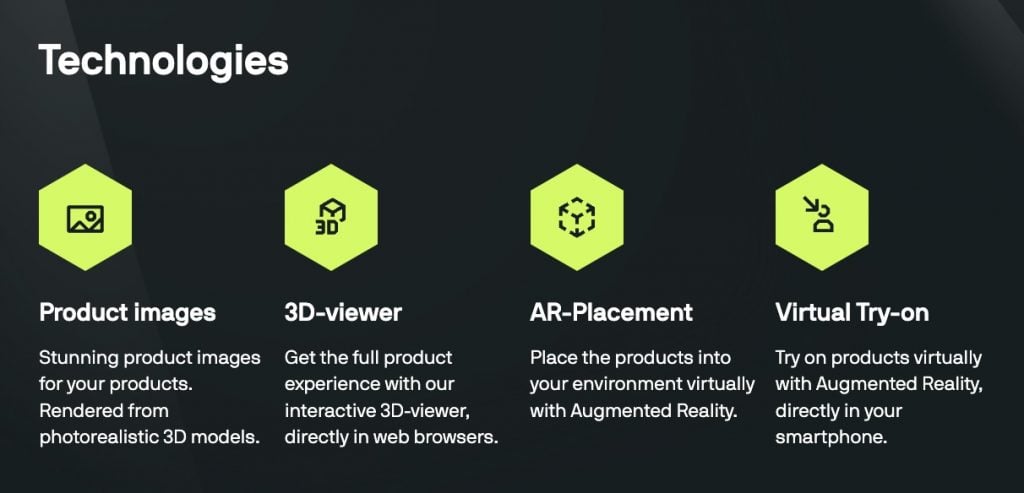 Fibbl is based in Sweden and offers a complete solution for eCommerce companies wanting to improve their user engagement and conversion rates by leveraging visual product content on their stores. Fibbl's business model is simple—they produce visual content for brands for free and only charge for the use of their technologies.
1. Enabling Fibbl content
To make Fibbl work on your eCommerce store, you simply have to add a script on the global product detail page template. This script works on any platform and will allow for Fibbl content options to appear on PDPs where it is available. If no Fibbl content is available for a particular product, then Fibbl options will not show at all—no AR or 360-degree view buttons.
2. Implementation timeline
Since the process of enabling Fibbl content only involves adding a script to the PDP template, it is possible to get everything set up in less than a day, provided that Fibbl-supported 3D models of your products are already available. Here's Fibbl's full documentation on how to go about the implementation.
3. Controlling where Fibbl content appears
If, for any reason, you choose not to enable Fibbl content for a specific product when it is available, you can do this by adjusting your settings in the Fibbl platform.
4. Impact on website performance
Fibbl content will only be loaded when a user clicks on any of the buttons that activates the Fibbl script.
5. Fiibbl's product database
It is possible that Fibbl already has your products in their database as they are pursuing to build "the world's largest database of 3D models." If this is the case, you simply have to integrate the script into your eCommerce platform to make Fibbl content available right away. Otherwise, you can reach out to Fibbl and they will create the 3D models you require.
6. Cost of using Fibbl
For each product model Fibbl creates, it charges €1 per month and that's it. This pricing model already includes all their technologies—product images, 3D viewer, AR, and virtual try-on.
If you wish to stop using their technologies, you only have to remove the script from your website. There are no lock-in or notice periods.
Augmented Reality and eCommerce
AR can help eCommerce companies improve their revenue by transforming the customer experience offered in their stores.
According to Consumer Insights from Google, 66% of users are interested in using AR when shopping, 59% consider the option to shop on mobile to be an important factor when choosing brands to buy from, and 85% find that product photos and information matter a lot in making the decision to buy from a retailer. eCommerce companies can tap into these groups of shoppers by integrating AR technologies, optimizing their mobile stores for a seamless shopping experience, and making sure all the product pages have high-quality photos and other visual elements. Just imagine the opportunity for growth these segments open up for eCommerce stores.
Allowing users to interact with products using 3D models and AR technologies will encourage more engagement, thus increasing the chance of them completing a purchase. According to the 2021 Snap Consumer AR Global Report, there are 100 million consumers shopping with AR and brands are 41% more likely to be considered by shoppers if they offer a branded AR experience.
There is clearly a strong demand for AR content, and businesses need to act fast if they want to be in the best position to capture the interest of this new generation of consumers.
Interested in Fibbl AR technologies? Or maybe you first want to better understand the opportunities AR can open up for your eCommerce business? Get in touch today and we'll be happy to guide you in your journey with augmented reality solutions.