Introduction
Do you remember the fairytale about the princess on the pea? Search engines (read — Google) are sometimes behaving like princesses  themselves when it comes to SEO. They might notice even a minor change you make in your menu structure, some adjusted wording in title tags, or the technical setup.
When there is a migration from one platform to another it usually goes hand in hand with structure and content changes and often includes a complete redesign. And when you perform a website redesign without considering SEO in your technical settings and content changes, instead of a pea you are placing a bunch of elephants. Meaning your migration might lead to significant fluctuations in rankings.
You might be lucky and keep the majority of your organic traffic, or you can lose a big chunk of visitors from search engine result pages and a significant part of your revenue.
Want to secure yourself? Make sure you avoid the following mistakes!
1. Leave SEO till the last minute
In Scandiweb, a big part of our daily work relates to development services for eCommerce stores, with migration from one platform to another as one of the most common services. Clients often are involving their contracted SEO agencies to support the migration of the project. And SEO agencies' involvement ranges a lot depending on an agency.
The worst cases mean not hearing from the agency throughout the whole project. Sometimes the only deliverable from an agency is an audit of the new website, run after the migration. In such a case there might be critical SEO errors present for a while on the Live website. Would you be happy to fly on a plane not tested before the first flight? Probably not.
What can go wrong if SEO specialists are involved right before the new website launch:
In Magento 2 the majority of technical SEO best practices can be implemented via extensions. However, e.g., optimizing page speed can take a lot more time, therefore, it might affect the project timeline if requested too late. And nobody is a fan of missed deadlines.
For some custom projects, you might end up redoing some functionality due to SEO. E.g., if you want the URLs structure to match the more advanced structure of your existing store it might take extra resources to redo everything before go-live.
If there is no SEO in project scope, but your Magento store relies on organic traffic, you might see a significant decrease in traffic after launching the store.
How it could be avoided
Set goals. Are you ready to invest in improving your store from an SEO perspective and want to reach a 20% increase in 6 months? Are Search Engines a minor traffic source and you just want to make sure that your brand can be found in Google (i.e., you don't care about SEO)? There can be different cases, however, the clear goal will make it easier to prioritize tasks, help to save resources and will definitely be a step towards achieving the expected results. 
At the beginning of the project, involve the SEO team to prepare detailed requirements for SEO implementation based on benchmarking of the current website, e.g., migrate URL structure for specific pages or the whole website, so that the dev team is aware of what you want to have from SEO from the get-go. 
Agree on the QA process for changes implemented, run by developers, your in-house SEO team, or 3rd party SEO agency. 
Run SEO technical audits before go-live to ensure all major bugs are spotted and fixed.  
Have a clear checklist of tasks for developers to perform during go-live.
After go-live, closely monitor organic traffic KPIs for at least a few weeks.
2.  Delete content because nobody reads anymore
The research conducted by Microsoft shows the average human attention span decreased from 12 seconds in 2000 to eight seconds in 2018. It means that more engaging content is required to motivate visitors to stay on your website longer. High-quality visuals you can zoom to see the product in detail or videos from catwalks for apparel stores are great ways to engage customers and showcase the products. 
Changes in customer behavior often lead to quite a logical decision to reduce the amount of text placed on the website. However, original content is still very important for search engines in understanding what the page is about and defining how high it will appear in SERPs. When looking for new solutions, keep the basics in mind as well.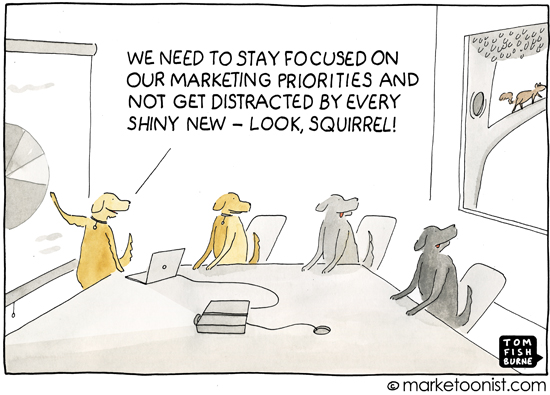 For example, Asos added text in their PLPs instead of cutting it. And seeing a View More button on the top of the page, which is not a very user-friendly solution, gives a clue that this text is there purely for Search Engines. They are not scared of reading the text under View More, the only exception is if it loads when pressing the button.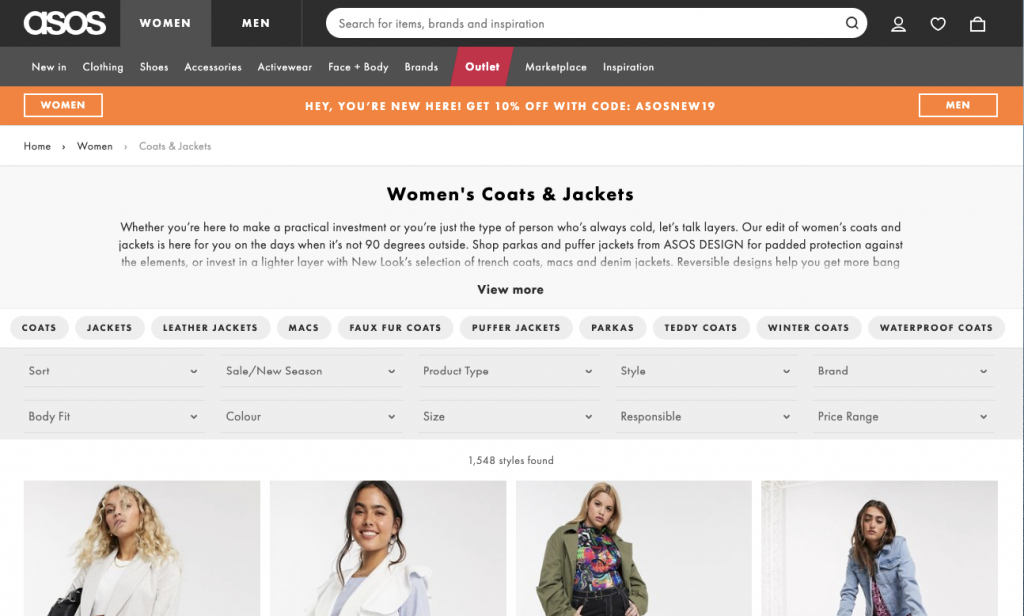 There are many cases when users are looking for long and detailed original content, despite the decrease in average attention span. Therefore, by cutting useful content you might affect the experience of your potential customers as well.
What can go wrong if there are random content cuts:
Specific pages and the overall website may drop in rankings or disappear completely from SERPs if your content becomes too thin. 
How it could be avoided
The safest way to avoid drops in rankings is to: either migrate the content fully or invest some time in analysis to define what is worse to migrate from an SEO perspective and what can be left out as not bringing any tangible benefit.
To not overwhelm the store with long descriptions, SEO specialists often place the text right above the footer. Search engines can still read it, but it doesn't distract website visitors from choosing the product.
3. Launch website without 301 mapping
Even if you don't care about SEO, you should care about 301 mapping. If not done properly, it will affect all traffic channels, including e-mail, paid, organic, social and referral.
If you had a URL https://www.example.com/my-product and you have changed this URL to https://www.example.com/my-amazing-product on the new website, people who click on the old URL in Search results, bookmarks, e-mails, FB posts, blog posts, etc., will land on a 404 error (Not Found) page.   
Here is an example of the amount of 404 errors per channel for the website that didn't have 301 mapping prepared and implemented till go-live.

What can go wrong if 301 mapping isn't done properly:
Missing redirects, redirect chains, and loops will lead to a drop in rankings as backlinks value will be lost and search engines won't be able to identify new, updated URLs.
The conversion rate can be affected when 404 errors increase.
How it could be avoided
You might consider migrating URLs for top-performing pages to ensure that there is no need for 301 redirects in the first place.
If URLs are changing, map the important URLs, including products, categories, CMS, etc. with traffic or valuable backlinks from an SEO perspective.
Read our in-depth guide on 301 mapping for Magento 2 for detailed instructions and know-how. 
4. Apply the best SEO practices without thinking
One size does not fit all. Although the majority of SEO practices apply to almost every eCommerce store, in some cases specific settings will do more harm than good. 
E.g., if you search for Magento 2 robots.txt file in Google and blindly copy any robots.txt from the first results, you might harm your SEO by blocking URLs that shouldn't be blocked. That can save some crawl budget, but decrease rankings overall.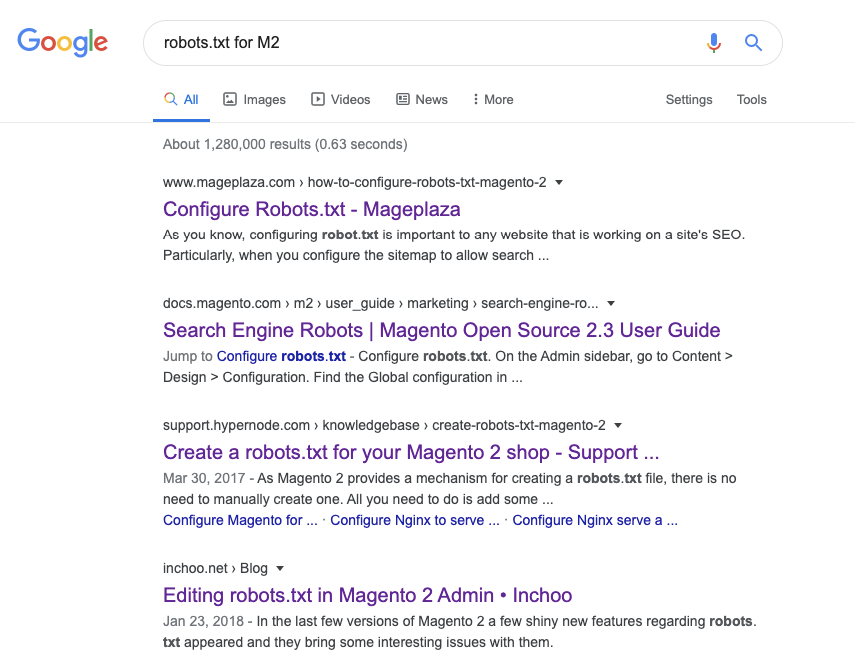 Magento 2 doesn't offer many opportunities to configure SEO settings, but there are some good options in the marketplace. For example, Mageworx, Amasty extensions will cover the majority of out-of-the-box SEO requirements. However, we still recommend doing the configuration with the help of SEO specialists.
What can go wrong when applying SEO settings without thinking:
A full range from improving your rankings by accident to enabling settings that completely exclude your site from indexing.
How it could be avoided
There should be developer clear requirements based on your store specifics. If you have configurable products with variants that can rank independently and bring visitors with high shopping intent (like smartphones with different memory), make them indexable with some additional on-page optimization. If there are no searches for your product variants, e.g., people are not looking for specific shoe sizes, then better keep such pages out of index to save crawl budget on low-quality URLs.
Any setup should be QA'd before go-live, and preferably cross-checked after go-live as well.
5. Perform go-live without proper data tracking 
Do you know that around 90% of Google Analytics setups are broken in some way?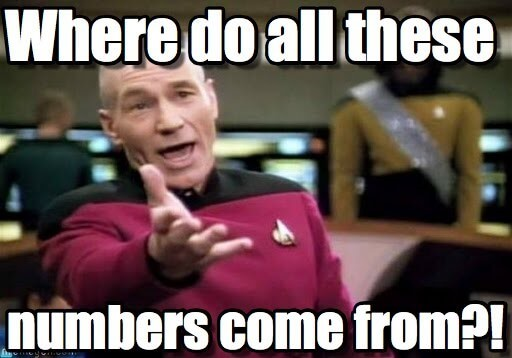 Making sure you properly track your traffic and eCommerce data will help to validate the decisions made in the planning phase and plan improvements if needed.
 What can go wrong:
Incorrect data might lead to wrong business decisions. 
How it could be avoided
Same as for SEO, there should be requirements developed for Analytics. 
Run QA on Testing and Live environments.
Verify Google Search Console (Bing or/and Yandex webmaster in some cases).
6. Not have a clear go-live procedure
Launching a website is exciting and stressful at the same time. The exciting part is clear—Magento 2 comes with some great features. In case of a redesign, the website gets much faster, with better User Flow, etc. However, there might appear some unpredicted bugs and issues. You should spot and fix the most serious ones as quickly as possible.
What can go wrong:
Bugs with an XML sitemap, extensions, 301 mapping, or domain level redirects bugs, etc. 
Issues with rendering.
Testing environments are usually set to meta robots noindex, nofollow, or have robots.txt blocking all crawlers. Developers can forget to update the settings, and it can lead to blocked websites in the search engines.
How it could be avoided
Developing a clear go-live checklist with specific tasks, order, and a responsible one from all stakeholders in advance.
If SEO is important, you can consider involving SEO specialists in the go-live process. Read about our approach to SEO go-live support.
Looking for an experienced team to help you smoothly migrate your website without losing any of the SEO traffic? Let us help you! Contact us at [email protected] and find out more about our SEO services here!
Related articles: