Maximizing SEO performance is paramount for eCommerce success in today's fiercely competitive online landscape. In this case study, we'll delve into the transformative power of content optimization, showcasing the collaborative efforts between the Content and SEO teams at scandiweb.
Explore the effective strategies we employed and the results we achieved for Macron—a leading European sportswear brand that offers sportswear online and through a large network of sporting goods stores around the world.
Scope
Content optimization is about ensuring that the content produced reaches the widest possible audience and remains relevant and engaging to users. It involves incorporating relevant keywords in the copy itself as well as the meta tags and including appropriate links. We covered the following for Macron:
Meta title and description
Headings
Page copy
Internal links
Our content optimization efforts encompassed various types of pages within the eCommerce store, namely:
Product Detail Pages (PDP)
Product Listing Pages (PLP)
Marketing Pages
Other Content Pages
By addressing content optimization across these diverse page types, the goal was to significantly improve the SEO performance of and user engagement on Macron's eCommerce stores.
Collaboration between the Content and SEO teams
By working together, the Content and SEO teams ensured that both the content and SEO goals for the client were achieved.
The SEO team conducted thorough keyword research to identify relevant and high-impact keywords for each page type and prepared comprehensive briefs that outlined the content requirements for the Content team.
The Content team engaged in active communication with the SEO team to gain a clear understanding of the target keywords, tone, style, and overall content goals.
The Content team crafted high-quality content that aligned with the SEO requirements, ensuring that the content was informative, engaging, and tailored to the needs of the target audience while incorporating the identified keywords naturally.
Through this collaborative approach, the Content and SEO teams created a seamless workflow that emphasized the importance of producing excellent content that not only met SEO requirements but also resonated with users. This cohesive effort resulted in content optimization strategies that not only improved the search engine visibility of the eCommerce store but also provided a superior user experience.
Content optimization for Macron
Product Description Pages (PDP)
Product Detail Pages (PDP) are dedicated pages that provide detailed information about individual products. Our optimization efforts were aimed at engaging users with well-crafted and compelling product details. By highlighting the key features, benefits, and unique selling points of the products that may not be clearly visible or noticeable in the accompanying product photos, we wanted to help users make informed purchasing decisions. Ultimately, we want them to buy!
To increase the competitiveness of the products and their visibility on search engines, we also incorporated keywords that appeared naturally in the copy and metadata.
By strategically incorporating target keywords in the website content, meta tags, and other elements, we aimed to increase the eCommerce store's visibility in search engine results and attract targeted organic traffic.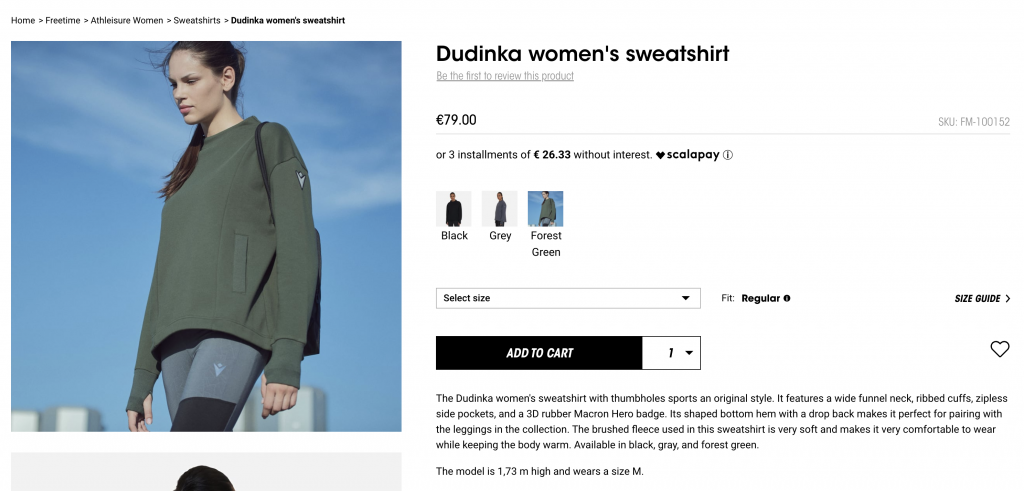 Product Listing Pages (PLP)
Product Listing Pages (PLP) are pages that showcase multiple products within a specific category or search results. The content optimization we did for PLPs was centered around crafting engaging descriptions of product groups while strategically targeting relevant keywords. We also added internal links to sub-categories and selected products under the category in question.
By linking related pages, users can explore and discover more products or information within a specific category, enhancing their overall experience on the site. Linking to relevant subcategories or product pages also paves the way for category pages to pass on page authority and for search engines to understand the relationships and hierarchy between different categories. This assists search engines in indexing and ranking category pages appropriately, ensuring that they appear in relevant search queries.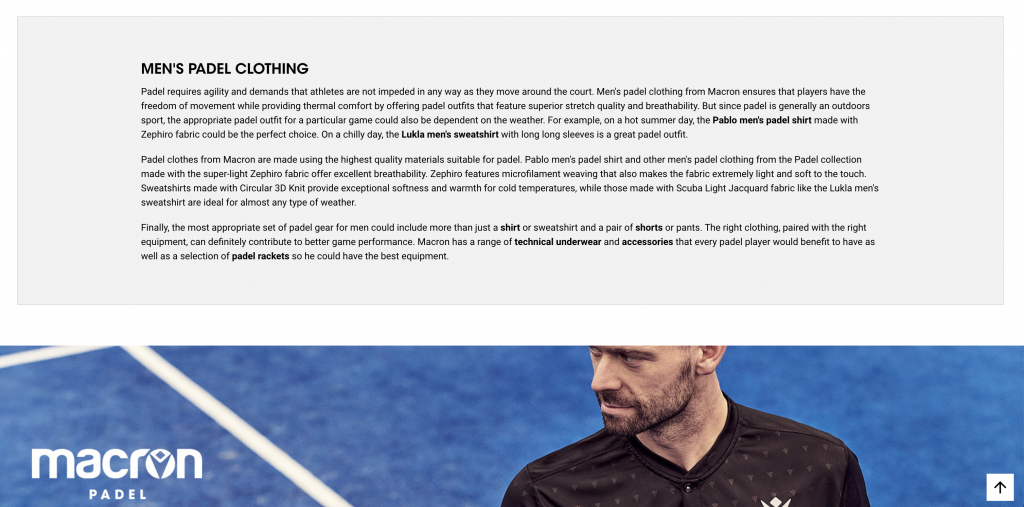 Marketing Pages
Marketing Pages serve the purpose of sharing information about the company and promoting specific campaigns, services, or offers. For Macron, we focused on writing persuasive, engaging, and informative messages that resonate with the target audience. Of course, all content must be easy to understand and quick to consume.
Specific keywords were targeted and the copy was kept succinct and full of value.
My Macron Kit
My Macron Kit is an app developed by Macron to allow users to easily and quickly customize their kits.
The page was fully revamped not only for SEO purposes but also for improved UX and conversion rates (app downloads). Descriptive headings were created, and the copy was crafted to be unique and valuable for the users. The information shared was covered in multiple sections to facilitate readability.
The copy was peppered with calls-to-action (CTA) for the readers to download the app, and an FAQ section was added at the bottom to immediately address any concerns that might hinder them from doing so.
Homepage
The main competitor of the "Macron" brand keyword is the French president. The SEO team wanted the Macron eCommerce store to rank as high as possible for the term "Macron." To do this, we updated the meta title, meta description, and copy of the homepage to include "Macron," adding more information about the brand. We also incorporated in the copy additional keywords identified by the SEO team during keyword research.
Other Content Pages
Other Content Pages refer to additional pages within the eCommerce store. In this case, they're informational pages designed to enhance the overall user experience by providing useful information to visitors. We targeted specific topics and keywords to help establish Macron as a brand that offers high-quality sportswear that matches the needs of shoppers online.
Like for the other pages we optimized, the SEO team conducted thorough competitor and keyword research to identify the topics users are interested in and will find most valuable.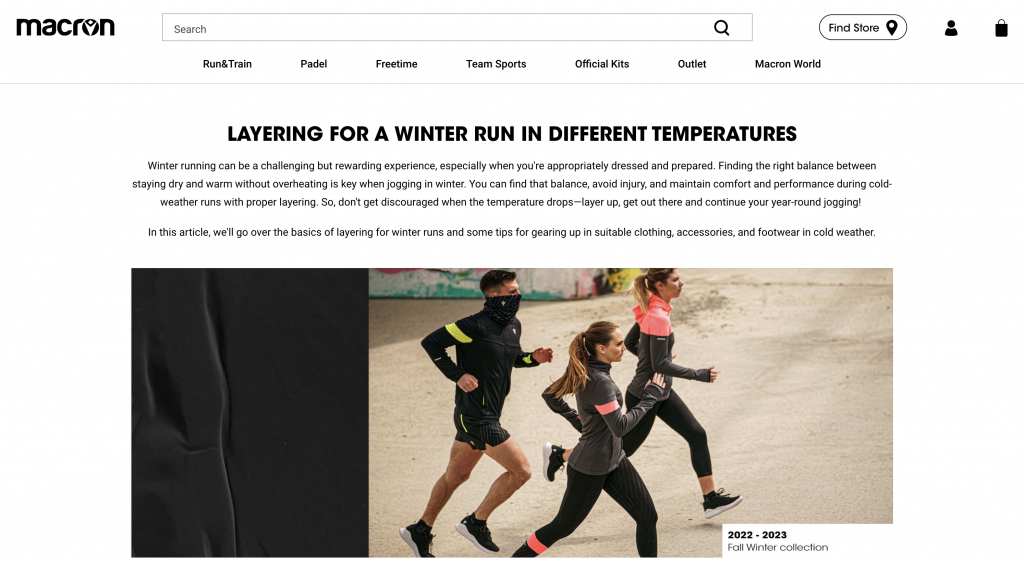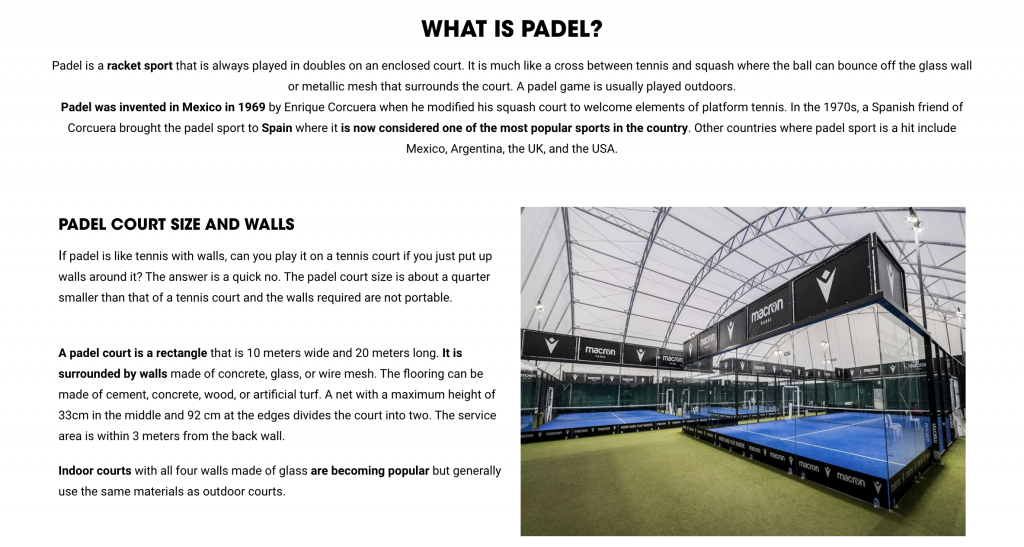 Results
Content optimization has brought stellar YOY growth for Macron. For the padel pages, for example, we saw the following improvements:
199.42% increase in total clicks
539.42% increase in total impressions
average position improved by 2.8 places

The informational page, "How football shirts are made," created to increase the online visibility of Macron, appears as a featured snippet when the target topic is searched in Google.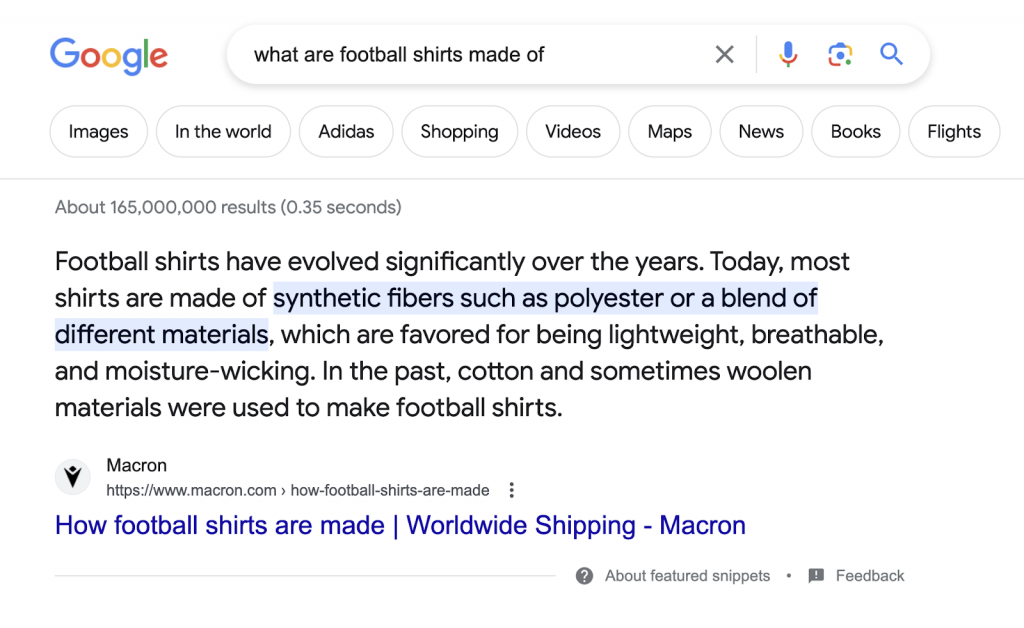 These are wins that prove the value of effective and targeted content optimization. It simply works!
Content optimization is ongoing for Macron. We still have a lot of PDPs and PLPs lined up to work on. So, we expect to see more positive results as we create more optimized content for their eCommerce store.
You have hundreds or thousands of product pages but are finding it hard to get them on the first page of SERPs? Content optimization may just be what you're missing. Contact us today for a free consultation and one of our expert strategists will help you get started.