We analyzed 9,000+ support requests from online merchants across the globe to understand the areas that really matter to eCommerce businesses in terms of website maintenance and administration.
The following chart shows the distribution of support request types included in the study according to the number of requests we received.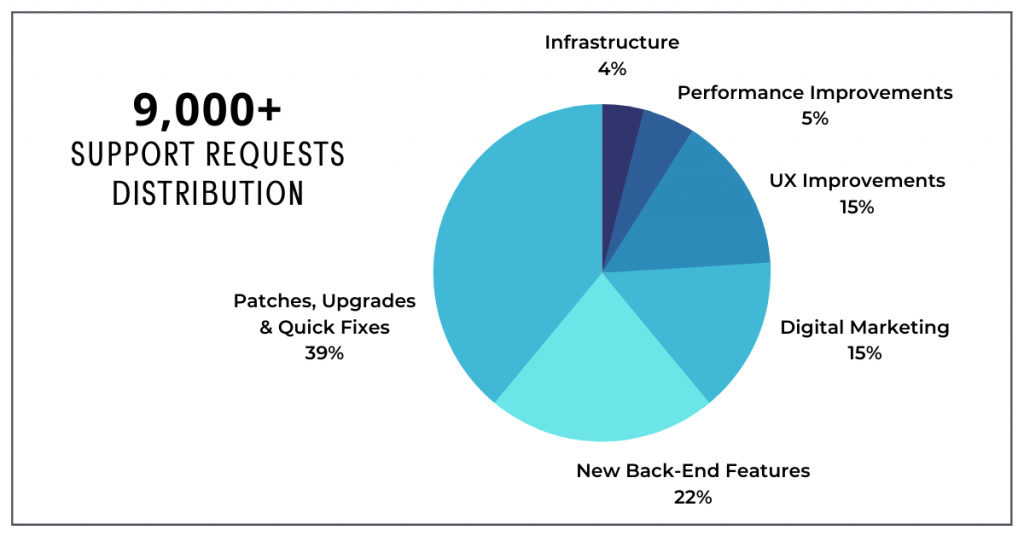 In what areas do eCommerce stores need ongoing support?
Infrastructure
Performance Improvements
UX Improvements
Digital Marketing
New Back-End Features
Patches & Upgrades
In this article, we'll discuss the maintenance aspect of running an online store and its impact on user experience, conversion rates, revenue, and overall business.
Here are the key takeaways:
10% of all support requests studied were urgent. Requests that are considered blockers can directly affect revenue, and thus they should be addressed immediately.
Marketing services played a crucial role in website maintenance as 15% of all requests were for digital marketing support, which is about setting up new marketing automation tools and conversion optimization—solutions that make stores sell more.
UX improvements are the way online stores evolve alongside their customers, with eCommerce businesses trying to keep up with constantly changing user behavior. UX improvements account for 15% of the support requests we looked at.
Ongoing support for addressing security issues that come with new features and major software releases make up a big part of maintenance services for complex eCommerce stores. Platform upgrades and patches are critical to keeping an online store healthy, and they make up 39% of all the requests we analyzed.
The whole ecosystem around eCommerce stores grows as the business grows. Integration of new systems such as ERP, CRM, OMS, and PIM, among other similar extensions, support business expansion in ways that allow an eCommerce company to embrace exponential growth. New back-end features make up 22% of all support requests we reviewed.
INFRASTRUCTURE:
What is the ideal infrastructure setup?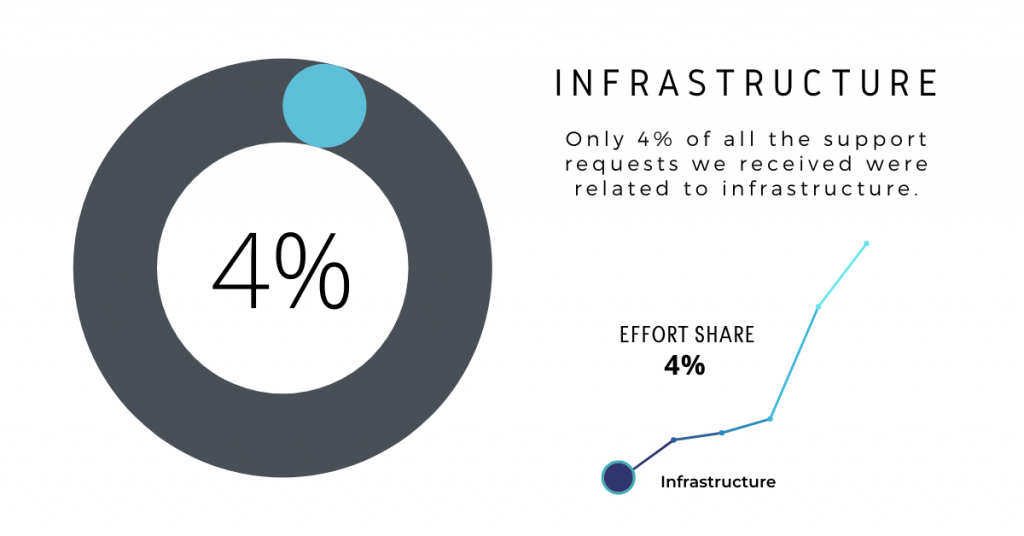 Issues related to hosting and system administration concerned a small number of eCommerce stores included in the analysis. In fact, more than issues, the requests involved server infrastructure optimization, migration, server upgrade, and other similar projects.
For example, a number of eCommerce merchants opted for ReadyMage, a solution that offers managed hosting with ScandiPWA in the frontend and Magento 2 in the backend. ReadyMage features "1-click build and deploy," auto-scalable infrastructure, full customizability, and GitHub code management.
Server auto scaling is a cloud computing feature that enables a system to dynamically adjust computational resources based on demand. When more traffic than normal is received in a given period, more resources will automatically be activated to accommodate the additional traffic. This prevents downtime as well as ensures that the website is running as smoothly as it normally would with regular traffic.
It should be noted, however, that Scandiweb is an eCommerce development company instead of a hosting provider. In terms of infrastructure, our focus is on custom Amazon Web Services (AWS) setups and managed hosting solutions for PWA via ReadyMage. AWS is an infrastructure service provider trusted by millions of customers all over the world. We configure AWS for eCommerce companies so that what they get is exactly what their business needs.
PERFORMANCE IMPROVEMENTS:
What is the value of speed in an online store?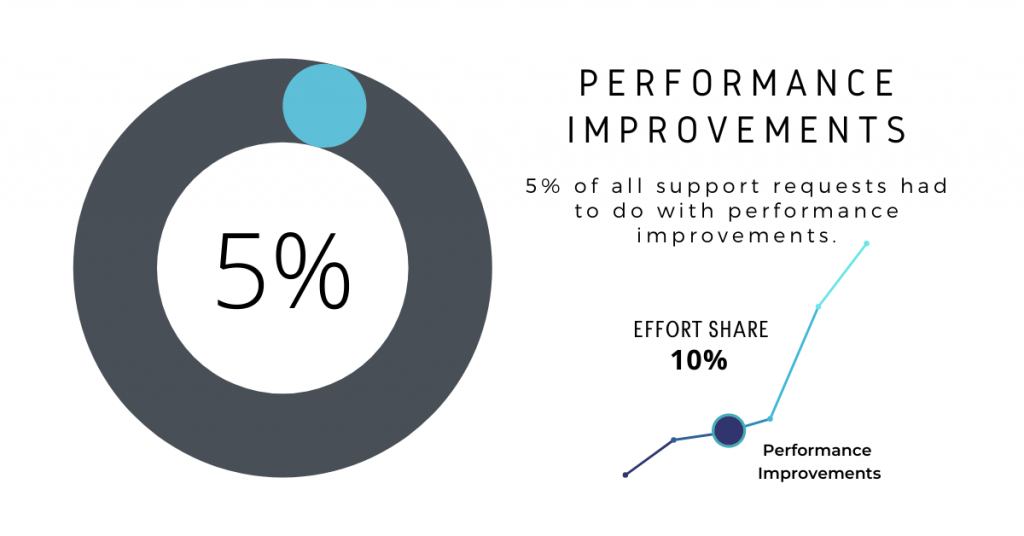 Speed = Revenue
It can't get any clearer than that.
7.5 minutes
Average time an
eCommerce customer spends on a website from mobile (eMarketer)
6.44 seconds
How much time users
spend viewing the menu (CXL)
50 milliseconds
Time it takes users
to form an opinion about a website, which determines whether they'll stay or leave (Google)
The faster the users
can get to what they want when visiting an online store, the greater the chance
of that store converting those users into customers.
More than half of mobile users abandon sites that take more than 3 seconds to load. And if mobile sites manage to keep them, those that load within 5 seconds can earn as much as double of what sites that take 19 seconds to load could make in revenue.
A website slowing down can be a sign of many different issues in the back-end, such as server resources not keeping up with demand. But poor page load time being the norm simply means that a website is not well developed and needs to be optimized for better performance.
Actual Performance and Infrastructure Improvement Requests from Clients
Here are examples of actual performance improvement support requests we received from clients:
What kind of support did clients really need?
During important eCommerce sales events like Black Friday, or important holidays like Thanksgiving and Christmas, where shoppers flock to every online store that offers long-awaited discounts, many businesses fail to keep up.
The sudden surge in traffic overwhelms the store's server resources, resulting in a poor website performance for many and even downtime for some. And these are the worst times to experience this because of how much potential revenue is at stake, such as when over $1,000,000 was estimated to have been lost in sales due to infrastructure failure during Black Friday for leading Magento retailers in 2018.
Here are the some of the most common reasons for the poor performance of eCommerce websites:
Server is poorly setup, not scalable
Third-party content loads slowly
Heavy pages
Poor API performance
Extensions fail
Buggy checkout
All these issues should be addressed especially before an expected spike in traffic during important seasons. But of course, the best road to take is to identify the root causes and prevent them from giving rise to problems in the first place, whether or not sale season is coming up. And ongoing Magento support for Magento eCommerce sites is the ideal way to ensure this.
An important part of Scandiweb's Magento Performance Optimization program is conducting a holistic audit of the client's website at the start of every project.
What is involved in Magento code audit?
The client's Magento eCommerce website is meticulously reviewed by a dedicated developer according to Magento coding best practices.
A comprehensive report is presented to the client.
Identified areas of concern are highlighted and ordered according to their impact on the system.
The code audit is done to identify optimization opportunities and create an actionable plan to implement for every unique project, which may include:
Content Delivery Network (CDN) implementation
Text and image optimization
Possible Progressive Web App (PWA) adoption
It is worth highlighting that with PWA, Magento 2 site speed could see an improvement of up to 300%! PWA is a website that essentially functions like an app and makes use of advanced rendering and caching techniques to speed up performance. It is faster, more reliable, and more engaging than a normal eCommerce store or website.
And ScandiPWA is our very own open-source, Magento-first PWA solution developed in-house at Scandiweb. It is specifically optimized for Magento—built to make the most of all its existing features and capabilities—and has been warmly welcomed by both Magento and PWA communities. ScandiPWA is redefining Magento-based mobile eCommerce standards today.
Some of the biggest industry players are already using PWA.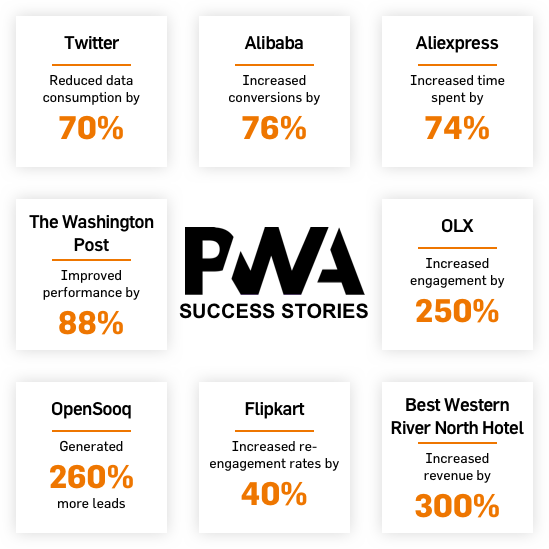 UX IMPROVEMENTS:
Why does UX matter?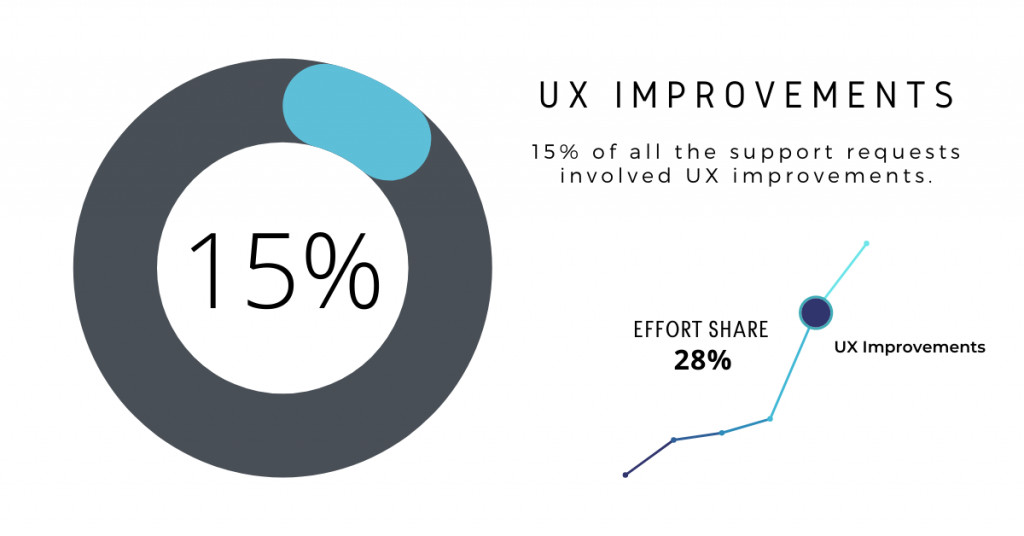 Happy customers translate to better ROI. It's one of the main principles behind conversion rate optimization (CRO) and the reason why a properly maintained and smoothly running eCommerce platform is essential. The same concept is taken into account when it comes to User Experience (UX) improvements.
UX is the experience a user has when visiting a website or mobile application. When it comes to eCommerce sites, it is about how pleasant the experience is of browsing product offerings, finding a specific item, checking out, and completing a purchase. A good user experience takes a customer through the buying journey more smoothly, resulting in more conversions or purchases from the store.
On the contrary, bad UX makes browsing of products complicated, searching for specific items difficult, or checking out confusing that the user eventually leaves the site without making a purchase.
Actual UX improvement requests from real clients
Here are examples of actual UX improvement requests we received from clients:
What kind of support did the clients really need?
These requests show how online merchants realize that a simple improvement on the navigation menu or an addition of a product slider could help customers find relevant products more easily and faster. It's also obvious that a malfunctioning or missing CTA button could spell missed opportunities even right at the very last stage of the conversion funnel.
For sure, the navigation menu is always initially designed to make exploring the site easy for the customer. But after receiving feedback from actual customers and analyzing available data, online merchants should use the new information to find ways to make products even more accessible and improve the overall user experience onsite. Having the right support to get this improvement done quickly and effectively means happier customers sooner, and better prospects for increased conversions.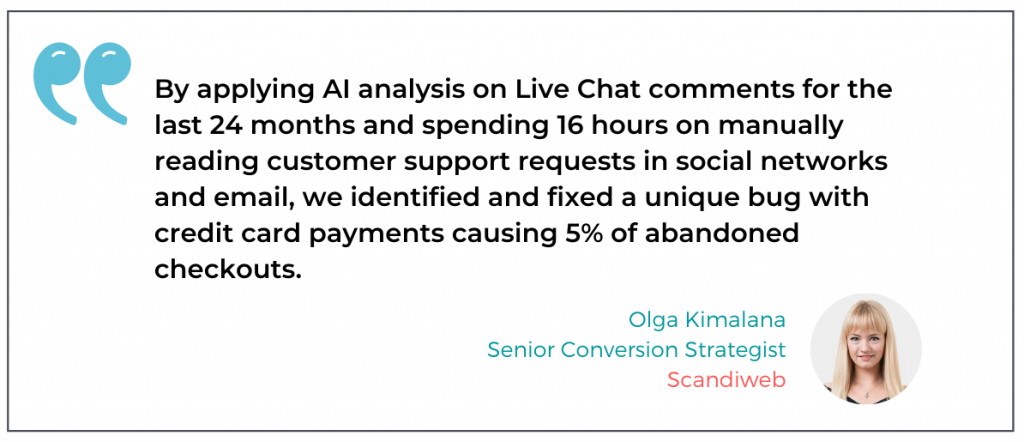 We cannot emphasize enough how important it is that CTA buttons work. After all, every optimization done on the page and every effort to make the web content as engaging as possible are with the ultimate goal of getting the customers to click on that CTA button.
Quality Assurance (QA) ensures that all clickable elements, along with everything else on the site, are working properly before the launch of an online store. It's a way of preventing the occurrence of errors, during or even before the start of any development work.
However, errors still do occur. As the business gets going and several changes are made along the way, it's not uncommon for some parts of the website to break or not function as intended. Having reliable support that could address these issues in a timely manner is crucial to keeping the business running smoothly day after day.
Quality Control (QC) is an important part of the software testing process where engineers identify and report defects. This should be performed not only during the development stage but also after a successful go-live.
Here's what QA/QC typically looks like during different stages of software development: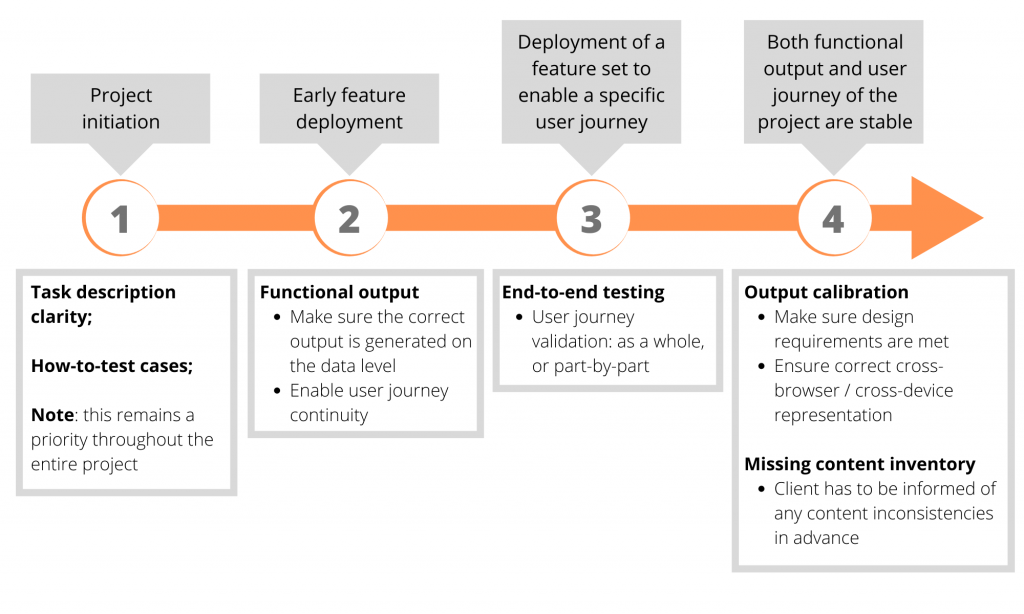 On a different note, it's important to emphasize that good UX design is more about function than aesthetics. It's important that an eCommerce store looks neat and professional, and maybe even artistic, but it matters more that it creates a pleasant environment for the user to find what they are looking for and fast. Because it's a race against time when it comes to winning customers.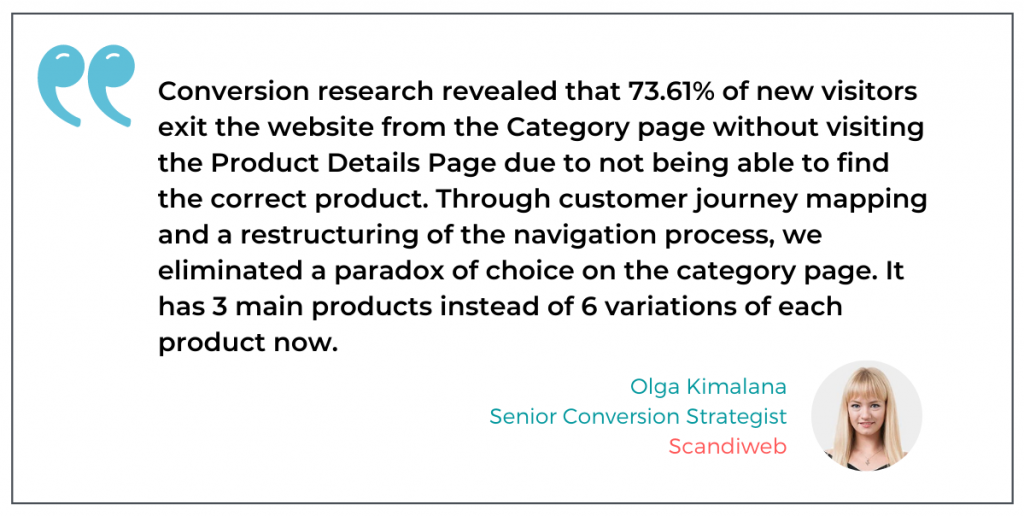 Heuristic Analysis is evaluating the performance of a website as a research methodology to identify issues that users might encounter. It uncovers usability issues and other factors that distract users from completing the sales funnel.
Navigation Usability Testing is a UX research methodology that specifically aims to identify roadblocks to smooth website navigation and one that is crucial for navigation menu optimization.
Checkout Optimization is about reducing cart abandonment rate by optimizing the checkout process. Potential customers abandon their carts an average of 75.8% when shopping online because of factors such as unexpected shipping costs, forced registration, and errors.
And these are but a small fraction of the conversion optimization strategies eCommerce companies should really take advantage of if they want to increase sales and boost revenue.
DIGITAL MARKETING:
Can data-driven decisions and conversion optimization really increase revenue?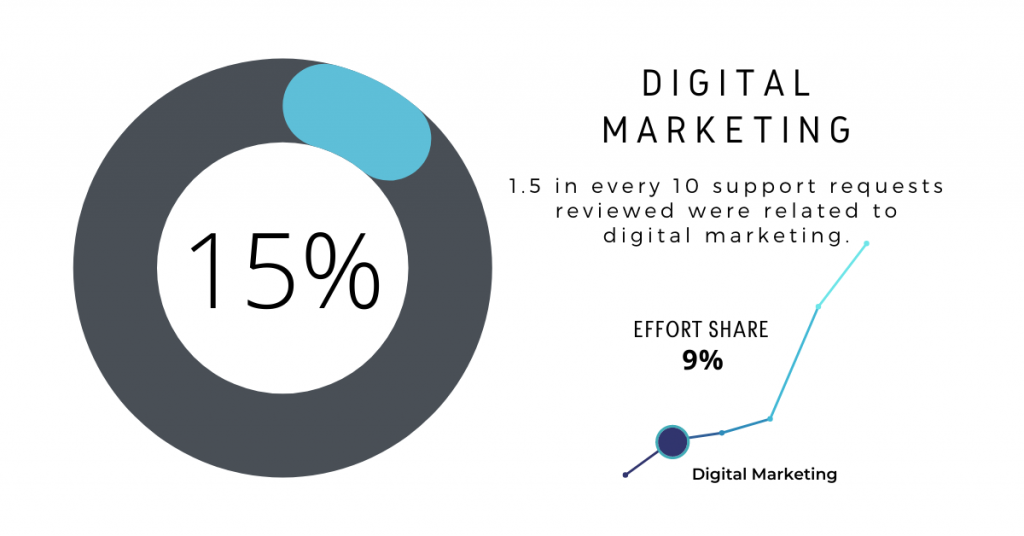 Take a look at this:
$260 Billion dollars is lost to abandoned shopping carts.1
60% of revenue is missed before a site is optimized for conversion.2
And 90% of data-informed decisions are wrong!3
Abandoned shopping carts mean that something is hindering the customer from completing an order somewhere in the purchase funnel. The digital marketer tries to find out what's wrong by looking at available analytics data. Based on what the data indicates, a decision on optimization strategy is made. Once improvements are implemented, validation testing is done to identify and keep what works and, finally, increased revenue is aimed at.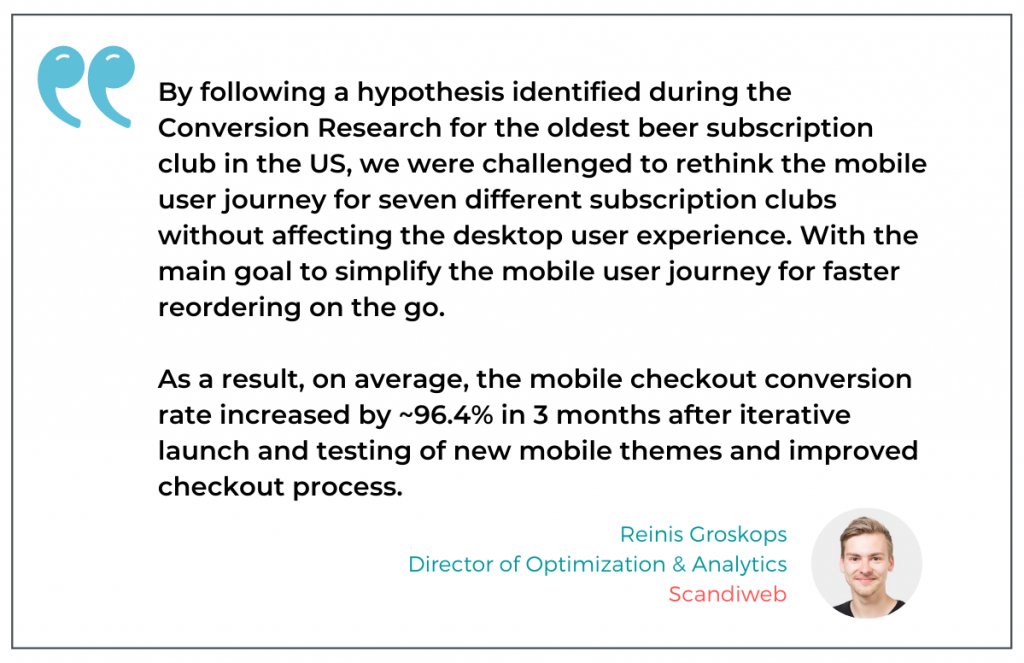 Actual digital marketing support tasks for real clients
Here are some examples of what tasks actual support requests related to digital marketing entailed:
What kind of support did the clients really need?
Between the time a conversion hurdle is identified and when improvements are implemented, and even before the process is started, a lot of sales opportunities are already lost. A data-informed optimization strategy is supposed to remove that hindrance. But imagine basing those decisions on incorrect data? Hope for recovery from the loss in revenue gets dimmer as failed attempts at improving the purchase funnel equal more abandoned carts.
Conversion rate optimization (CRO) is a strategy that aims to grow conversions by creating an improved experience for customers. The idea is that better customer experience will lead to more site visitors converting into customers, lowering the cost of customer acquisition and increasing revenue per visitor. Thus, conversion optimization strategies informed by correct data from trustworthy analytics data can increase overall revenue.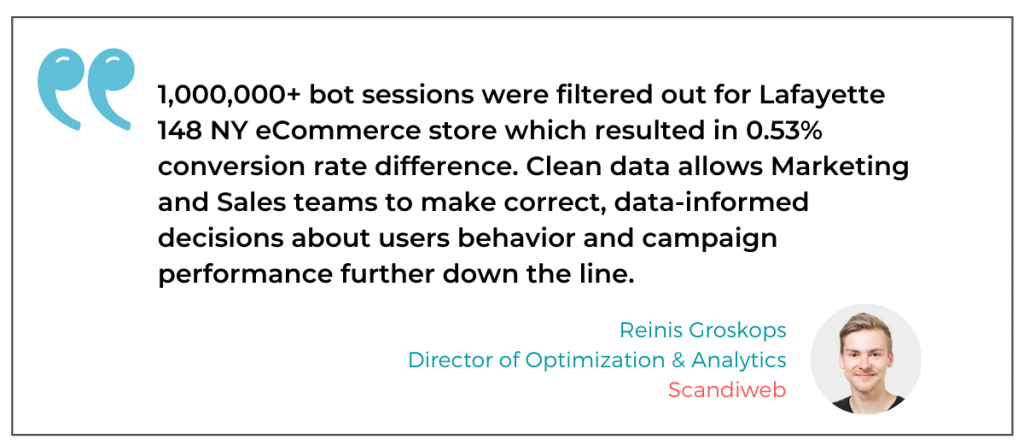 Regularly monitoring the performance of pages is crucial to keeping any eCommerce site healthy. An online store full of 404, 302, or 301 redirects is a sure case of a terrible user experience, for which it can be seriously penalized (search bots don't like it!). And that's something merchants want to avoid.
SEO health checks should be performed by a trusted support services provider who has clear steps to take to prevent or address these issues as necessary. Of course, these checks also ensure that data based on which conversion optimization decisions are made are accurate and reliable.
But digital marketing involves a lot more than that. It aims to make the website sell more by making use of the best available marketing tools and integrations as well as implementing different CRO strategies to achieve results.
Here are some of the areas where digital marketing support is very helpful for eCommerce businesses:
Personalization setup – create personalized experiences for your customers by anticipating and responding to their needs through AI-driven search suggestions, recommendations based on previously viewed products, and the like
Email sequences setup – nurture customer relationships with automated messages activated by specific trigger, e.g., a welcome email for a new subscription, a reminder email for an abandoned cart, or an order summary after a purchase
New lead capture mechanisms setup – identify opportunities to capture more leads and make sure the right mechanisms are in place, e.g., pop-ups, micro-conversion funnels, quote request forms, etc.
Analytics setup & improvements – make important business decisions informed by accurate and complete data, e.g., uncover funnel holes that keep your visitors from converting through a checkout behavior analysis
NEW BACK-END FEATURES:
What new back-end features are essential additions as business grows?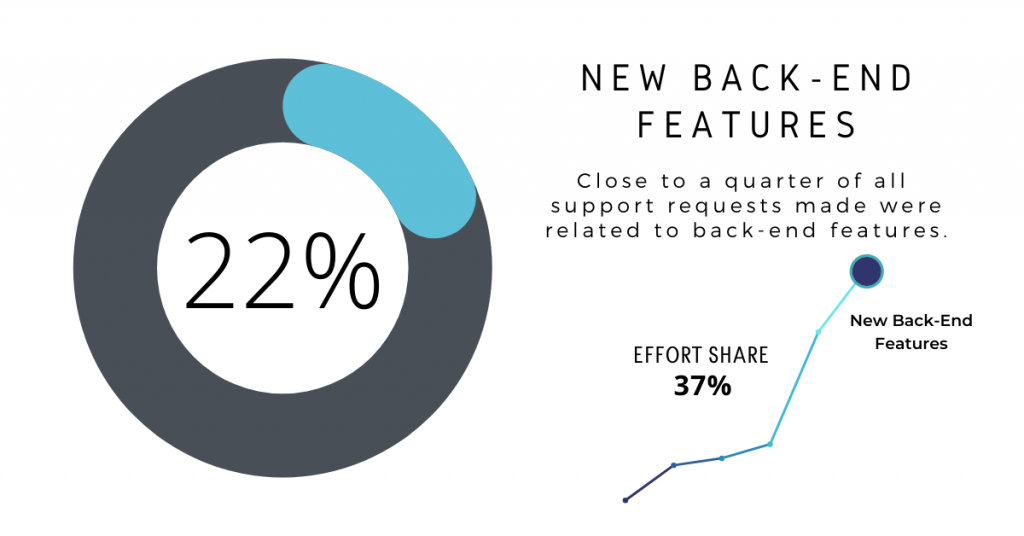 As an eCommerce company grows, it is inevitable that it will expand to new markets and countries, and even new regions of the world. With this expansion, the business will also need additional systems and, all the more, that they are properly integrated. The company may need to manage sales and inventory from a central location, and be able to offer new payment methods as well as set different pricing for each new territory from a central office. Ongoing support should be available for this growth.
Integration projects are usually complex and time-consuming, but absolutely necessary if a company were to have a 360-degree view of what's going on in the business. It gets rid of having to tediously mine information from several disconnected platforms or databases.
For example, when a customer makes an online purchase, customer data such as delivery and billing information must be processed along with inventory, shipping, and other back-end tasks. The Enterprise Resource Planning (ERP) system is used to manage business processes behind the scenes while the Customer Relationship Management (CRM) system is used to handle customer information and interactions in the front end.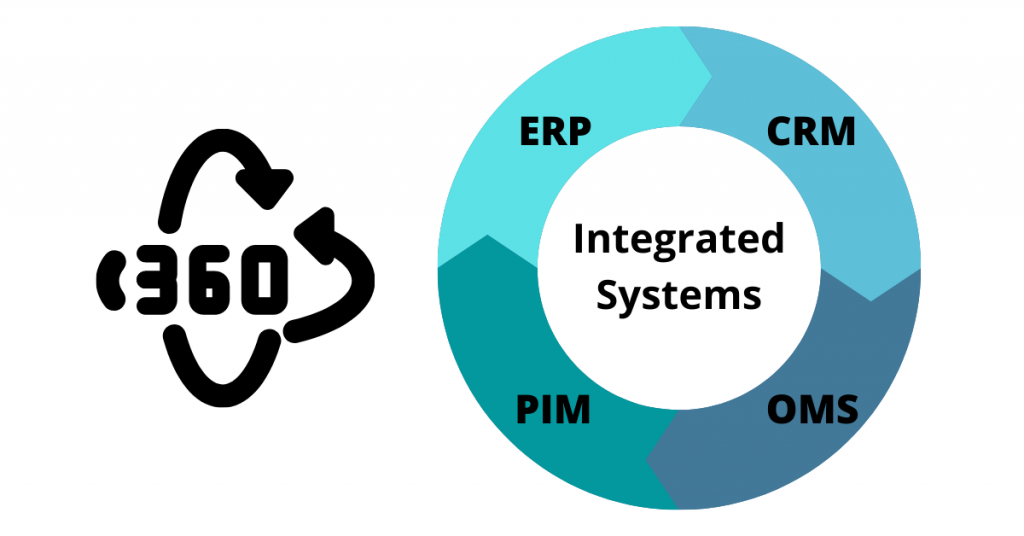 Other essential solutions in the eCommerce ecosystem include Order Management System (OMS) and Product Information Management (PIM). An OMS provides a centralized system for managing orders from different channels, while a PIM solution allows for collecting and managing product information, among other processes related to sales, in a single platform.
System integrations solve a lot of problems for online companies. But that does not mean they can forget about them after they've been implemented. Ensuring that such integrations are running correctly and seamlessly is pivotal to successfully running an eCommerce business. Because once they stop working or malfunction, it could easily become a logistical disaster for the company.
Other examples of back-end features that need regular monitoring and support include tax calculation logic, extensions, and promo setup. When these functionalities fail, they need to be addressed immediately as they can cause serious implications for the business.
Actual back-end features support requests from real clients
Here are examples of actual back-end features support requests we received from clients:
What kind of support did the clients really need?
Integration and new back-end feature development projects are typically one-off but they need to be working correctly every single time after deployment.
When errors do occur, they urgently need to be addressed, or they could cause a lot of headache for the company. In these cases, getting support and maintenance services from a trusted provider is the more efficient and cost-effective solution for eCommerce businesses. Why? Because immediate response can always be expected and a whole team of expert developers will be at their disposal every time. Critical blockers require immediate solutions that only an experienced support team can deliver.
PATCHES & UPGRADES:
How crucial is it to regularly install patches and upgrade to a newer platform version when available?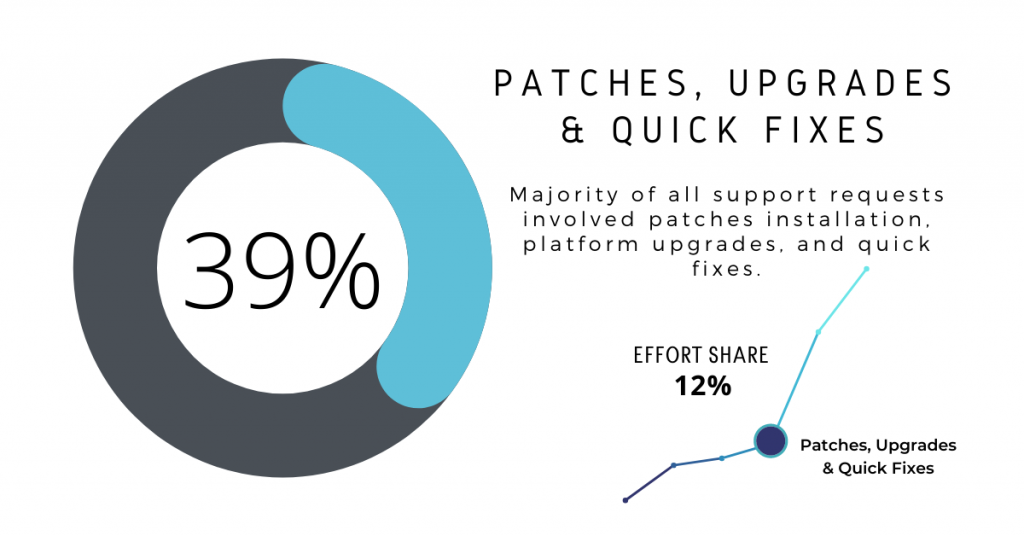 These numbers suggest that eCommerce businesses recognize the importance of regular patch installation and systems upgrades. And rightly so—because the security and performance of their online store would be at great risk if they didn't. One concrete example of a security breach is this case of credit card details hijacking in a Magento eCommerce store.
A security breach usually involves customers' information getting stolen or leaked. This spells considerable financial implications for the company as they may have to compensate affected users for damages. But not only that, it will negatively impact customer trust and the overall reputation of a brand—two things every company invests so much in to earn. Security patches are deployed to address security holes that were missed during the initial release of a software/platform or possibly introduced by a major software update.
Meanwhile, older platforms are usually sluggish because of the customizations and third party extensions that had to be added when they were set up. These customizations and extensions need to be updated eventually when new needs arise. Then again, when new platform versions are released, these previously added features often become built-in functionality already, in which case, upgrading to the latest version makes the most sense.
Customer experience may be considered as the main factor that drives the success of an eCommerce business. And security breaches, downtimes, slow-loading pages, and cancelled orders because of extension errors never make customers happy. Quickly addressing these issues when or even before they occur is crucial to keeping customers satisfied and, thus, to the success of the company.
Actual support requests from real clients
Here are examples of support requests related to patches and upgrades that we received from clients:
What kind of support did the clients really need?
It's normal for eCommerce companies to work with different providers and use different modules for various site functionalities that they require. And they usually get support from each of these providers and developers. However, when something goes wrong and none of them can identify the root cause or no one is taking responsibility, the merchant will be in a critical position when left unsupported to figure things out on their own.
In one of the examples above, an hosting provider broke something when they released what seemed to be a major update. They tried to fix it by rolling back the update. However, the merchant was left alone to deal with the rest of the issues caused by this update, which the hosting provider is not taking responsibility for. What the merchant really needed at this point was support in getting to the source of the problem and finding a fix as soon as possible. Orders had to be manually exported until the problem was resolved.

Major software updates will likely cause some parts of an online store to malfunction, because not all issues could be foreseen and addressed before they are released. Hence, planning and backing up data before a major update and constant monitoring afterwards are crucial. Ongoing Magento support for eCommerce stores, for instance, will save merchants many troubles during this time.
Scandiweb runs monthly eCommerce Health-Checks for all the stores we support. Areas for improvement are identified, requirements for new security patches investigated, and recommendations to improve website performance detailed. Here's what the health-check overview looks like: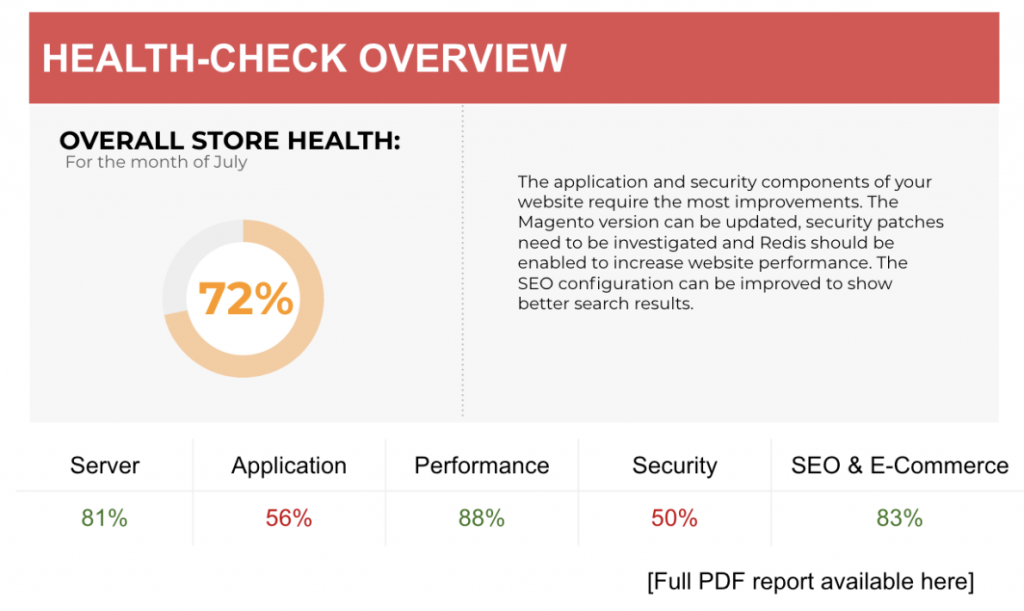 Expert Magento developers are within reach of eCommerce merchants through the Magento Support and Maintenance Services of Scandiweb. These Magento eCommerce support professionals identify and eradicate all types of bugs and issues that compromise a store's performance, and then create solutions that prevent them from occurring again.
Why do eCommerce merchants choose Scandiweb Magento Support?
24/7 Availability: Online stores don't have closing hours, so neither do we.
Quality Guarantee: No less than certified Magento and AWS engineers look after their QC and development needs.
Transparency: We allow for easy and complete access to workflow and all tasks involved, and only charge for actual support provided.
Unlimited Capacity: We have a scalable team structure. We can easily go from 2 developers to 20 if the project necessitates it.
Proactivity: We don't just sit and wait until something bad happens. We work with them to address potential issues before they disrupt the business.
Easy Workflow: They give us a task → We estimate → They approve → We work on it → They are happy with the work done. And we are ready for the next one!
Conclusion
A robust platform is only half of
what it takes to run a successful eCommerce business. Merchants launching an
online store should be aware of and prepared for the maintenance work involved
in keeping it healthy and performing at its best. Just like how even a brand
new top-of-the-line car needs constant health-checks to ensure that it's always
in tip-top shape.
Technology keeps evolving and fast. So do consumer habits and expectations. And many solutions exist to make technology work for eCommerce businesses and allow them to catch up with changing times and demands. Then again, making this happen does not involve a simple press on a "magic upgrade button." It takes work and expert knowledge on how systems function, on their own or as part of a complex systems integration.
1 2 Baymard Institute
3 ConversionXL
If you want to have first-rate Magento eCommerce support professionals at your disposal, reach out to our Magento Support Team today!
Perhaps you are particularly concerned about your Magento store being too slow and frustrating for customers? Magento Performance Optimization is the support you need right now.