More sales is good, but…
Black Friday is undoubtedly a pillar of modern consumer culture. For decades it has been a highlight in many shopping calendars, and the recent evolution of eCommerce has propelled it to previously unfathomable heights.
In 2018 in the US alone an impressive $6.22 billion was spent online during Black Friday, as disclosed by Adobe Analytics. In the UK during the same period, the greater part of total £7 billion in sales is attributed to online purchases. Some truly remarkable numbers, supported by the fact that many consumers are looking to take advantage of Black Friday offers to fulfill their Christmas shopping wishes.
However, underneath the surface there is constant turmoil of retailers trying to ensure that their eCommerce platforms are robust enough to manage the drastic traffic increase. This is where brands and marketplaces need to be smart and deliver the level of service consumers expect of them. The reason is that it is not just the price offer that appeals to customers, it is the service and, in broader terms, the entire shopping experience that gets them through the door.
Trading experts emphasize the need to ensure that online retailers have 'proper peak operations systems in place to cope with the demand'. Failure to do so puts them at risk to be outperformed by competition – notably, major players, such as Amazon, who focus heavily on the pre-Christmas sale period.
How does this align with Magento merchants? Alarmingly, the level of preparation we provide to our clients to get them geared up, shows that both database and server-level optimization is required in order for a store to endure peak loads.
Evaluated $1,000,000+ shortage for Magento merchants
During the last year eCommerce market has witnessed how a lack of preparation forced Magento merchants to underperform and fail to reach the financial goals they had set for themselves. Judging from the data at our disposal we can conclude that leading Magento retailers were off by over $1,000,000 in lost sales due to infrastructure malfunction triggered by traffic peaks.
Below is an illustration of a typical user behavior trend, taken from one of our client's analytics pages. The visible spikes correspond to customer influx, which, without due preparation could potentially lead to a collapse. Luckily for this client, all went smoothly and they were able to capitalize on this wave of traffic.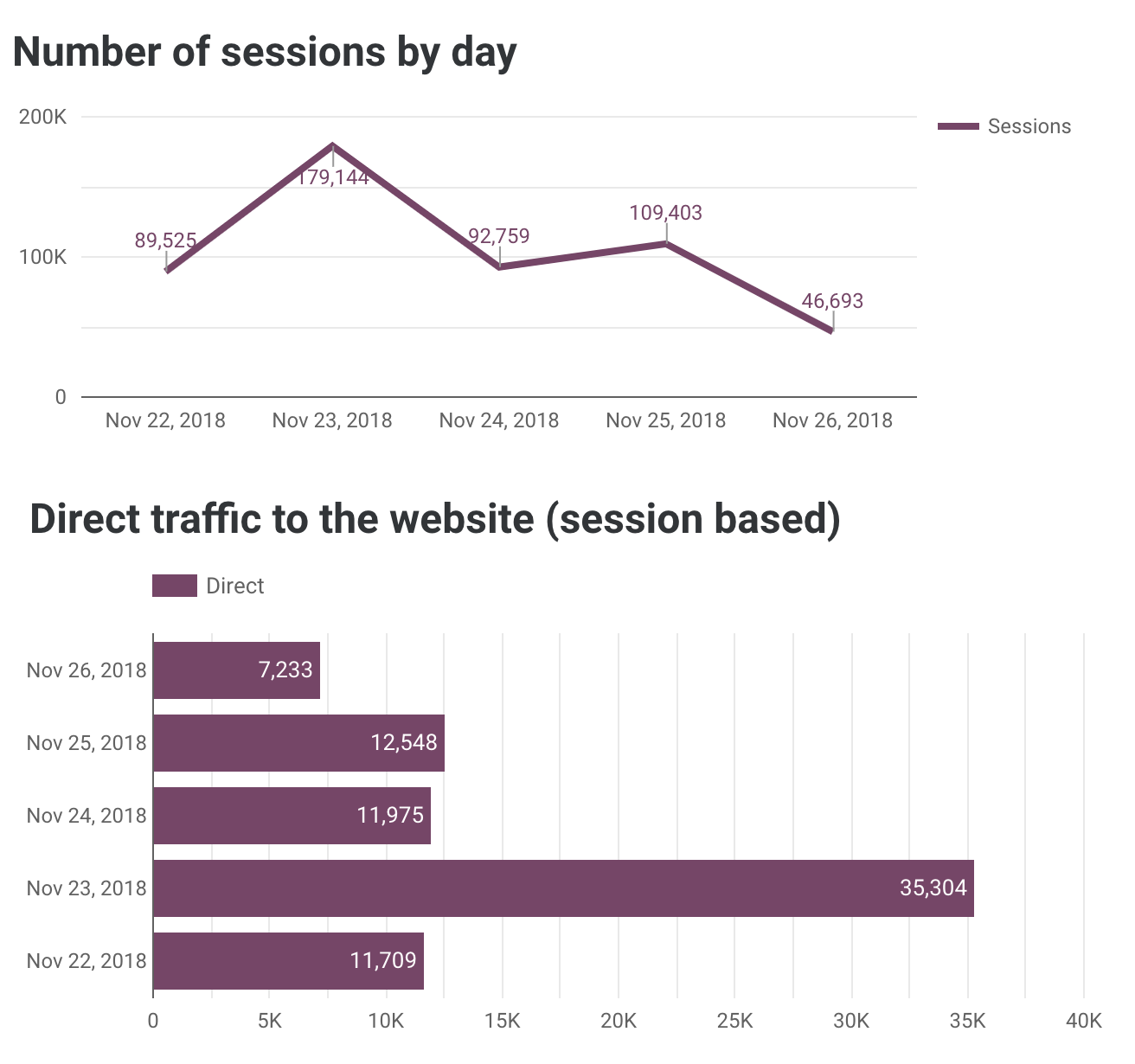 Since Magento is our main focus and expertise, we tend to pivot our findings around it. However, it is worth noting that a similar trend is commonplace around the Internet, and no-one is entirely immune to it, even well-established brands with the right infrastructure seemingly in place. Below are a few highlights from 2018.
Amazon
The much talked about 2018 Prime Day crash, due to overloaded servers, led to significant service slowdown and rendered users unable to view and shop for products. The outage occurred despite the fact that the retailer had been actively hyping the event, and caused millions in lost sales.
J. Crew
A glitch halted sales for most of Black Friday. Users were unable to shop, and were instead redirected to the "Hang on a Sec" screen, explaining that the site was experiencing more traffic than usual. Those users who could eventually add items to shopping baskets were still unable to checkout.
Lowe's
The website went down right in the heat of Black Friday. Customers could see nothing except "down for maintenance" message, pushing them in the hands of rivals, such as The Home Depot to fill orders.
Eddie Bauer and Nordstrom
Didn't seem to have sufficient front-end capacity to handle the visitor influx. Both sites only displayed the homepage, while product pages remained unavailable.
Warning: critical issues ahead
An actual server crash is among the most pronounced and severe consequences an eCommerce store can suffer. Nonetheless, the total spread of errors, that can in one way or another damage your brand and hinder sales, is broader and more diverse.
Making sure your store has addressed and eliminated these issues is a critical milestone in preparation for significant increase in traffic and server load. Here are some of the most common problems online merchants struggle with, that can prove crucial under the extreme conditions of Black Friday:
Slow third-party content
Poorly tuned servers with low scalability potential
Server overload or timeouts
Last moment major catalog updates
Failure to display relevant prices after catalog updates
Heavy pages
Poor API performance
Coupon codes and discount rules not set up properly
Payment systems unable to handle the increased load
Add to cart button failing
Broken or buggy checkout
The issues that arise due to high server load are, for the most part, platform-agnostic. However, we can say with a high degree of confidence that a Magento store will be susceptible to some of them more likely than others.
Here are some real-life bottlenecks our clients have encountered, caused by Magento not being configured properly to withstand the increased pressure of Black Friday.
High server load
High server load in general has proven to be critical. Under normal circumstances most customers browse category pages that are cached. By contrast, during Black Friday they are more likely to add items to the cart, enter the cart view and proceed to checkout. None of these pages are cached, so a server experiences an exponential load increase. This may result in 20-40 second delays before an item is added to cart, or even a complete server shutdown.
High-volume imports and stock updates
Another potential source of trouble is high-volume imports and stock updates. While a site administrator updates catalogs, sets discount rules, clears cache and sends out customer emails, users put more and more strain on cache. It may take just a thousand site visits before the server goes down possibly for hours, as its cache is being rebuilt. To complicate things even further, there might also be reindexation running in the background, if the server was not tuned properly.
Number of users active in the backend
An additional circumstance that might come into play is the number of site admins active in the backend. During Black Friday some of our clients tend to assign managers or warehouse staff to process orders on the spot. This can create additional load on database, which, in turn, interferes with front-end performance and gets in the way of user experience.
Conclusions
If we were to name one critical takeaway, it would be you have to make sure you go to distance to prepare your Magento store for the peak demand period. There is no alternative to creating a well-optimized service tailored specifically to your needs.
At the end of the day, all online retailers are competing against a handful of household names, such as Amazon. Failure to reliably cater to your audience, automatically redirects customers and cash flow to the better equipped competitors. But that's not all. Inability to meet customer expectations is bound to have a long-lasting effect, manifested in brand loyalty downturn, rippling and accelerating through news channels and social media outlets.
To exemplify, in a recent survey 90 percent of online shoppers in the U.S. 'say they have, or will hurt a retailer's brand in response to a bad post-purchase experience, ranging from sharing their frustrations on social media to never purchasing from the offending site again.'
To conclude, customer response and loyalty to your brand are sensitive to even the smallest indiscrepancies in your online store performance. It is something you as a merchant need to be conscious of, and something you need to put a considerable amount of effort in. Else, your profit will inevitably fall in your competitors' bank accounts.
Found this applicable to your business? Reserve proactive 24/7 monitoring for Black Friday weekend now! Avoid website traffic and hosting errors during the visitor spike on Black Friday and Cyber Monday by fully preparing for the sale of the year with an expert team right by your side.