If you want to step up your eCommerce game you should definitely consider attending at least one of the best eCommerce conferences in 2019. You could be one of the thousands of digital marketing enthusiasts that gather from all around the globe to soak up new knowledge and rub shoulders with experts.
But what makes an eCommerce conference one of the very best? It comes down to a harmonious combination of talented speakers, the sharing of the latest and greatest ideas, excellent organisation, and a buzzing vibe. Not to mention any extra cherries on top like a beautiful host city or superstar guests. 2019 has already kicked off hard with stand-out conferences and many more are still on the way.
The best eCommerce conferences in 2019 so far
The year is still young and yet there have already been some outstanding eCommerce conferences worthy of our list. Check out a quick overview of our favourites below.
February 19-22, 2019 – Palm Springs, CA
eTail West is where retailers and tech people converge in a bid to learn more about the future and direction of on and offline retail. In 2019, over 1,200 industry professionals attended and heard from speakers such as Greg Revelle (CMO Kohl's), Rachael Vegas (Chief Merchant Brandless), Alan Wizemann (CDO Dollar Shave Club) and over a hundred more. This year's overarching themes were mainly about personalisation and AI, plus all the usual digital marketing favourites.
February 24-27, 2019 – San Diego, CA
A conference for marketers, agencies, consultants, and entrepreneurs, the Traffic & Conversion Summit has been running for 10 years – and it shows. With over eighty speakers, five stages, and more than 6,000 attendees in 2019, this eCommerce conference keeps getting better and better. Notable speakers included Ryan Deiss (DigitalMarketer CEO) and Sir Richard Branson (Founder Virgin Group). One of the major themes of the conference was making shifts to remain innovative.
March 3-6, 2019 – Las Vegas, NV
Shoptalk is a coming together of all things retail to talk about future trends and technologies and how this differs online vs offline. In 2019 there were over 8,000 attendees and the event was described as the "Best Retail Trade Show Of The Year" by Forbes. Some of the main speakers included Erik Nordstrom (Co-President of Nordstrom), Art Peck (President & CEO of Gap Inc.), Ben Silbermann (Pinterest Co-Founder & CEO), and more. This is another eCommerce conference where personalisation and AI were major themes.
March 15, 2019 – Riga, Latvia
Although a first-time entrant in the eCommerce conference world, eCOM360 really proved itself as a new go-to event. With over 30 digital leaders from all corners from the world and more than 600 participants, there was definitely a lot to talk about on the table. Recurrent themes included voice search marketing, customer engagement, AI, and the differences in Western and Eastern markets. Top speakers included Rudi Anggono (Google), Ajit Sivadasan (Lenovo), Mario Vinasco (Uber), and more. A shared sentiment across all speakers was the need to progress from quantity to quality.
Scandiweb really brought this conference to life with activities that were both empowering and energising, for example, a 'glasswalking' experience! Attendees reported that the afterparty was a spirited and open opportunity to meet new people and network. Even after stellar reviews from the speakers and attendees alike, eCOM360 promises to kick it up a notch for 2020, to solidify itself as the must-attend eCommerce event in Europe.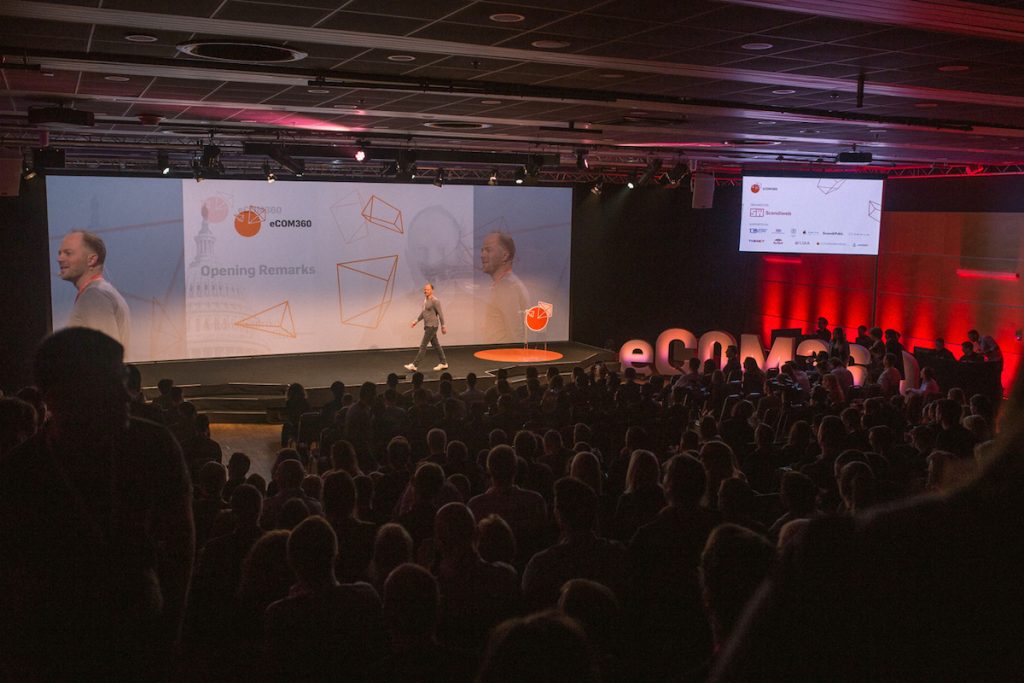 Antons Sapriko, CEO of Scandiweb at eCOM360 2019
Upcoming eCommerce conferences 2019
Here are some of the top-rated eCommerce conferences that are still to come in 2019.
Imagine 2019
May 13-15, 2019 – Las Vegas, NV
Imagine 2019 is an eCommerce conference run by Magento and is expected to garner an attendance of over 3,000 from all sides of eCommerce – merchants, agents, and tech providers. Speakers include Gillian Campbell (HP), Mark Lavelle and Jason Woosley (Magento), and more.
June 25-28, 2019 – Chicago, IL
IRCE, or, the Internet Retailer Conference & Exhibition is a conference like no other. A veritable melting pot of marketers, developers, top executives, analysts and more attend this conference every year. If you really want to learn at an eCommerce conference, IRCE prides itself on offering sessions that are actually actionable and helpful. This year's speakers include Chip Conley (AirBnB), Andy Dunn (Walmart), Dan Alark (Grunt Style), and more.
July 31 & August 1, 2019 – New York, NY
CommerceNext focuses on customer acquisition and other goals that are important to eCommerce marketers. You'll be sure to be surrounded by the most ambitious fellow attendees as attendance requires application and approval. Some of the speakers include Laura Joukovski (Techstyle), Tom Mongomery (Chubbies Shorts), Joe Megibow (Purple), and of course, many more.
September 25-26, 2019 London
Of course, not all of the best eCommerce conferences happen in the US! eCommerce Expo takes place in bustling London and offers an unrivalled event experience this side of the pond. Advertisers, marketers, developers and more industry professionals come together. After acquisition by new owners, this year's event will be different than previous years. The eCommerce Expo will be supplement by two co-located events – Technology for Marketing and ad:tech London. Key speakers include Nikhil Amin (Amazon Business), Dark Atijas (Neopost Shipping), Jennie Baik (Orchard Mile) amongst others.
November 4-7, 2019 – Lisbon, Portugal
Web Summit is the largest tech event of the year and the world! Touted by Forbes as the "best technology conference on the planet" – you can bet that we'll be there! Last year's event gathered up to 60,000 participants from over 150 countries. This year's speakers have yet to be announced, but in 2018 they saw the likes of Ev Williams (Medium), Lisa Jackson (Apple), Brad Smith (Microsoft), and loads more. Stay tuned to find out more about what they have in store for this year.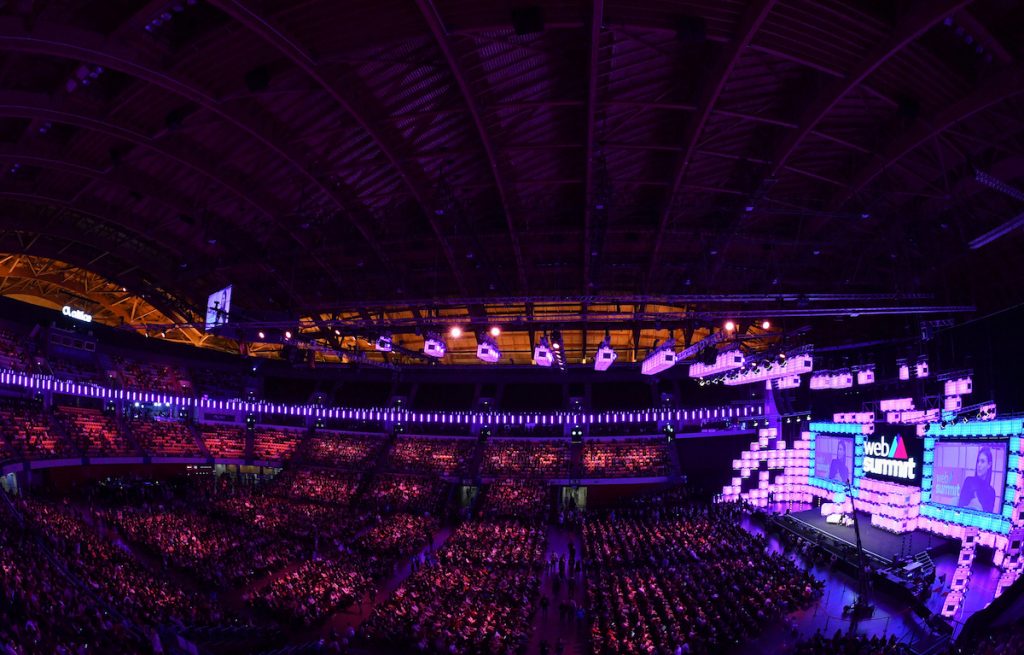 Centre Stage at Web Summit 2018. Photo by Eoin Noonan
eCommerce conferences 2019
Well, firstly, you can't say that you aren't going to attend an eCommerce conference in 2019, because clearly there are many superb choices. Don't miss out on a valuable learning experience in 2019 and take advantage of everything that a good conference can offer you.
Want to find out more about eCOM360 or Scandiweb? Shoot us an email at [email protected]. Follow @eCOM_360 on Twitter for the latest updates!