Why is Google ignoring my hreflangs? Why don't canonicals work? Why should you spend a long time configuring the perfect technical SEO if Google doesn't consider half of the information you send them as valuable? These questions will appear at some point during the setup of proper international SEO settings. Why does it happen and what should be taken into consideration when building your website's SEO strategy?
It's not a secret that Google is trying to automate data crawling for years, and usually considers data you pass them as recommendations, not as rules.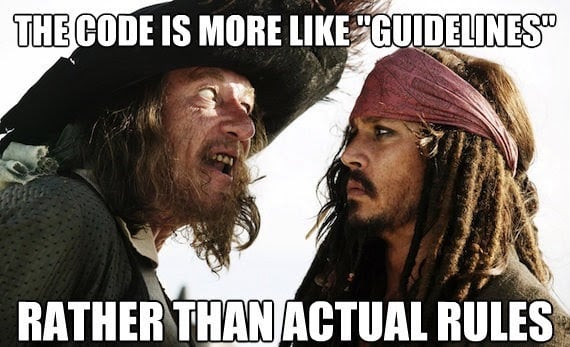 So, what about canonicals and hreflang tags? Google does listen to them but can easily ignore it. There is little you can do about it. But don't worry, there are a few ways. To understand how canonicals and hreflang tags work together, you need to understand their mechanics.
Canonical tags and how they work
In short, they are supposed to let Google (and other search engines) understand which one of the pages with the same or almost similar content you want them to consider as worthy to index.
Canonical tags are a great idea if you want, e.g., hide pages with parameters or you are not able to avoid duplicate content due to technical difficulties. While you are working hard on fixing technical issues on your website, you can easily set canonical tags pointing to one page and not worry about it being indexed, and similar pages starting to compete for the same keywords.
But what if you're not that into SEO and website building, and don't even know what canonicals are? In this case, Google will gladly decide the canonicalized page for you. This means it will probably remove indexation from your main page, and you will get some less relevant pages into the index. Therefore — never forget to set up canonical tags.
Moreover, if Google decides that your selected canonical isn't worth it, it will choose a different canonical than the user. So you will get this in your GSC report: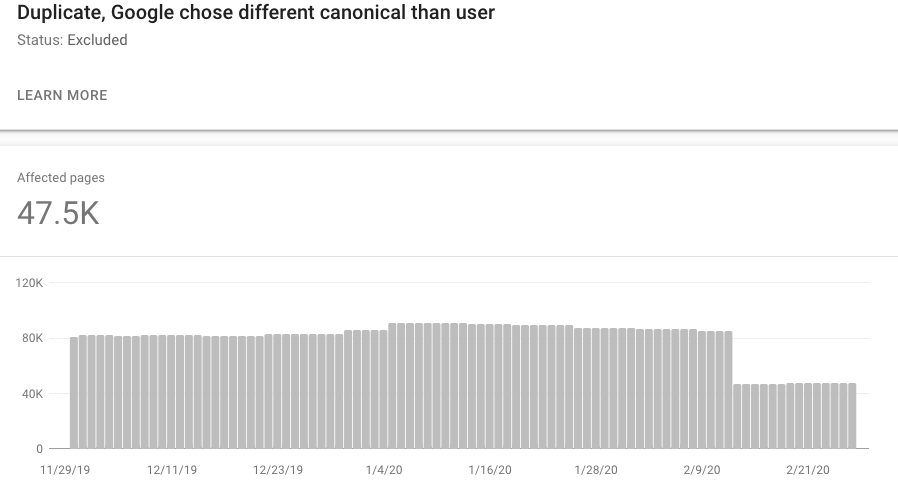 Hreflang tags and how they work
"If you have multiple versions of a page for different languages or regions, tell Google about these different variations. Doing so will help Google Search point users to the most appropriate version of your page by language or region."
You should apply Hreflangs according to Google documentation, otherwise, it won't be taken into account. While the logic behind hreflangs is pretty simple, applying hreflang tags following all the rules is crucial for international SEO.
Read more about Magento 2 SEO setup in this article. 
How are canonicals and hreflangs supposed to work together?
Canonicals and hreflangs aren't harming one another's work, however, you should follow some basic rules:
Canonical tags should be used only for one subdomain/language and should never point to other languages/countries' subdomains or websites. 
Hreflangs should be correctly formatted and presented on all pages to avoid the "hreflang no return tags error" that occurs when one page is pointing on another to be its hreflang without any confirmation from another page. 
Canonicals must not be used instead of hreflangs. It won't work and can significantly harm your traffic. 
Likewise, hreflangs must not be used instead of canonicals.
Following these points, you minimize the chance of Google misunderstanding your intentions and increase the chances for users to get to the right store view.
Types of international stores
There can be different types of international stores which can affect hreflangs functionality. Based on the type of international store, you can decide what kind of global SEO strategy you need to focus on:
Stores selling goods worldwide in a different language for each country (zara.com)
Stores that cover all main languages like English, Spanish, German, Russian, etc. (asos.com)
Stores, forced to have subdomain/subfolder for many countries due to shipping policy, however, they are using few languages (or even one) like English and French while having 20+ store views (tommy.com)
The first two store types are +/- working as they should, with some exceptions due to Google itself not working ideally.

Stores with different store views that have the same language
This kind of store is the hardest case. Google will consider most of the pages as duplicate as there is nothing unique on them. All content is in the same language, and the only reason this store view exists is because of different shipping methods and rules for different countries.
You can probably already guess what will happen next. Google will randomly canonicalize pages from different store views. Imagine getting a canonical on a country irrelevant for your business instead of, e.g., the US or UK.
That will result in different store views not being indexed despite hreflangs applied. And that's how you can get something similar to the tommy.com case, seen in the image below. There is a bright side — Google might serve the appropriate domain for users based on their location. But it also might not.
Global store views
The other problem is occurring with global stores, or stores meant for everyone from countries aside from those where the product can be delivered. They will be indexed and might even rank better than other store views.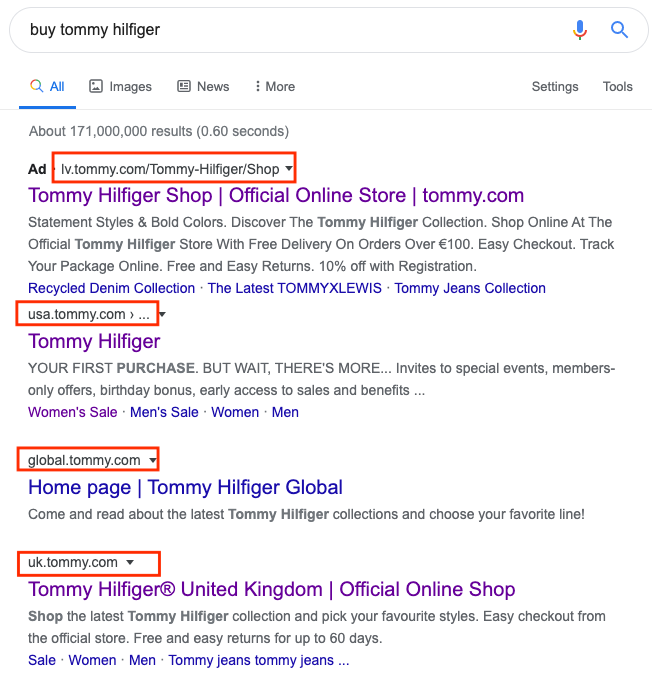 How to avoid international SEO problems?
It's hard to go against Google but there are solutions.
First of all, make sure you configure everything as it should be technically:
Make sure canonicals are configured properly.
Make sure hreflangs are configured properly.
Make content unique. Don't forget that Google tries to avoid duplicate content. If you want hreflangs to work as they should apply different content to similar pages (same product) in different languages.
If it doesn't help:
Geolocate users. In case users are going to land on the wrong page, set a pop-up suggesting the correct version of the website (don't forget to send them to the exact page they were supposed to land before your interference).
Adjust language changer so that users stay on the same page after selecting a different language. It will not only improve UX but will also help Google in the understanding of site structure.
Don't forget to have sitemaps for all store views generated and submitted to GSC.
You can even try to geo-target different site versions in GSC using legacy tools. However, there is only a slight chance it will work.
Apply pop-ups asking users whether they want to stay on the page suggested by Google or they want to switch for the appropriate store. If nothing helps to convince Google to work normally, this is the only 100% solution that can send users to the proper location and the only one that is solvable by you.
Need someone to help you with your store's international SEO? If you are interested in improving your SEO performance, contact us at [email protected] or check out our SEO services here!