FREE EBOOK: "Checkout Optimization: Learnings from 500+ eCommerce Projects"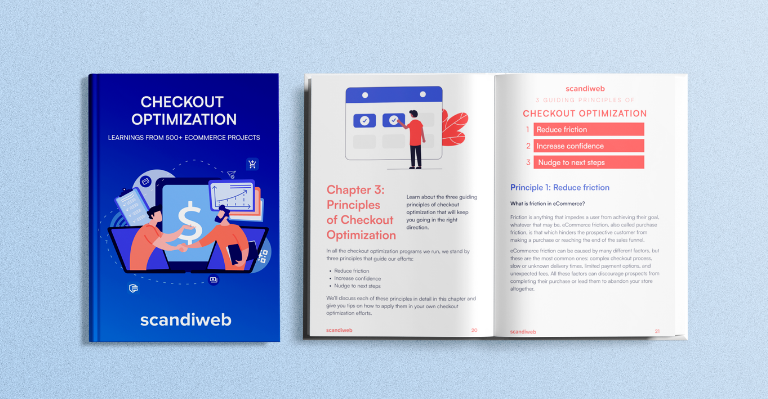 Get your free Checkout Optimization eBook:
Fill in the form below and get access to this guide.
Checkout is the most important part of an online store. That's where the money is. Hence, retailers need to make sure nothing stands in the way of prospects when placing their orders.
Over the years, we've seen many retailers, big and small, make different mistakes in their checkout flows and lose potential customers just a few steps before the transaction.
We've spent hundreds of hours helping our clients improve the most important pages on their sites—by running dozens of usability researches, A/B tests, and benchmarking them against industry trends and best practices.
This eBook is a summary of the expertise we've developed over the years based on real optimization success stories. So make yourself comfortable as you're about to learn how to optimize your checkout for increased conversions and know more about eCommerce checkout flow best practices.
What you will find inside:
Principles of checkout optimization
Getting to know why customers are abandoning checkout
Finding the right solution to checkout issues
Putting in place a recovery strategy for abandoned carts
Checkout types: Accordion, 2-Step, One-Page
Case studies
eCommerce checkout flow best practices
Brought to you by Scandiweb Growth:
Scandiweb has been a leader in eCommerce platform development and strategic marketing implementations since 2003. To help our clients reach their full potential, the Growth Team tailors custom growth programs that address specific business needs. Our days are filled with traffic acquisition, usability and A/B testing, data analysis, and visualization.
Over the last few years, we've been lucky to bring growth insights to bootstrapping startups and digital merchants as well as Fortune 500 enterprises who want to generate bigger revenues online—with projects for Walmart, Thomson Reuters, The New York Times, Happy Socks, Rockar Jaguar Land Rover,  Lafayette 148 NY, Cervera, and KURU footwear, among many others. Now we think it's time we started sharing our knowledge to help you bring your online business to the next level!