About
Our client, aden + anais, a leading premium baby clothing and products brand, sought to enhance their online presence and drive organic traffic and conversions across four international websites.

Also read: Launch of the new aden + anais site on ScandiPWA and Adobe Commerce Cloud
The main goals of the project were to:
Improve the conversion rate and revenue generated from organic traffic and informational blog content
Optimize product listing page (PLP) content and meta titles to align with transactional intent; add relevant FAQs
Increase organic rankings for generic keywords on single product pages based on semantic review
Enhance blog content by identifying and filling gaps in the user journey
Restructure the menu to provide better navigation and showcase additional subcategories.
Approach
Blog optimization
Previously, aden + anais optimized blog articles were getting traffic but no revenue. The scandiweb CRO team implemented a blog redesign focused on improving user experience and increasing conversions by adding product listings, more visual CTA buttons, and internal linking opportunities.
We then optimized informational content to guide users towards transactional actions, resulting in a transactions and revenue boost.
The SEO team carefully reviewed the existing blog content, reworking or deindexing outdated articles. We also identified gaps in the user journey. We determined missing content through comprehensive research and created new articles to cater to users at different stages of their journey, resulting in a more comprehensive and engaging blog experience.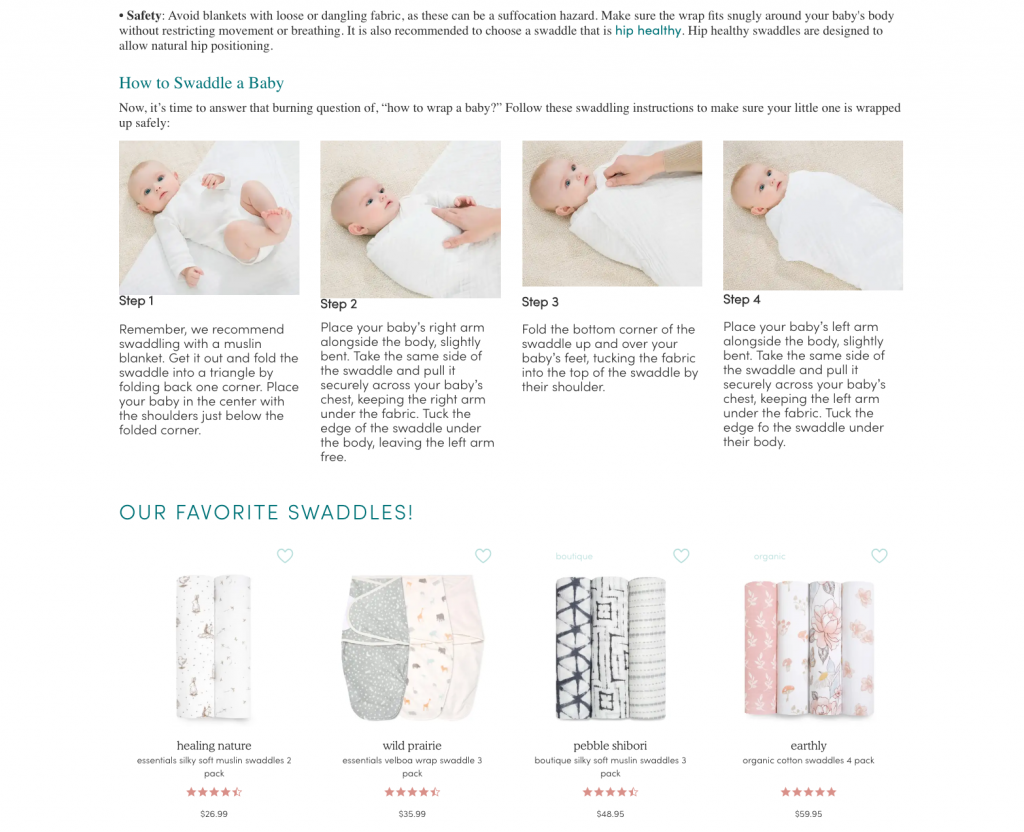 The SEO team is continuing to work on supporting blog articles and content gaps for users that are currently in the consideration stage of their buyer journey.
PLP content and metadata revamp
We reworked the PLP content and meta titles to align with transactional intent, enhancing relevance and attracting qualified organic traffic. The strategic optimization of these elements contributed to significant improvements in transactions, CTR, and revenue.

Semantic research for new product releases
Thorough semantic research was conducted to ensure the new product releases are optimized for relevant keywords and language agnostic based on the contextual elements added. We also successfully optimized single product pages, leading to increased organic rankings for generic keywords and more targeted traffic.
Restructuring the menu
The menu underwent a strategic restructuring, incorporating additional subcategories to improve navigation and highlight specific product offerings. This enhanced menu structure facilitated easier exploration of product ranges, contributing to improved user engagement and overall website performance.

For example, instead of the swaddles category, we have added cotton swaddle, bamboo swaddle, organic cotton swaddle, and zip-up & wrap swaddle categories, allowing them to rank for a broader range of keywords.
Results
scandiweb's SEO and CRO strategy brought remarkable improvements in transactions, CTR, and revenue across all four aden + anais international websites, in addition to higher rankings for valuable keywords.
+49% transactions
+42% CTR
+63% revenue
+142% transactions
+153% CTR
+113% revenue
+82% transactions
+21.6% CTR
+68% revenue
+418% transactions
+199% CTR
+345% revenue
Need assistance in improving your website's position in search results? Have additional SEO concerns? Our team is up for any challenge! Browse the SEO services we offer or write us a message, and we'll get back to you within 48h.