About
Kouboo is a family-owned online business based in Los Angeles, USA selling authentic handmade furniture and home accessories. Their core values are sustainability and fair trade, which manifests in traditionally crafted artisan products from natural materials, as they bring exotic home décor items from various regions of Southeast Asia into contemporary homes.
Kouboo's collaboration with scandiweb began when they migrated their eCommerce store from Magento to Shopify in 2020. With the scandiweb team by their side, the website was successfully re-platformed and fully prepared for the next phase—an on-page SEO program.
Kouboo has relied on scandiweb's SEO strategy and guidance for 3+ years, seeing constant organic traffic and revenue growth with the ongoing involvement of scandiweb's Account Managers, SEO Specialists, and Content Strategists. 
Initial data
At the start of our collaboration three years ago, Kouboo was a small niche online store managed primarily by the owners, relying heavily on paid campaigns as the primary source of their incoming traffic.
Kouboo.com had a neat, cozy appeal from the get-go. The website offered a limited number of products, the PDP and PLP descriptions were almost nonexistent, and it had a minimal backlink profile and a low overall optimization level. With careful planning and coordination of the work of the scandiweb SEO team and Content Writers, the aim was to draw more organic traffic and improve product discoverability in SERPs.
We addressed PLP and PDP content as the first step to building an effective SEO strategy. After that, the challenge has been to keep the website's traffic at an optimal level and steadily growing.
This case study focuses on the work and results for January 2022—June 2023.
Approach: SEO-friendly content development
During our collaboration, we've developed and updated Kouboo's PLPs, PDPs, and blog section with SEO-friendly content, focusing on the most critical pages regarding traffic and sales. Before creating optimized content for each page, the SEO team performs a thorough competitor analysis and research of product- and niche-specific keywords to prepare guidelines for the Content Writer.
PLP content and meta attributes
By optimizing PLPs (Product Listing Pages—Collection pages on Shopify) for Kouboo's website, we aim to enhance the visibility and appeal of the unique products they offer. 
Understanding product categories
Kouboo's website features six large product categories in the navigation menu and over 30 subcategories offering various home decor items and furniture types. To create effective PLP content, a deep understanding of each category and its subcategories is essential to ensure accurate and relevant information and no keyword cannibalization.

Optimized structure and scannability
The top paragraph of each PLP is strategically crafted to entice the reader and provide a compelling introduction to the product category. It aims to capture the reader's attention and generate interest in exploring further. The content highlights the unique qualities of the artisan-crafted items, emphasizing their exquisite design, quality craftsmanship, and use of natural materials.

To enhance the readability and user experience, the PLP content is structured with headings, subheadings, bulleted or numbered lists, and short paragraphs. This approach has improved scannability, making it easier for visitors to find the information they are looking for quickly. Additionally, relevant keywords are incorporated naturally throughout the content to cater to SEO requirements.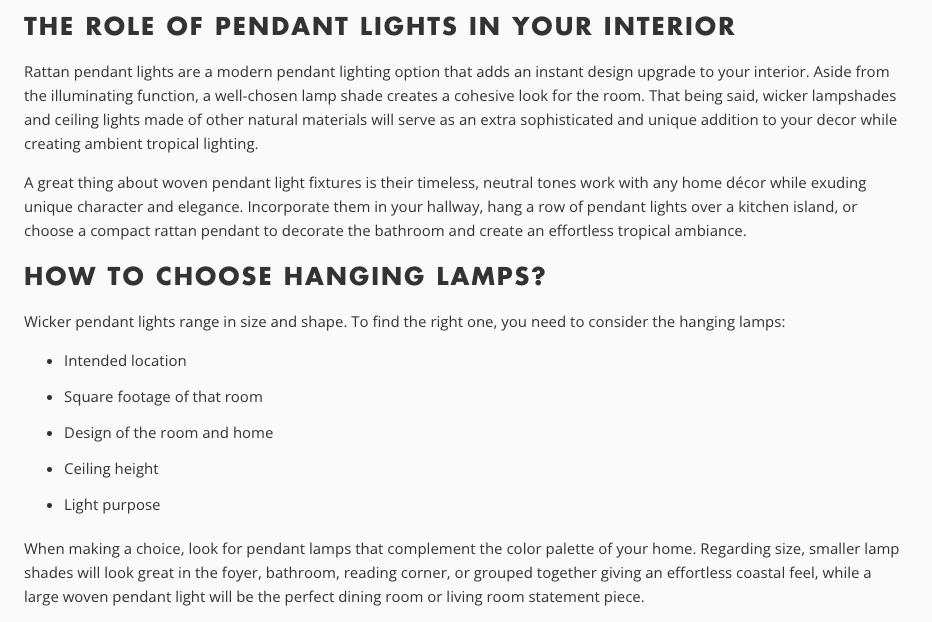 Meta attributes
In addition to the on-page content, meta attributes such as meta titles and meta descriptions are meticulously optimized. The SEO team conducts extensive keyword research to identify the most relevant and high-performing keywords for each PLP. These keywords are then incorporated into the meta attributes to improve search engine visibility and attract organic traffic.
FAQ sections
To push PLP optimization even further, we have kicked off the preparation of FAQ sections. A dedicated section is included below the collection page content to address common questions and concerns that potential buyers might have. This approach aims to enhance visibility in search engines, improve user experience, provide clarity, and build trust with the audience by offering comprehensive information about the available products, product types, features, materials used, care instructions, and other relevant details.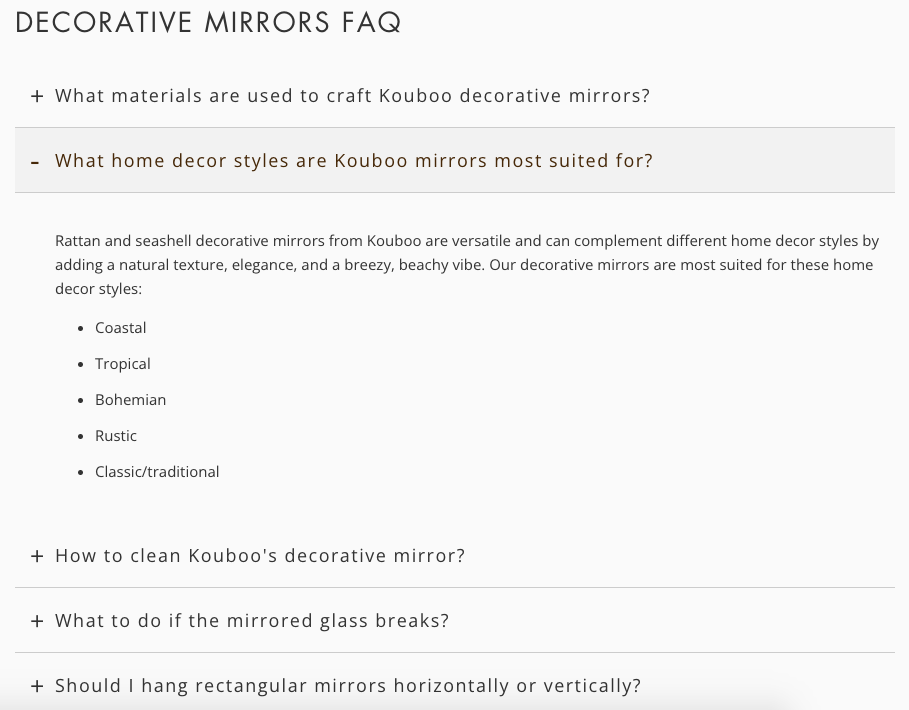 Blog articles
Multiple engaging and informative blog articles were prepared to target topics with high potential to rank in search engines and serve as supporting pieces to their respective collection pages, helping to establish Kouboo as an authoritative source of information in the home decor and accessories space.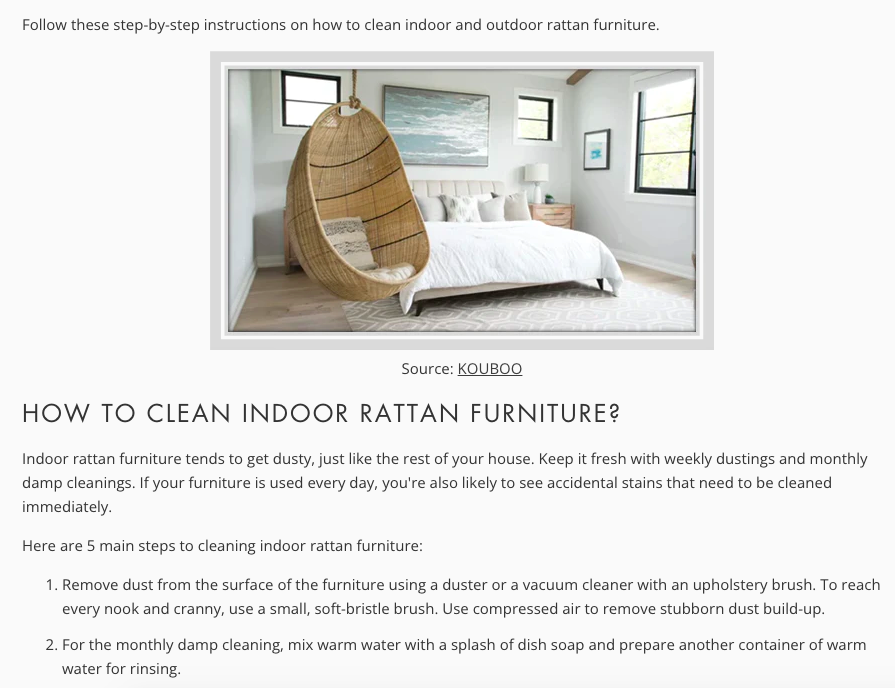 With comprehensive keyword research conducted beforehand, we choose topics to address the target audience's interests. Keywords provided by the SEO team have to be strategically incorporated into the blog articles. Instead of adhering to strict usage guidelines, they are used where they fit in naturally within the flow of the text to maintain a natural tone while still optimizing for search engine visibility, typically used once in their respective section headings and later in the text.
Language—conversational, friendly, and sometimes quirky, yet informative. To engage readers and reflect Kouboo's brand, each blog article sentence needs to be purposeful and the tone approachable.
Product descriptions
As Kouboo regularly updates the product catalog and crafts new items, the scandiweb Content team also creates product descriptions for new and upcoming product groups.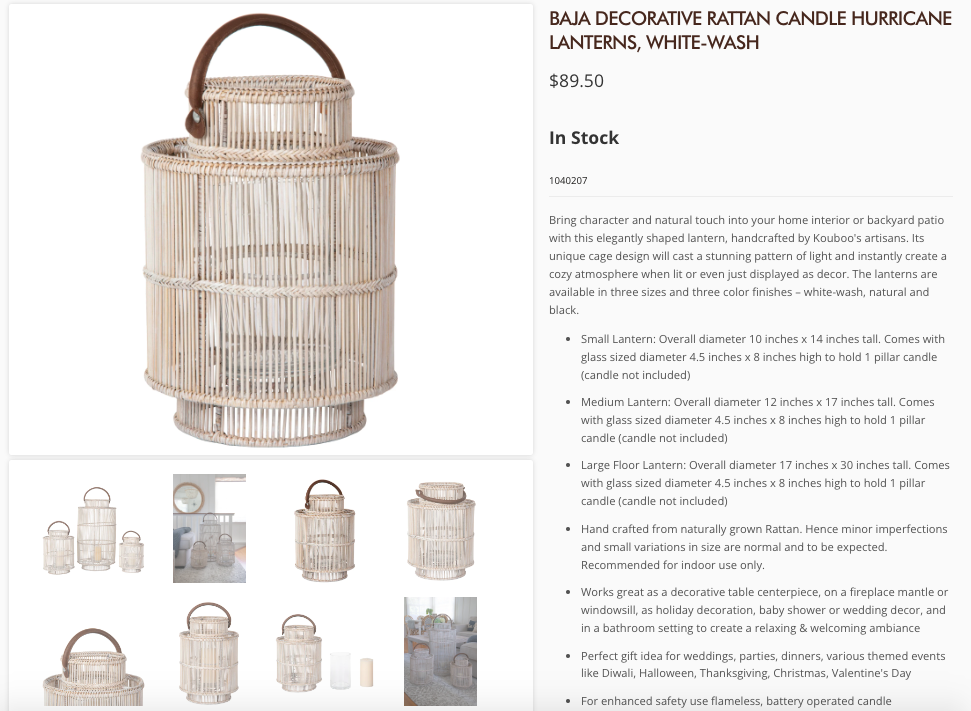 Here's how we prepare product descriptions:
Engaging and informative content to convey the unique qualities of each product, showcase artisan craftsmanship, and highlight the use of natural, high-quality materials
Consistent brand voice—whether a playful and whimsical tone or a sophisticated and elegant style, the descriptions reflect the essence of the collection and the brand itself
Concise and straightforward descriptions that help potential customers answer their questions and, therefore, work in favor of our SEO efforts.
Results
Kouboo has seen consistent keyword SERP ranking increase for the updated or newly developed pages over the time of our collaboration.
Improvement highlights
+72% total organic traffic
+32% total clicks
+100% visibility rate
+138% top-3 ranking keywords
+107% total revenue
Ready to kick off content optimization for your website? Here are 3 reasons to choose scandiweb SEO Consultants and Content Strategists to get your store to the top 3 search results positions. Contact us for a free consultation!