FREE EBOOK: "The ultimate guide to Progressive Web Apps 2021"
Learn what the future of mobile eCommerce holds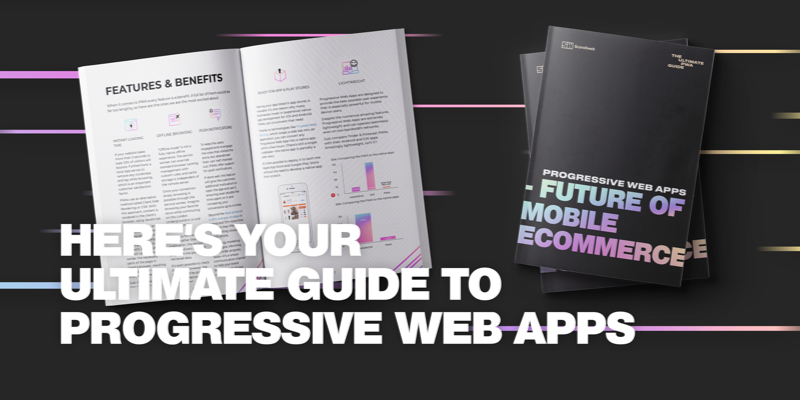 Fill in the form below and get access to this guide.
Mobile device usage has increased tremendously over the last few years and still continues to grow, outranking any other devices. Providing a seamless experience for users has become a vital question for every business. It's one of the many reasons Progressive Web Apps (PWA) has become the hottest topic at all conferences and is gaining an increasing amount of popularity in eCommerce.
We've compressed all of our PWA knowledge into an in-depth guide providing a detailed overview of the PWA technology, its features, business benefits, as well as unveiling the best practices and case studies for your inspiration. Here's your chance to win over mobile users by offering a superior digital journey that translates into higher engagement, potential customer satisfaction, and conversion rates.
In this eBook, we explain why and tell you how to unleash the potential of the groundbreaking Progressive Web App technology to reach new levels of website speed and user experience.
Learn by reading this eBook:
Features, benefits, and history of PWA

PWAs from the marketing and the tech perspectives

The correlation between PWA and SEO

Latest PWA trends and best practices
Brought to you by Scandiweb Growth:
We are part of Scandiweb – a digital agency developing eCommerce websites since 2003. To help our clients reach their full potential we tailor custom growth programs to each business's needs. Our days are filled with traffic acquisition, usability and A/B testing, data analysis and visualization.
Over the last few years, we were lucky to bring growth insights to bootstrapping startups, digital merchants, and Fortune 500 enterprises who want to generate bigger revenues online, with projects for Walmart, Thomson Reuters, The New York Times, Happy Socks, Rockar Jaguar Land Rover,  Lafayette 148 NY, Cervera, KURU footwear,  along with many others.  So we think it's time we start sharing our knowledge to help you bring your online business to the next level!