Sometimes a Google Core algorithm update can become an SEO specialist's worst nightmare. You spend years working on thorough SEO optimization for your website, increasing organic traffic month by month…
Suddenly, without any obvious reason, the organic search traffic to your website drops by 50%. You turn to the SEO community for the latest news and soon figure it out—there's been another major Google algorithm update.
Experienced SEO specialists follow the news every day and know what to expect from the updates in advance. But this is not always the case.
What are Google algorithm updates, and why are they often destructive?
Google algorithms are systems of how Google retrieves data from its search index and delivers the best possible results for a specific query in an instant. Accordingly, Google's algorithm updates are Google's updates to these systems, that affect how Google search works. As stated in an explanation thread posted on Twitter, Google is releasing such updates, bigger and smaller ones, almost every day, which means not all of them are worth a mention or an announcement. The smaller ones can go completely unnoticed.
That is why we use the term Google Core algorithm updates, or major Google algorithm updates, which indicates the importance of these updates to any SEO expert.
Google claims that these updates are never targeted at any specific issues or faults. There is also the term "Google broad core algorithm updates"—updates that encompass a broad range of factors.
Major historical Google algorithm updates
Several years ago, Google used to release algorithm updates much more rarely, but they were a lot more significant. Here are some of the major historical Google algorithm updates:
Panda
An important algorithm update was the 2011 Panda update, which aimed to put an end to low-quality content shown in the search results. People were already complaining about more and more "content farms" appearing and decreasing the overall quality of search results.
Penguin
Another very important Google algorithm update was the Penguin update or Google's anti webspam update, rolled out in 2012. It targeted manipulative link building methods and link-spam. It was finally the end of the era when black-hat link building methods were completely normal.
Medical update
This fairly recent update rolled out on August 1, 2018. As the name suggests, it largely targeted but was not limited to websites in the medical field and the so-called "YMYL" (Your Money Your Life) sites. I.e., such sites that offer medical advice or advice on other life-changing decisions, even though Google had stated that core algorithms do not target specific niches, websites or qualities.
Latest major Google Algorithm updates
There have been several Google algorithm updates that rolled out in 2019 and caught a lot of attention from the SEO communities. We have compiled a list of, in our eyes, the most important ones.
Florida 2
March 2019 Core Update, as noticed by the community, was behaving like a rollback to the previous updates, so it generally had a positive impact on most sites that were negatively impacted before.
June 2019 Core Update
This update marked the first time Google pre-announced the update before it rolled out. Like always—without giving any details as to what the algorithm targeted.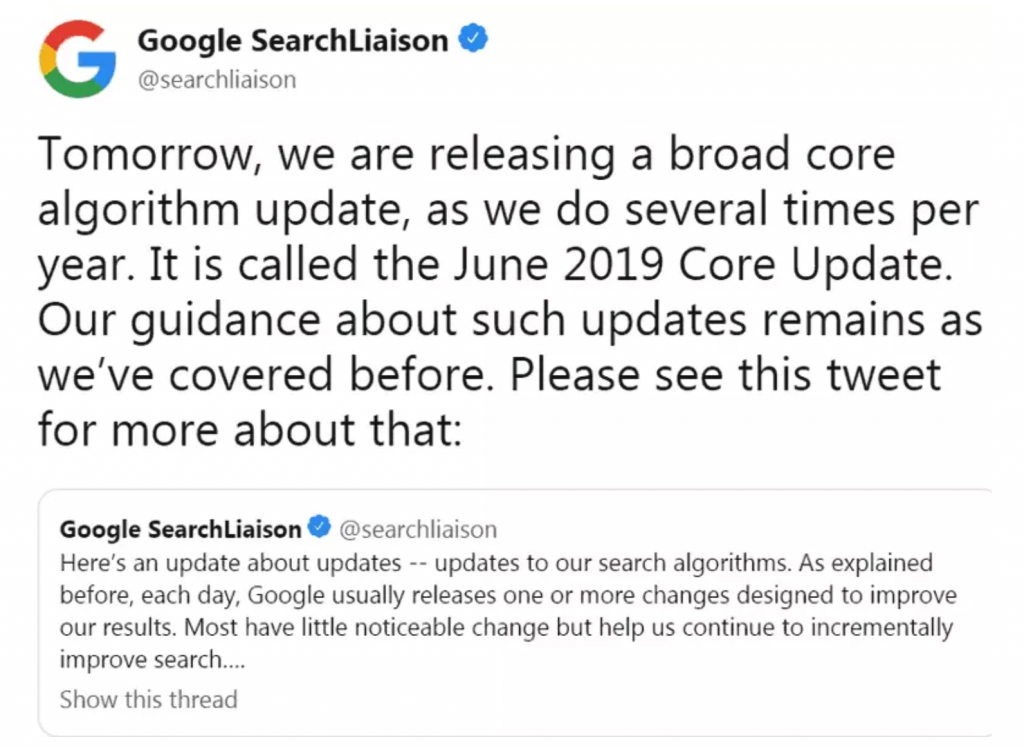 September 24 Core Algorithm update
This algorithm update was focused on a wide range of changes and seemed to follow the August 2018 one by largely impacting the Medical sites. Google continued to fight the black-hat SEO marketers and this update negatively affected some of them.
BERT update
Finally, the latest update was the so-called BERT update in late October, focused on improvements in ways Google understands search queries and content. It is supposed to recognize the natural human language better, so a general suggestion would be to continue to write page content for actual humans to read instead of bots. Google referred to it as the biggest leap forward in the last 5 years.
What's next?
As already mentioned, Google is working on updates constantly and releasing them more often than ever. This also means improving the search results and bringing new challenges and surprises for SEO experts.
You can follow the Google algorithm updates on SEO websites, like SearchEngineLand, Moz, SEO Roundtable and others. The latter periodically researches and summarizes thoughts of SEO experts, if they notice an algorithm update could be coming soon.
Also, of course, follow Google's liaison Danny Sullivan on Twitter—@searchliaison to get official updates.
How to find out if your site has been impacted by Google algorithm
If you have noticed a sudden, unexplanatory drop in organic traffic to your site, the first logical step indeed would be to Google whether there has been a big Google algorithm update recently.
However, if you want to see how the numerous updates have impacted the organic traffic to your site over the years, Panguin SEO Tool is a great tool for that.
It is a free tool and once you share access to your Google Analytics account, it will place annotations of algorithm updates on the timeline of your GA data. It will look something like this: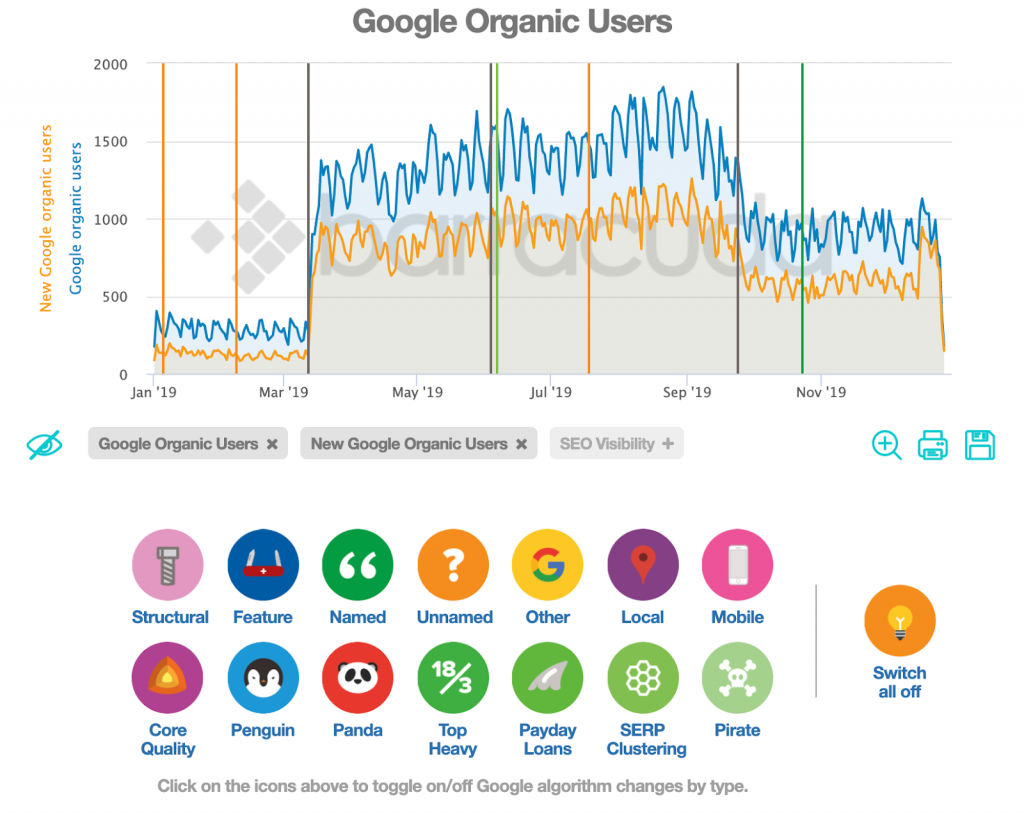 Now you can see which updates impacted your traffic the most and draw conclusions from there.
How to recover from Google core algorithm update
Google's statement regarding this has remained unchanged—there is nothing specific to fix if your site has lost the rankings after a core algorithm update. Instead, Google keeps reminding website owners to focus on the quality of the content, as it is no doubt an important factor. The websites should offer the best content they possibly can.
There are over 200 ranking factors and a core algorithm update usually means Google tweaked something in a few of them.
If Google is silent, you can turn to SEO communities and read what they have to say and to see maybe somebody has noticed similarities.
Even if a fix is done promptly, do not expect to have your traffic back to its pre-algorithm update state right away. Google has officially explained that content impacted by a core update won't recover until another core update rolls out, which usually happens every few months.
It is still highly suggested to use the "kitchen sink" approach—try to fix everything that can be fixed in the site while the algorithm is up—technical SEO problems, UX, content updates, etc., since Google evaluates many factors when it comes to algorithm updates.
Summary
Google is, no doubt, a strong force in the SEO world. By moving just one small finger, it can make traffic for thousands of sites go through a lot of change, positive or not. We as SEO experts, need to constantly follow Google's activities regarding new algorithm update releases and their contents.
If it's a Core Google algorithm update, then there is nothing specific you can do to recover from a drop related to it, as Core algorithm updates don't focus on any specific issues or websites. They are broad updates, and Google won't go into details on what exactly changed during the update.
What you can do instead is follow Google's guidance and focus on the overall website— the quality of the content, content updates and other improvements to the content. At the same time, don't stop digging deeper into the technical and UX improvements to the site.
What to expect in 2020? Well, we can never be too sure, as Google prefers to keep the big news to themselves. But what we can do for sure is—follow the latest SEO news and work on improving our sites from various areas, the same as Google is doing with their algorithms.
Our in-house digital marketing team consists of high-level SEO experts, creatives, and analysts, who follow the latest Google news on Google algorithms daily. We're here to help you ensure SEO excellence and increase revenue from organic traffic, starting with a free SEO audit.