Operating in the Magento space for more than a decade we have learned quite a few things when it comes to both developing and supporting Magento projects. We want to share our experience and more specifically, 4 rules to follow to have an efficent and satisfied support team.
There is an issue: a lot of IT specialists feel a technical support developer job is not a good job. It is usually regarded as being on the lowest step of the career ladder — as if it is a position for those who don't have enough knowledge and experience to be a professional and work on something that is important for real.
It's not true, not even close. For sure, the ability to do well in this job and to enjoy depends to a certain extent upon our personalities, skills, and attitudes. By the example of how technical support is organized at Scandiweb — a company that has worked on developing advanced e-commerce solutions on Magento platform for The New York Times, Lego, L'oreal, and many others — we have found the whys and wherefores of working in a technical support team. If you like, you may also use it as a guidance on how to make Magento support great for both, team and clients.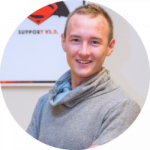 Dmitrij, technical support developer
"You need to have a different mindset. When you work on a standard project, everything is already written down in your technical assignment and you don't have to think on what to do: you just pick up and process tasks, that's it. In technical support no one explains you anything: you got a problem and you have to find a way to solve it. How to do it? It is all upon you."
Magento Support rule #1: Being efficiently fickle and not getting bored
Technical support is a great place for people who are comfortable working in a fast-paced, dynamic environment — everything here says "no" to boredom, stagnancy, and low productivity. If you work as a technical support developer, you don't get a project — you have a list of projects and different types of tasks, and you have to choose and switch between them, depending on priorities and available resources. Most usual it takes no longer than 16 hours of an actual work to get a task done, and so you get to work on something new almost everyday.
There is a popular opinion on which says technical support it is all about troubleshooting, fixes and bugs, and it is not how it is — or at least it is not how it usually is at Scandiweb. Technical support team get requests on adding new functionality, features, and improvements. Submitting a request to a tech support allows clients to be flexible when it comes to a task formulation, budget, and deadline. For technical support developers it means an opportunity to think out a solution from scratch.
Magento Support rule #2: Taking responsibility for what you do
You are in total control of your working process. At Scandiweb a technical support department is build of people who accounts for progress in achieving their tasks and goals to no one but themselves. Everyday responsibilities are determined by the members of a team.
At Scandiweb technical support developers don't have a project manager standing behind their back and telling them what to do — everyone does everything, and so people inside the group plan, coordinate, direct, and control all their work activity autonomically. What they are the most proud of is that managing tasks through all its life cycle now doesn't scare even those specialists who once were used to hide behind a keyboard. Developing a self-managing organisation let their technical support department to be fast, flexible and scalable.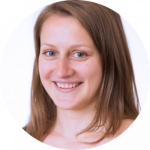 Livija, technical support developer
"Personally speaking, I like to communicate with a client face to face: listen them expressing their needs and wants and suggest my own ideas on how to make it all happen. The responsibility is all yours, and there are people who might not be ready to take it — it is always easier when you can pass the buck, but I have always been considering it as an opportunity to enhance my professional skills and working capacities."
Magento Support rule #3: Helping each other
People who work at Scandiweb technical support talk to each other a lot: share know-hows, discuss concerns and issues we are experiencing, learn from mistakes. Their technical support department is build on a principle of everyone having equal professional values, skills and experiences, and that way you can always count on the help of the other team members.
Every morning the team holds a 10–15 minutes meeting — , that is a common thing in web development, but the difference is that at Scandiweb they don't use these meeting to provide a status update by enumerating what they did yesterday, they concentrate on how they did it.Once every two weeks a technical support department has a general meeting where they discuss improvements and worsening in a daily work routine. Discussing a process of taking decisions makes it easier to collaborate on projects.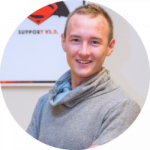 Dmitrij, technical support developer
"There's no irreplaceable man — in a good sense. We all share an equal professional value and everyone on your team supports one another. If something happens, for example, you suddenly fall ill or take a holiday, there won't be any slowdowns in the working process. Someone else will pick up your tasks immediately, wasting no time on figuring out what exactly needs to be done."
Magento Support rule #4: Learning more about everything
In technical support you never stop learning. Even if you already are an experienced developer, you often get assigned to tasks you have never done before, and you have to do a research on a project, features and functionality, its working principles. You get to learn a project you are working on from "A" to "Z", from all its sides: front-end, client-side, back-end, and server-side.
Working in a Magento technical support department is also a great opportunity for junior developers to improve their knowledge, skills and abilities, and at Scandiweb it has been proven in practice. One of their superhero teams — Team Iron Man — was assembled less than a half a year ago. The idea back then was to put on the top of it a senior developer, who is willing to be a mentor and pass along the knowledge, let him recruit the rest of a team out of junior developers, and watch them growing from a seeds to a big trees.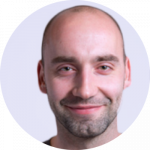 Kaspars, technical support developer
"I like to compare working in a technical support department to being a fireman or a paramedic, because we also provide help for people in emergency situations. We do things of the indispensable importance."
Need help from Superheroes? You can light up the Bat-signal through our contact form here or by leaving a direct message to us via [email protected].
Related articles: