Summary
Moto Machines introduces a new PPC strategy to boost ad account performance: higher sales, more effective ad budget allocation, and improved customer retention.
Business overview
Moto Machines is a family-owned online business based in Sterling, Virginia, USA, specializing in selling motorcycle parts and accessories. Founded in 2011 as a father-son project, they offer a stock of over 15,000 products for more than 700 motorcycle models with exclusive imports from some of the world's leading manufacturers.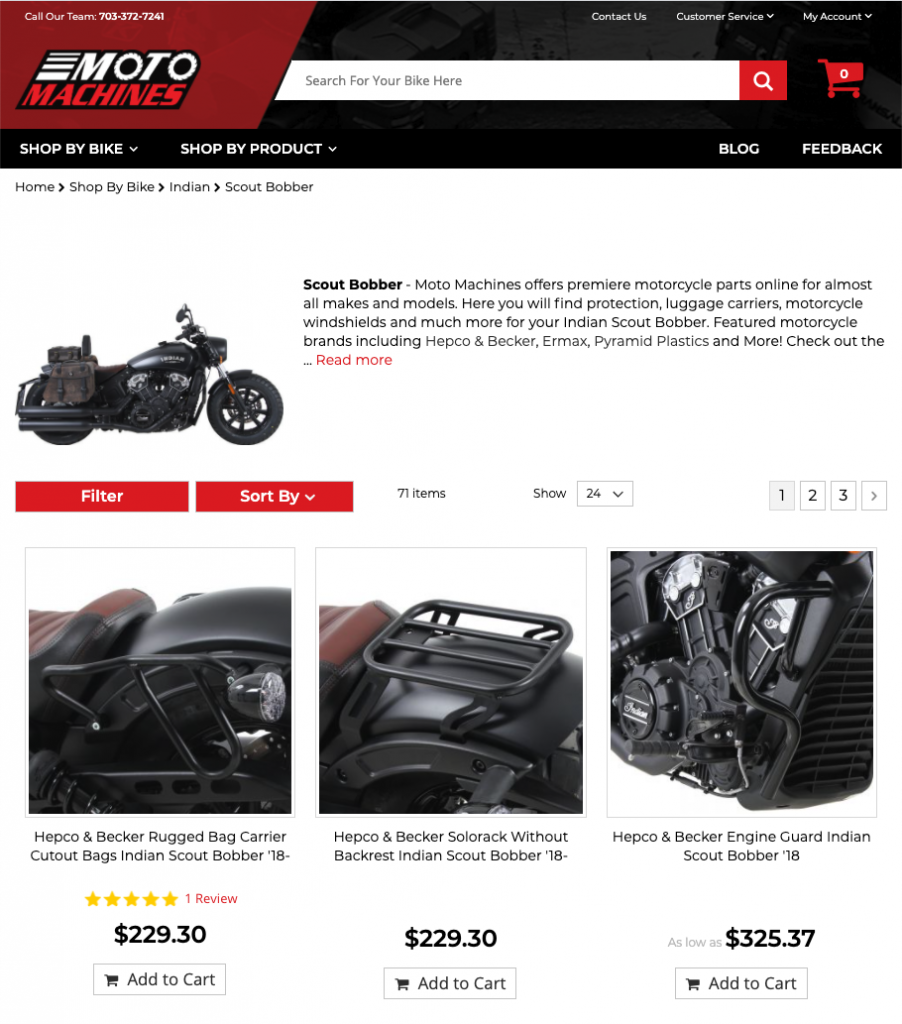 Scandiweb had previously worked with Moto Machines, helping migrate their website to the Magento 2 platform. In a conversation discussing further growth opportunities for their store, we agreed that there was some untapped potential in their PPC strategy. Shortly after, a roadmap was devised, and our team was invited to take over.
Challenge
The main obstacle for Moto Machines PPC effectiveness in the past was a lack of data-driven decision-making. As a result, the entire product catalog was promoted to a diverse audience via loosely structured campaigns that were failing to generate the desired revenue.
To fix this, we needed to first gather a sufficient body of data, then use it to inform specific improvement measures.
Furthermore, we had to work off of limited resources: a small team with a 20-hour monthly time allowance, operating within a limited budget. This meant that our efforts had to be well-structured and optimized in order to A. maximize coverage and B. produce the expected result.
Objectives included:
Re-structure and re-prioritize shopping campaigns
Attract more focused traffic to the product pages
Improve conversion rate
Increase in revenue.
Solution
Detailed analysis
To get the data, our team conveyed a thorough analysis of the Moto Machines product list, business model, and market niche. At our disposal were the client's 5 years worth of Google Analytics historical data providing a deep insight into products, audiences, search, and shopping trends.
Detailed keyword research gave us an understanding of the keywords we should focus on. This way, if a particular keyword generated decent traffic, we were sure to capitalize on it.
As we progressed, the subsequent campaigns brought in more data, providing actionable feedback, and enabling us to discover further improvement opportunities.
Critical data points included
Most sought-after product categories and related bike models
Highest-converting customer groups
Underlying reasons for certain customer behaviors and shopping trends
Inconsistencies in the previous campaign attempts that had to be fixed.
Main areas of improvement
With insights from business intelligence and keyword research, we identified the main fields of action and distributed our efforts across the following main areas.
Ad copy
The ad copy that we developed was highly business-specific and relevant to the current product line. A/B-testing the copy helped to further optimize its performance.
Bid adjustment
We updated the existing bidding strategy, focusing on the product and customer groups more likely to convert. To accommodate the extensive product catalog and diverse customer base, we had to make bid adjustments on all levels: gender, age, location, ad schedule, device, audience. This allowed us to prioritize budget spendings and proved crucial for the overall success of the project.
Campaign restructuring
We restructured and fine-tuned shopping- and search campaigns with the research data in mind, particularly keeping an eye on the search query intent and structure. This helped to optimize our efforts in managing a large product catalog within a constrained monthly time allowance.
Display campaigns
This was another effective tool that was previously underused. Display campaigns allowed us to tap into dynamic re-marketing and increase the number of returning customers, thus, improving overall conversion.
Experimentation
We've experimented with different approaches, and launched new campaigns on a regular basis. Given the depth of the market niche Moto Machines occupies, this proved to be a valid way to find new opportunities and identify additional solutions that would bring high returns.
Results
Across the span of 14 months (as of writing this the project is still in progress), we managed to attract higher quality, more relevant traffic to the Moto Machines website, improve conversion, and increase ROAS and revenue. Through exhaustive research and a solid working relationship with the client, we determined the principal areas of improvement and methodically implemented the new data-driven PPC strategy.
YOY improvements
Other performance highlights
Bounce rate: -36%
Transactions: +88%
Page search: +92%
Impressions: +33%
Clicks: +34%
"Working with Scandiweb has been a game changer for our Pay-Per-Click marketing. As a medium to large business, they find a way to take a personal approach and provide the one on one support for our small business where others have failed. Furthermore, they go out of their way to understand our business niche and cater to that. Scandiweb has made a true effort to be proactive and do what's in our best interest. It's rare to have a business relationship in today's world from a creative agency that feels like a partnership."

Edward Stiley
COO, Moto Machines
Found this information useful? Looking to boost your PPC strategy? Need to optimize your eCom conversion to drive sales? Let us help you!
Any questions? Feel free to get in touch: book a free consultation or schedule a call!