Join us as we navigate the exciting evolution of travel with Novaturas Group, the powerhouse of tour operations in the Baltic States. Active in three countries with a portfolio boasting more than 9,000 hotels in over 30 global destinations, Novaturas set out to redefine the travel landscape. In this case study, we explore how Pimcore seamlessly integrated into Novaturas Group's operations, driving this forward-thinking initiative to redefine the travel experience.
A notable aspect of this project was the sheer scale of data management involved. With a staggering 7.7M+ data objects and an impressive inventory comprising over 63,000 asset objects, this endeavor was undeniably substantial. Managing and utilizing such an extensive amount of data and assets underscored the project's complexity, highlighting the need for a robust and efficient platform like Pimcore to handle this considerable volume effectively.
Highlights
Novaturas Group partners with scandiweb to redefine travel with 9,000+ hotels in 30+ destinations
Managing 7.7M+ data objects and 63k+ assets highlights the project's complexity
Novaturas aims to boost eCommerce, website conversion, and revolutionize travel planning
Pimcore efficiently connects 400+ travel agencies and synchronizes real-time product data, setting a new standard in travel management
Goals & expectations
Novaturas had three primary goals: increase market share, improve conversion rates, and revolutionize the travel planning experience for customers.
Increase market share
Firstly, they aimed to bolster the market share of their eCommerce platform by implementing targeted strategies that would attract a broader customer base and encourage increased usage of the platform. This involved optimizing user experience, enhancing product offerings, and leveraging effective marketing techniques.
Improve conversion rates
Secondly, they were set on augmenting the overall website conversion rate (CR) by refining website design, user interface, and content to ensure seamless and compelling interactions that would drive conversions.
Revolutionize travel planning
Lastly, they aimed to revolutionize the travel planning experience by creating a hassle-free, end-to-end process for travel planners. Thus, the project involved integrating user-friendly features and tools that streamlined itinerary planning, booking, and management, thus providing a comprehensive and enjoyable traveling experience for our users.
Complete outlook on digital travel services
Novaturas had clear expectations for the project. They sought a platform that could deliver services akin to those offered by physical agents, aiming for a seamless transition of their agent clients into the online domain. The objective was to create a platform that not only replicated the assistance provided by traditional agents but also enhanced it by leveraging the advantages of the digital sphere.
It was crucial that the platform offered substantial value and utility throughout the entire customer journey, encompassing pre-purchase stages such as inspiration and planning, as well as post-purchase stages involving problem-solving during the trip and facilitating the sharing of feedback. The goal was to provide a comprehensive, end-to-end travel service that exceeded the traditional expectations of a travel agency.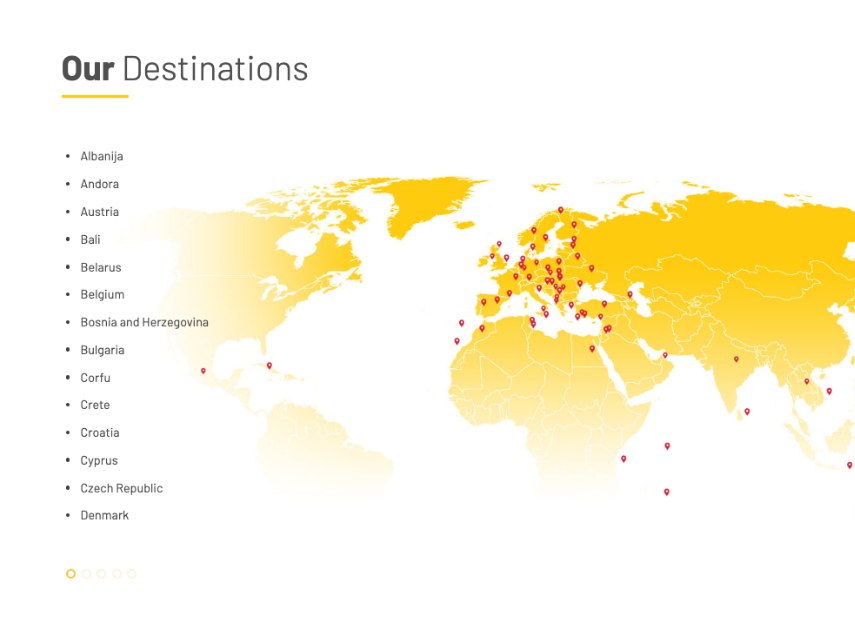 Challenges
One of the defining characteristics of the Novaturas project was its dynamic nature, setting it apart from typical eCommerce ventures. The project involved the sale of trip offers that could materialize and vanish for sale within minutes. This distinctive feature necessitated a departure from conventional approaches, as standard eCommerce platforms typically deal with relatively static product inventories.
Dynamic product management
The project required a custom-tailored solution that could proficiently manage the ever-changing array of products. Traditional inventory management systems wouldn't suffice, given the rapid fluctuations in the availability and characteristics of the offerings. Hence, the project demanded an innovative and flexible technological framework that could adapt to the volatile nature of the travel industry and the evolving demands of potential customers.
Real-time inventory integration
The solution needed to enable real-time updates and seamless integration with the constantly shifting inventory, ensuring that users had access to the latest and most accurate information regarding available trips. It called for an intelligent system capable of swift adjustments and modifications to accommodate the rapidly changing landscape of travel opportunities, reflecting the dynamic essence of the project.
Agile development and continuous improvement
Moreover, this dynamic aspect of the project underscored the importance of an agile and responsive approach in development, emphasizing the need for continuous monitoring, analysis, and fine-tuning to ensure optimal performance and customer satisfaction in this dynamic market.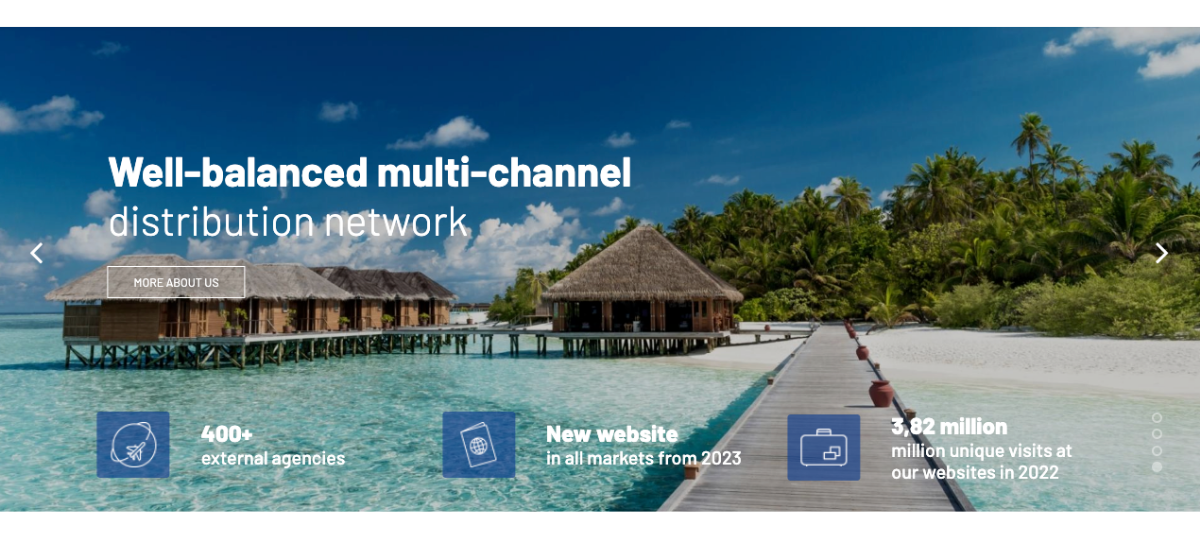 Solution
To tackle the dynamic nature of the Novaturas project, we used Pimcore as a middleware. Pimcore served as a bridge between the client's database and Elasticsearch, working by extracting constantly changing data from Elasticsearch and complementing it with stable information from the database.
This combined data was then made accessible through an API that could be utilized by any agency. This innovative approach ensured that users would always be presented with the latest information about currently available travel offers, enhancing the efficiency and accuracy of the platform.
Pimcore as an automated data bridge
Pimcore played a critical role as a fully automated data bridge, seamlessly connecting with over 400 travel agencies. Its purpose was to facilitate efficient retrieval of travel offers and products. This integration empowered travel agents to easily access and fetch the latest offers available, streamlining the process for a vast network of agencies and ensuring they could swiftly access the most up-to-date travel deals for their clients.
Real-time product information, prices, and availability sync
A fundamental aspect of our solution was the real-time synchronization of product information, prices, and availability. This feature ensured that the platform could present users with the latest and most accurate details for each travel offer. Any changes in product information, pricing, or availability were instantly updated, providing users with a dynamic and reliable browsing experience.
Streamlined product enrichment workflow
Within Pimcore, we fully digitalized the product enrichment workflow, specifically tailored for the Novaturas project. This workflow efficiently handled product information for travel packages across four languages. By fetching data from five distinct sources, we eliminated the reliance on legacy spreadsheets tied to a single person. This digitalization not only increased efficiency but also reduced dependency risks, ensuring a more robust and scalable operation.
Customized content types for travel packages
To offer a comprehensive travel planning experience, we tailored different content types within Pimcore to suit various stages of the travel journey. These content types were designed to inspire users, aid in planning, facilitate discovery, and provide solutions to potential problems during the trip. This customization ensured that the platform accommodated diverse user needs, enhancing their overall travel experience and adding significant value to the services provided.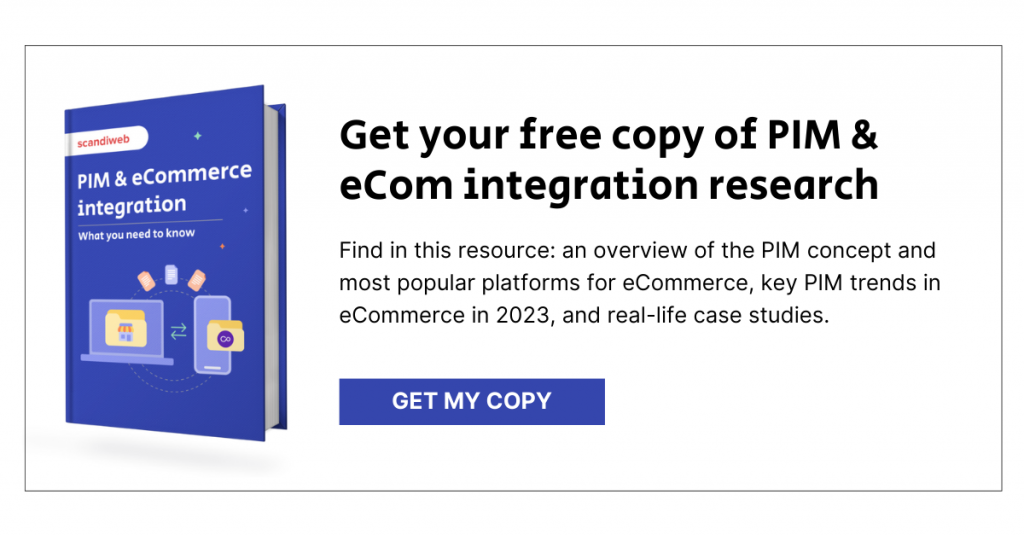 Results
The integration of Pimcore marked a turning point for Novaturas Group. Acting as a streamlined data bridge, Pimcore facilitated easy access to the latest travel offers for over 400 travel agencies. Real-time data synchronization ensured users received accurate and immediate updates on product details, prices, and availability, enhancing the platform's overall efficiency and user satisfaction.
Streamlined product enrichment workflows, now digitized within Pimcore, handled multilingual data seamlessly, reducing dependency on outdated spreadsheets. This change streamlined operations and improved scalability. Moreover, the implementation of customized content types tailored to various stages of travel enriched the user experience, meeting a range of travel needs.
The successful integration of Pimcore not only met the project's unique challenges but also set a new industry standard, revolutionizing travel management and presentation. This innovation benefited users seeking engaging travel experiences and solidified Novaturas Group's pioneering position in the travel sector.
scandiweb is a Gold Partner of Pimcore. We have a team of certified Pimcore experts that can take on any project that could benefit from Pimcore integration. If you are facing challenges with product information management, get in touch today and we'll be happy to help.