Launching your store on PWA sounds scary, to say the least. What if we told you it was possible to get hands-on experience with a PWA theme for Magento without investing your time and resources?
ScandiPWA Cloud allows to get a modern looking PWA store on Magento with incredible UX in less than 1h and for free, providing access to the code, respective repositories, and automated deployment process.
Anyone could have joined our waitlist and on December 19 start playing with their ready-to-use ScandiPWA store, plus enjoy 3 months free trial.
Explaining Progressive Web Apps and SEO
SEO-related concerns, often lead by false assumptions, are one of the main reasons why merchants still hesitate to implement PWA technology. In fact, SEO can work great with PWA. Concerns demystified →
ScandiPWA 2.5 supports PayPal payments
Several important and very anticipated features are supported in the newest ScandiPWA release, including PayPal and Braintree payment methods and Video media type. Get configuration notes →
How PWA takes your website to new heights?
PWAs give you a faster, more reliable, and more engaging version of your website or eCommerce store. What exactly can PWAs do and how do they work? Take a closer look →
Who's behind projects
Check out our Team story blog series where we introduce the world to all the personalities working at Scandiweb and tell about their day-to-days, skills, interests, and hobbies.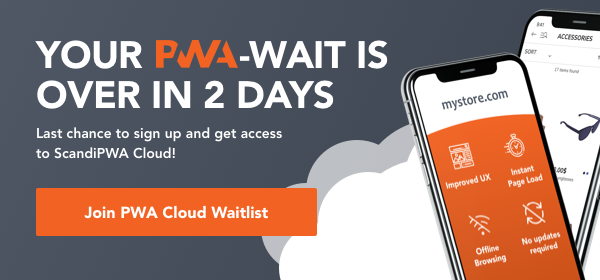 Later in the month, it was time to release our cloud solution of Magento + PWA theme with all development and staging environments provided—set up that takes less than 15 minutes.
Once the ScandiPWA Cloud got released, everyone who signed-up received credentials to their newly created instance. They were able to access production and dev environment, as well as customer account to add other users to their repository.
When will an opportunity like this present itself again? We are glad to be the pioneers offering free hands-on experience with PWA!
Mobile-first indexing era is here
Along with the increasing number of searches performed on mobile devices, Google announced mobile-first indexing as default. Learn how it affects your website, and why it's time to look into PWA. Learn more →
Keeping up with the ScandiPWA updates
ScandiPWA core team is rolling out one release after another! There's now a fix for search overlay, several payment options, translations—a total of 12 language packs, and many more features available. Release notes →
SW boss Victor Pixel
Did you know Scandiweb's office has a healthy and happy chameleon as a pet? He brings daily joy and expresses his ways of helpfulness to his human colleagues.
See you at our next monthly recap! Stay tuned to hear more news from the Scandiweb team!