Episode one: meet the developers
Scandiweb boasts a large and continuously growing team of brilliant minds. It would be a shame if their stories went unheard. In this, the first instalment of a lengthy series, Scandiweb would like to introduce you to 5 developers out of our team of 160+. They shared their stories, their skills, their experience, their passions and the advice they would give to their younger selves. Meet the people working on YOUR projects. Meet the people that make Scandiweb tick. Meet the developers.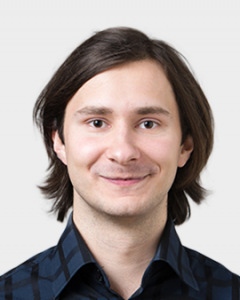 "Try to save money"
Rihards Buls
At a young age, Rihards used to believe that brass knuckles are a gardening tool and was certain that the saying "you live, you learn" was actually "you live, you enjoy yourself". Now, he's a developer, working intimately with the Magento 2 platform. Rihards completed his BA in computer science, graduating with distinction and yet when prompted for the most useful skill for working at Scandiweb, he names a soft one — time management.
Rihards takes pride in his outstanding academic results, as well as in managing to stay awake for 4 days straight and in finishing one of the spiciest local kebabs.
Rihards radiates friendliness and can always be found surrounded by nice people and bubbling conversation. His free time is funneled into all kinds of technical things — assembling computers, video games, tinkering with cars. He is very fond of spending time with friends & attending massive events, such as festivals. Unsurprisingly, he is a regular attendee and the soul of all Scandiweb parties and team-bonding exercises, which he highlights to be one of the best things about Scandiweb.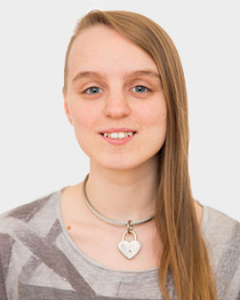 "Don't waste 5 years on World of Warcraft"
Anzelika Lujane
When Anzelika was in first grade, she didn't know you can extend the time on a book borrowed from the library and was distraught that she'd never find out whether Frodo succeeded in taking the ring to Mordor. Since July 2014, she's an integral part of Scandiweb — a highly qualified senior developer, with a bachelor in computer science and numerous certificates, currently working with Magento 2. Anzelika believes having the right attitude towards work, colleagues, and responsibilities is a vital aspect of life at Scandiweb.
When she's not at work, Anzelika is playing various video games, reading and listening to music, a favorite being Judas Priest's Nostradamus. Anzelika also has a love for animals and an accomplishment she takes pride in is having nurtured an orphan bunny back to health. Coincidentally, she currently has a pet bunny, however, Lord Muffin is not the same bunny as the saved one.
Being of a reclusive character, Anzelika prefers a book over a work party, and she appreciates both the professional as well as the personal freedom and opportunities here at Scandiweb.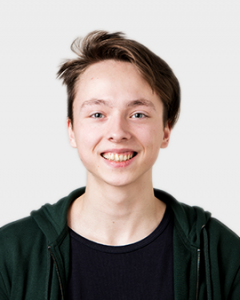 "Finish your soup"
Krisjanis Veinbahs
At a younger age, Krisjanis used to be severely worried about finding a job and did everything he could to find one. Frantic determination resulted in Krisjanis starting an internship at Scandiweb even before starting his final year in high school. Brimming with potential, the SW Junior academy graduate was invited back to work full-time right after completing high school, and now he's a developer working closely with Magento 2. Krisjanis describes Scandiweb as a knowledge goldmine, and he's actively mining — craving to learn as much as possible.
If you ever meet Krisjanis, you're also likely to meet his most important tool — his bike. He loves cycling and will pedal anywhere, be it for work or leisure, or the sake of cycling itself. Krisjanis is also an experienced frisbee player and takes pride in finishing a half-marathon.
Krisjanis is a friendly and humorous person, who is always a pleasure to have around. He has a certain admiration for Scandiweb's developer community for its technical expertise and helpfulness. However, as time goes by, people are starting to look up to him as well.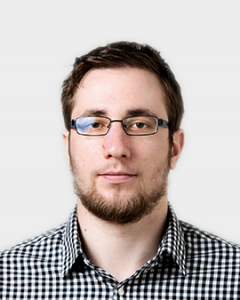 "Be more confident and ignore those who try to demotivate you"
Aigars Ivanenko
When Aigars was younger, he found it hard to believe that people were still learning after the age of 18. Now he's a .NET developer at Scandiweb, learning every day. Aigars has a professional higher education as a programming technician and a trove of experience with C#, unity, PHP, and JS, which he highlights as important skills that have a tangible impact on his daily work. With further experience in AR/VR/MR development and a good understanding of math, Aigars is an invaluable part of the team.
Aigars is a man of many interests. He enjoys cycling and running 10–20km distances, as well as reading books, with a passion for the fantasy genre, and playing video games — mostly RPG's. A personal pleasure of Aigars is whisky — a fan of single malts, he also appreciates a good scotch and knows more about whisky and other brown liquors than most people.
Aigars is constantly learning and self-development is an important part of his life. He enjoys the flexible work hours at Scandiweb, as well as the epic events and the liberal work environment.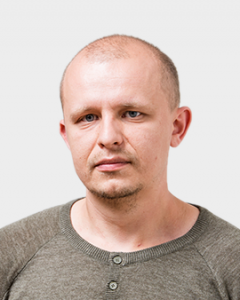 "Study IT"
Dmitrijs Iscuks
Born and raised in Salaspils, Latvia, Dmitrijs is now a full-stack developer and an integral part of the team at Scandiweb. Dmitrijs brings to the table extensive experience, having worked both as a JAVA developer and a full-stack developer before being recruited to Scandiweb by friends. Dmitrijs also has a BA in computer science and took first place at the school olympiad in mathematics! Currently working in the JS department, Dmitrijs identifies perseverance, flexibility and responsibility as crucial tools that facilitate productive work.
A father of three, Dmitrijs takes pride in the multitasking capabilities he has developed — he can cook, watch TV and help his daughter with her homework, all while flipping through social networks. His hobby is his family and it's a hobby he's excellent at.
Concurrently, Dmitrijs identifies the team as his favorite aspect of Scandiweb, describing it as a big and friendly family. It's a pleasure to have Dmitrijs as part of it.