Episode 19: It's a Mixed-bag!
With this week's episode, we wrap up the current team stories of 4 departments! As of today virtually every PM, Designer, Digital Marketer, HR, and Accountant has a story! Scandiweb's team is always growing, so there will certainly be more in the future, but for now — there are only developers left! Oh, and 5 very special people, whose stories are coming next week 😉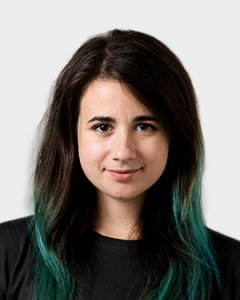 "Hit Ctrl+S more often"
Marija Zlotnikova
As a child, Marija was inspired by the Matilda movie and thought it was possible to develop telekinesis abilities by learning and reading a lot of books, and she tried her hardest! Now she's a designer primarily responsible for digital and print graphics, as well as web design, however, her multifunctional skillset enables her to take part in any design work. Marija's illustration/drawing skills have been developed through years of purposeful exercise, academic and individual education, and practical experience. Complemented by a great eye for composition/layout and font choice, Marija's unique mix of abilities and talent make for stunning and eye-catching designs, that turn heads and leave an impression!
Passionate about traveling, Marija enjoys exploring the world both with friends, as well as by herself and has done so many times. Art, music, and movies also take up a lot of her time, and Marija will not shy away from discussing topics such as why Malevich's "Black Square" is art, Freddie Mercury's performance on LIVE AID 1985 and why "What Dreams May Come" is a masterpiece.
Marija's favourite things about Scandiweb are her colleagues and their incredible sense of humour; the atomic parties, where you can find people with similar tastes; and the laid-back atmosphere, which makes for a stress-free work environment!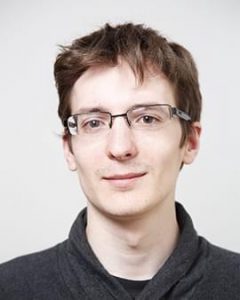 "Grow a moustache ASAP!"
Vadims Zuks
As a child, Vadims thought he had a better grasp of the English language than he actually did, being certain that U is always pronounced as [ʌ], C as [k], A as [e], etc. So at the age of 4, Vadims and his brother proudly made a sign for their own "CURUTA" dojo — can you figure out what they meant to write? Now Vadims is a designer at Scandiweb and his responsibilities revolve primarily around video production and post-production, however, his gift for text document design is also employed at every opportunity on everything from booklets, to one-pagers to entire whitepapers! A knack for brainstorming and visual script writing are what help Vadims in his day-to-day work and these highly-developed skills of his have been polished and perfected through extensive trial & error.
Cycling; attending concerts of lesser-known underground groups; bouldering; skiing; quiz/intellectual games; board-games, favourites being Game of Thrones, Small World, Dracula, Catan, among others and; video-games, such as Borderlands and Europa Universalis — Vadims' many interests come from constantly challenging himself to try something new and daring himself to give everything a chance!
When prompted about his favourite aspects of Scandiweb, Vadims replies concisely — the spirit of informality and the freedom of minds!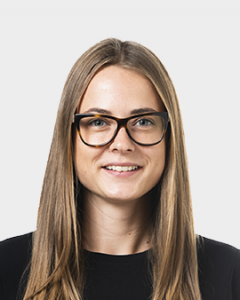 "Keep playing the piano!"
Evija Riduze-Skujina
As a child, Evija used to believe in Santa and, as most other kids, would write letters to him every winter… until, one day, she found one of her letters in her dad's car's glove compartment, which brought about a lot of questions! Now she's an HR working dedicatedly with Scandiweb's Support team. Evija's primary task is to make sure everybody in Support has what they need and feel comfortable to do the incredible work they do — this means office management, event planning, communication facilitating, as well as making sure every last developer is involved in decision making and activities! Evija's natural friendliness, openness, and empathy, complemented by her previous work in eCommerce customer service, as well as an Anthropology education, makes her the perfect Support HR!
From cooking to off-road driving to mushroom picking, Evija has many interests, however, she mentions travelling as her favourite. Having recently spent half a year travelling across Asia, Evija enjoys lengthy travels — spending as much time as possible in a place to get everything you can get out of it!
Evija's favourite aspect of Scandiweb is her tight-knit team that has created their own small and friendly sub-community inside Scandiweb! Speaking more globally, Evija likes that most of the time every employee is involved in company-wide decision making — it's not just management implementing policies.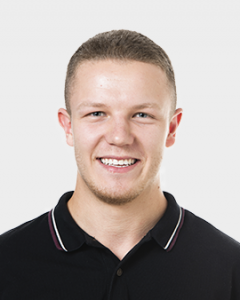 "Experiment more, take on more responsibilities!"
Ginters Plukass
As a child, Ginters was very curious and could not understand why those responsible for it, don't just print more money to raise the living standards and help those in need. Now he's an accountant, with his primary tasks consisting of general monthly accounting, as well as directly assisting the CFO, however possible. Having done all kinds of work in different industries, Ginters has become very adaptable and a quick learner, which, combined with his natural traits of being very detail-oriented and precise in his work makes him a model accountant.
Ginters has many interests and hobbies, but basketball, having played it since the age of 6, has a special place in his heart and has become something more than just a hobby. Reading and watching anything that grabs his fancy; attending various concerts, exhibitions, plays; jet-skiing in the summer and hunting in the winter — Ginters likes to explore what life has to offer, and personal growth can be seen as his principal hobby!
When prompted about his favourite aspect of work at Scandiweb, Ginters has one thing that stands out above all others — his team! And it's no wonder — the financial department is very close, supportive and friendly!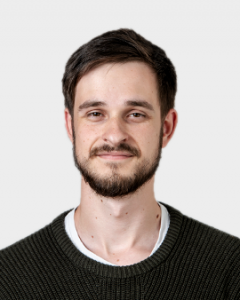 "Listen to mom, she knows what she's talking about"
Viesturs Abelis
When younger, Viesturs believed that the black market was an actual market in a specific location, where people sold guns, drugs, organs at stands! Now he's Scandiweb's Social Media Manager and Content/Copywriter doing everything from social media posts to article production, to whitepaper writing. Taking great pleasure in working with texts and always looking to mold them into their best possible version, Viesturs likes challenges. His Research Masters studies in Philosophy have helped him hone his linguistic and analytical skills, especially in terms of structuring thoughts and texts to best convey an idea and convince the reader — be it an academic paper, miscellaneous article or marketing pitch.
When he's not working, Viesturs likes to keep up with his philosophy and relax with friends. Interested in the topics of knowledge and disagreement, he has also participated in a couple of international conferences, which he's very proud of since he's timid by nature. Travelling is also very important to him. Having lived most of his life abroad, he struggles to stay in one place for too long!
Viesturs' favourite aspects of Scandiweb are helpful colleagues, as well as working in an English speaking environment. Also appreciative of the dynamic and challenging tasks, he likes the absence of mundanity!