Episode 9: Meet some more Project Managers
Each PM in this story has a different approach to project management! Each PM in this story has a different reason for liking Scandiweb! Every PM in this story either cycles, plays basketball or football! Meet the people that make Scandiweb tick!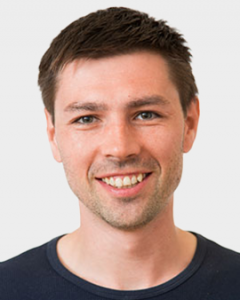 "Don't waste your time on bullshit!"
Kaspars Kalkis
As a child, Kaspars believed that you can jump on clouds like trampolines. Now he's a project manager — the bridge between clients and developers, making sure the communication is smooth, and the progress — uninterrupted. With an uncanny ability to always understand where he is or isn't needed, Kaspars is great at optimizing the workflow, stepping in at critical points, while avoiding micromanagement. A degree in Business Management, 10 years in the IT field, with 3 years at Scandiweb on top of that, have equipped Kaspars with all the tools for success and he uses them just for that! Mentioning problem-solving as his most valuable instrument, Kaspars finds solutions with resolute efficiency.
An active man by nature, Kaspars is a terrific football player, who used to compete in the second highest league in Latvia, frequently reaching the pedestal. He likes to cycle and likes to play video games, but what he loves is his family and spending time with them!
Kaspars is appreciative of the magnitude of the work taking place at Scandiweb. With an exquisite list of clients, perpetual large-scale projects, and a motivated team — we can do big things!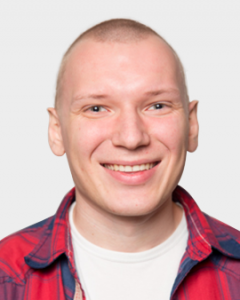 "Read more books!"
Janis Renga
Born and raised in Dobele, Janis joined Scandiweb as a Content Manager, was one of the founding members of the Digital Marketing department and is now a Project Manager. Currently responsible for managing such start-ups as MageBee and CrowdBonus, Janis is a hands-on manager doing everything from helping put ideas on paper, to wireframing, to designing, to implementation. With a valuable skill-set, in part developed through his Public Relation studies, Janis brings a unique outlook on projects, customers, and users. His people skills, supplemented with high adaptability, proper time management and an insatiable desire to learn make Janis a true role model for all colleagues!
Janis' free time is taken up by football, which he loves to play, by basketball, which he loves to watch and by music production. Janis is also a fan of technical books of all sorts, finding pleasure in gaining new knowledge.
When it comes to Scandiweb, Janis highlights two things as favorites. Firstly, the trove of knowledge and how much you can learn in this environment and, secondly, the team, which is both simply awesome in itself and also conducive to the exceptional learning environment!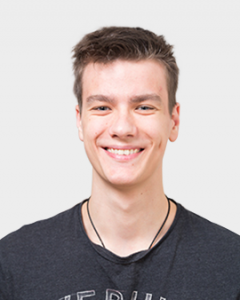 "Don't bite off more than you can chew!"
Janis Riekstins
Born and raised in Riga, Janis had aspirations of becoming an astronaut millionaire. A small detour in his quest has resulted in him occupying the project manager position in Scandiweb. Communication, issue resolution, gathering statistics, defining tasks and invoicing — mundane tasks of project managers, all mastered by Janis. What makes him stand out, however, is an exceptional ability of managing expectations — when uncertainty, conflict or lack of a vision from the client's or the team's side threaten to hamper a project, Janis can not only detect it at an early stage, he also tackles it unreservedly, making sure everybody is on the same page and moving in the right direction!
An amiable guy, with a good sense of humour and many interesting stories — a conversation with Janis is likely to leave you with a smile on your face. Never afraid to speak his mind, nor take on a challenge, Janis exudes a palpable sincerity. When not at work, he's doing something active — as a former professional cyclist who was part of the national team, he has a special place in his heart for cycling.
The trust Scandiweb puts in him, is one of Janis favorite reasons for working here and he proves why it is warranted on a daily basis.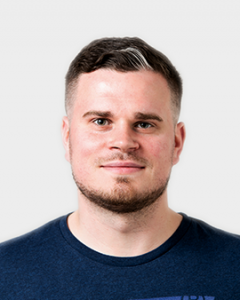 "Learn to code an read more books!"
Aleksandrs Pliska
At a younger age, Aleksandrs used to think that by now infinity elixirs and casual space travel would be a thing. Now he's a project manager/product owner, currently working primarily on the Rockar project. With an MA in Management and Information Systems, combined with over 6 years of experience in the field, 3 of which have been with Scandiweb, Aleksandrs is the go-to guy for all car-related projects. Beyond the usual project manager duties, Aleksandrs highlights knowing your team to be of utmost importance. Understanding your team's dynamics and supporting it whenever possible not only makes everybody's work more enjoyable but also more efficient and productive.
An active person, who is also a great cook, Aleksandrs does everything with a smile on his face. With a passion for MTB cycling and CrossFit, Aleksandrs is happy to be in a place where sport plays a significant part in his life. He's also a very supportive individual, with a good sense of humour, who enjoys having a good time with friends!
Even after 3 years with Scandiweb, Aleksandrs is still positively amazed at and inspired by the electrifying energy zipping through his colleagues!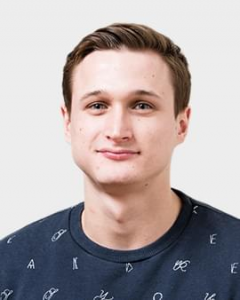 "Be more serious about sport — pick one!"
Gustavs Zandersons
At an earlier age, Gustavs used to believe that becoming a millionaire would be a breeze, unaware of the hard work and dedication it requires. Now he's a project manager at Scandiweb, with all the usual responsibilities of a PM — team management, client communication, requirement gathering, etc. He's also simultaneously working on his Master's degree! Highlighting the right kind of communication to be of crucial importance, Gustavs excels at finding the right approach, the right tone, the right words to get most out of people — be it a boisterous client, or a timid colleague.
Gustavs is a superb basketball player and takes pride in being able to dunk, despite being shorter (180cm) than the average player. He follows all kind of sports, but the NBA has a special place in his heart. Another point of pride for Gustavs is having been recognized for exceptional academic achievements and being included in the Riga Technical University graduate Golden Fund.
In terms of favorite things about Scandiweb, there are so many different activities taking place, that it's really easy to get integrated. It's super easy to find like-minded people, and, more importantly, make friends.