Episode 10: Developers, developers, developers
In this episode, there are a total of 25 years of experience at Scandiweb, 18 of which are shared between 2 people! Each person featured in this episode shines in their own way — meet some more developers!
This is the 10th episode, which means 50 stories have been told! A sincere thank you to those following the series and here's to many more to come — we're only a third of the way there!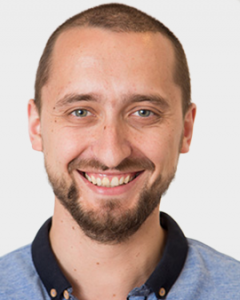 "In 10 years, you'll know you made the right choice"
Valerijs Sceglovs
As a child, Valerijs used to be deathly afraid of the roaring sound airplanes made, as they passed overhead. Now and for over a decade Valerijs is a developer at Scandiweb, doing all the heaviest lifting, since the very inception of the company. Valerijs' philosophy of "Everything's doable" is reflected in his work — no matter what is asked of him or his teams, he delivers with unmatched efficiency and resoluteness. His keys to success? Creative thinking, a supportive approach and knowing how best to push his teams! Valerijs is a pillar of Scandiweb, without whom the company would not be where it is today.
Family is the most important thing for Valerijs. He loves spending time with his children and, as for most dads, "dad jokes" have become a specialty of his! The little free time Valerijs has is usually spent at the gym or doing other physical activities.
Valerijs helped build Scandiweb from the ground up. Seeing where the company is now is a point of pride and one of his favorite aspects is the respectful work environment that has been created!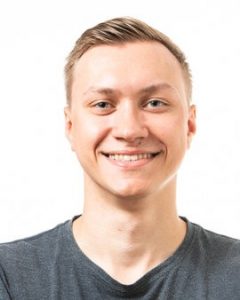 "Save money for pilot courses!"
Viesturs Ruzans
As a child, Viesturs had a deep-trenched belief in the tooth fairy. Now he's a senior developer, with one foot in the project manager's position, currently living and breathing everything blockchain. From conducting stress tests to ICO development, Viesturs is responsible for ensuring everything happens smoothly both behind the scenes and on the main stage, and with his contribution — it does. His perseverance, wisdom and immeasurable technical knowledge have put Scandiweb on the map as a beacon of success when it comes to blockchain technology. When prompted for his secret, Viesturs' answer is straightforward — "Don't whine, just do it!".
Viesturs is an avid Airsoft player, frequenting the battlefield both with friends and often participating in community games. He also likes cycling, and is a former member of the Scandiweb cycling team! The thing he excels at, however, is living a good life — managing to stay stress-free, not waste his free time, and do interesting things!
There's a non-corporative atmosphere in Scandiweb, of which Viesturs is appreciative. There's also a unique opportunity to work on what you like — if you're fascinated by a different project or tired of your current one — ask and you'll be reassigned!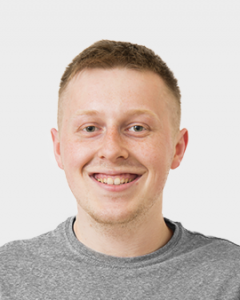 "NO TIME TO EXPLAIN, INVEST IN BITCOIN"
Pavel Gedrovich
During winters, Pavel heard cracking and creaking sounds (which, in retrospect, must have been caused by wood expanding with heat) coming from the ceiling, believing them to be made by Чебурашка (Cheburashka). Now he's a senior developer turning client's ideas into code, mostly working with back-end (PHP), implementing business logic and integrating 3rd party services. Years of experience, a BA in Computer science, numerous Magento certifications, as well as a SCRUM master one and an uncanny ability to break down problems — Pavel is irreplaceable.
Like many developers, Pavel's fond of gaming — RPGs and shooters specifically. Pavel has also recently picked up board games as a hobby. What sets Pavel apart from others, however, is his motorbike. Formerly very uncomfortable with fast speeds and not a fan of motorcycles in general, Pavel wanted to step out of his comfort zone and see if he can learn something new. He did. Now you'll often see Pavel taking his bike to work or just cruising around in the evenings!
With great colleagues, amazing parties and plenty of opportunities, Pavel's experience at Scandiweb has been and continues to be a very positive one!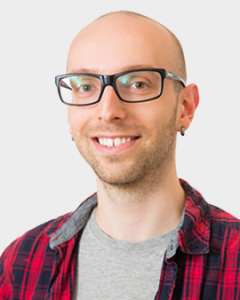 Viesturs Lujans
A budding chemist, young Viesturs attempted to create superglue, by adding various household chemicals to regular glue. Now he's a senior developer (indeed, one of the most senior developers) at Scandiweb, working with anything and everything — Magento, MeteorJS, C#… His work is his passion — always looking to do things better and quicker, Viesturs grasps and understands new things with enviable ease and, more importantly, is quick to implement new knowledge into practice. An invaluable member of the team, Viesturs has witnessed Scandiweb's growth almost from its inception and has been and continues to be an important driving force behind it!
Viesturs' other passion is video games. It's a hobby he shares with his wife and after a long day of coding, you'll find both of them journeying on digital adventures or releasing stress with the help of various first-person shooters!
Freedom, coupled with the opportunity to do what you want most, is why Viesturs has been with Scandiweb for as long as he has. There's plenty of opportunity for growth both for the employees, as well as the company, and it's amazing to see this opportunity used to its full potential!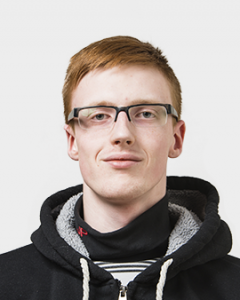 "Don't be afraid to try new things"
Indars Lejins
Born and raised in Garsene, the pearl of Selia, and a former die-hard believer in the existence of the Easter bunny, Indars is now a developer here at Scandiweb. Tasked with developing custom solutions for Magento 2 stores, Indars is always looking to do the best he can — a skill that defines him professionally, academically and personally. Another is patience. Indars' cool-headed approach helps projects stay on track — a necessity in an environment brimming with heated passion.
When he's not at work, Indars is either playing computer games(MMORPGs and FPSs), fixing cars or watching TV shows (Game of Thrones, Walking Dead, Mr. Robot). A mechanical whiz, Indars knows his car inside and out and always keeps it in tip-top condition. He's also a great fisherman and sometimes there's nothing better than a fresh morning spent on a lake, with a trusty rod.
Indars' favorite thing about Scandiweb are the people. There's an inspiring passion with which people dive into their work, but they're ready to resurface at a moments notice if anyone needs any help!