Episode 11: We have so many developers
The Scandiweb team is constantly growing since our applications are always open — that's the best way to make sure not miss out on bright & upcoming talent! The previous episodes saw a lot of tenured members of the team, so, in this episode, you'll meet some of the newer additions to the team!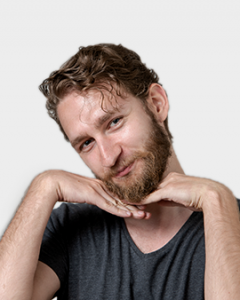 "Learn the card game "Zolīte" — it's a great way to become friends with adults"
Ainars Sondors
In kindergarten, Ainars forgot the name of a chess pawn. Thinking he had suddenly remembered it, he excitedly shouted it at the top of his lungs. Only he didn't say "pawn". He shouted a really inappropriate slur for female genitals. Now he's a web developer, holding a BA in Computer Science. Responsible for squashing front-end bugs, fixing layout issues on mobile devices and using every opportunity to learn, Ainars is a valuable addition to the Rockar team. A communicable guy by nature, Ainars perfected his teamwork skills while on his high school's student council, and it shows — never shying away from problems, Ainars is quick to vocalize and resolve any and every issue!
Ainars is a great folk dancer and is proud to say that he has already attended 5 Song and Dance festivals and participated in every single one — once as a singer, and four times as a folk dancer! The rest of Ainars' free time is mostly spent reading film analysis and books, and digging through music catalogs, prowling for hidden gems from the 60s & 80s.
Ainars' favorite things about Scandiweb? Flexible work hours, great co-workers, free drinks and his powerful work laptop!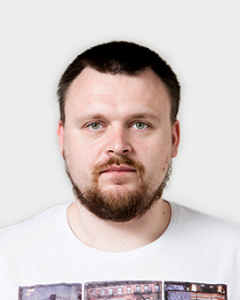 "Buy Bitcoin!"
Janis Circenis
Born and raised in Balvi, Janis is a developer and one of the most experienced new additions to the Scandiweb team! With over 8 years of programming experience, 5 of which have been abroad, Janis brings a lot to the table! Currently, Janis is working as a PHP developer on the HappySocks project doing any and all tasks necessary. His days are spent working with Magento 1 and Magento 2, writing code. Unsurprisingly, he highlights his experience as his most valuable asset for succeeding at the torrent of tasks!
Game development is what takes up most of Janis' free time, and… there are results! July saw Janis' game — Wetwork — accepted on Steam as an early access game! It's a significant milestone in a project that has spanned over 4 years and is in continued development; it's also a point of pride for Janis and rightfully so! Janis also enjoys physical activities and you will often find him at the gym!
According to Janis, what sets Scandiweb apart from other companies is the atmosphere — employees aren't constantly pushed and whipped to do work — it is your responsibility to do your tasks and it is also your opportunity to shine.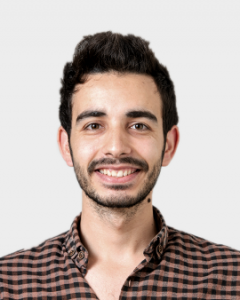 "After the rain, comes the sun"
Noreddine Belhadj Cheikh
Born and raised in Mostaganem, Algeria, Noreddine used to believe that pregnancy was the result of eating too much, and asked his mom to eat a lot because he wanted a little sister! Now he's a Magento developer, working on the Bonnier Art Gallery project. Noreddine has gotten to where he is now through hard work, sleepless night and strenuous self-discipline! Currently doing his MA in Information System Engineering, while working full-time, Noreddine is incredibly self-driven and will reach any goal he sets his mind to — a priceless skill for an up and coming developer!
Outside of work, Noreddine is passionately interested in the art of sleight of hand, hypnosis & human psychology. Artificial intelligence is another curiosity-sparking topic, and Noreddine likes to keep up with the latest trends and developments in the field! Noreddine is also a great barber — a skill he picked up when living in South Africa for 3 years — it's a crazy story you can ask him to tell you!
When prompted for his favorite thing about Scandiweb, Noreddine lists everything: the atmosphere — freedom & flexibility, the people — for their smarts & helpfulness, events — Scandifest, the management — especially the HR & the CEO! This is the perfect environment to learn, to grow and to thrive!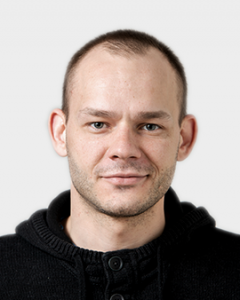 "Start coding as soon as possible!"
Edgars Urbans
A star-gazer by nature, since his childhood, Edgars believes in the existence of aliens. What began as a belief in little green people on Mars has evolved into a reflected scientific curiosity! Edgars is a developer, working on the HappySocks project, with his time dedicated to their Magento 2 website development. A self-taught programmer, Edgars has learned from every channel available — studying C++ on uDemy, attending online courses, engaging in programming challenges on the SoloLearn app. Quick-witted and determined, Edgars loves to learn and knows that the best lessons are those which are hard to learn!
Edgars is fascinated with anything you can drive/ride — cars, bikes, snowboards, planes, drones — anything whose movement you can control in space and time. Concurrently, Edgars has a passion for scientific topics, and primarily for those that have to do with space & cosmic travel. It comes then as no surprise that hard Sci-fi films such as the Alien franchise, Arrival, Contact, Ex Machina, Sunshine, District 9 have a special place in his heart.
Edgars' favorite aspect of Scandiweb is definitely the events — from parties to movie nights, to kayaking — lots of fantastic experiences!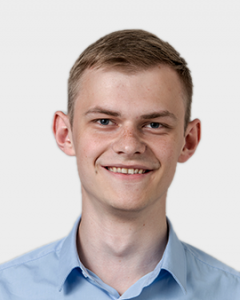 "Don't waste your most precious resource — time!"
Girts Livzenieks
Born and raised in Riga, Girts is now a developer and a part of the Rockar team, working primarily on the redesign of the Jaguar & Land Rover stores, but inescapably dabbling with some back-end tasks as well! Currently, in the process of getting a Computer Science BA and with 2 years of previous IT related work experience, Girts is constantly on the look-out for new opportunities to learn new skills and develop his current ones — he devours knowledge and his hunger is insatiable!
Theatres, concerts, and books take up most of Girts' free time, and you're likely to find him at some indie pop event, or zoned in on a book about self-development! Having spent most of his summers in the countryside as a kid, Girts is also well-versed in the tasks of land cultivation and can drive a tractor! The thing he's proud of, however, is living a true life — being able to function in accordance with the principles and values he holds dear!
Girts' favorite thing about Scandiweb — the global attitude and the youthful collective! These things bring a unique value and energy to the work being done!