Business overview
Huntsman is a London-based tailoring shop established back in 1849. They have recently expanded to America, translating more than a century-old tradition in their equestrian and sporting clothes and bespoke luxury suits for women and men. Huntsman brand innovated during pandemic lockdowns by creating a teleporting tailoring experience, premier delivery services, and other at-home solutions.
Huntsman online store is built on WordPress and managed by 3rd party developers at the time of SEO collaboration with scandiweb.
Challenge
Our overall goal was to increase revenue and sales numbers for the Huntsman online store. The client also wanted to increase rankings for keywords related to bespoke services, reaching the top 5 positions for valuable keywords. 
During the project, we worked with 3rd party developers, which impacted our ability to apply fixes quickly. This challenge was remedied by frequent meetings and effective communication.
Due to old pages present, we faced issues with keyword cannibalization. This required us to clean up the content, merge content where possible, and add redirects (discussed in the Approach section). 
Approach
We set a 4-month SEO strategy and action plan focusing on the US market.
Technical SEO improvements
First, we had to ensure the technical SEO setup was optimal so it was not a bottleneck for further optimization efforts.
Fixes after a thorough technical SEO audit:
Robots.txt and XML sitemap proper configuration
Fixed internal 404 and 500 errors 
Fixed over-indexation 
Page rendering issues solving
Page accessibility audit to avoid cloaking claims.
On-page SEO
Regarding on-page SEO, we focused most on keyword research and content optimization. 
Keyword research was done to identify improvement opportunities for existing pages and see what topics we still need to cover. We also performed content reviews and provided optimization recommendations on how to incorporate discovered keywords and better optimize the content of those pages.
We mainly optimized category pages since they had the highest potential to bring traffic based on the keywords found.
Existing content reviews included an overview of keyword usage, internal linking, meta attributes, correct use of headings, and overall content quality. We merged content and set redirects to resolve keyword cannibalization issues, in addition to new content and meta descriptions writing for most of Huntsman's landing pages.
Off-page SEO
In addition to on-page efforts, we performed competitor research and a backlink audit to evaluate the website's current backlink profile and eliminate toxic backlinks. The main focus was on local directories and NAP pages. 
Huntsman also had issues with spammy backlinks, so we prepared a disavow file to get rid of thousands of toxic backlinks. Because of that, their domain ranking went up from 47 to 52.
Results
We were successful in reaching the client's goal of growing organic traffic. With already the first changes applied, the number of new users visiting the website organically was up 9% MoM compared to the previous period, and revenue grew by 78%. Additionally, a decrease in bounce rate meant that users were most likely finding the information they were looking for and staying on the page for longer. 
Highly transactional brand keywords are stable and bring new traffic. One of our main focuses—bespoke products—shows excellent results for key queries after content updating: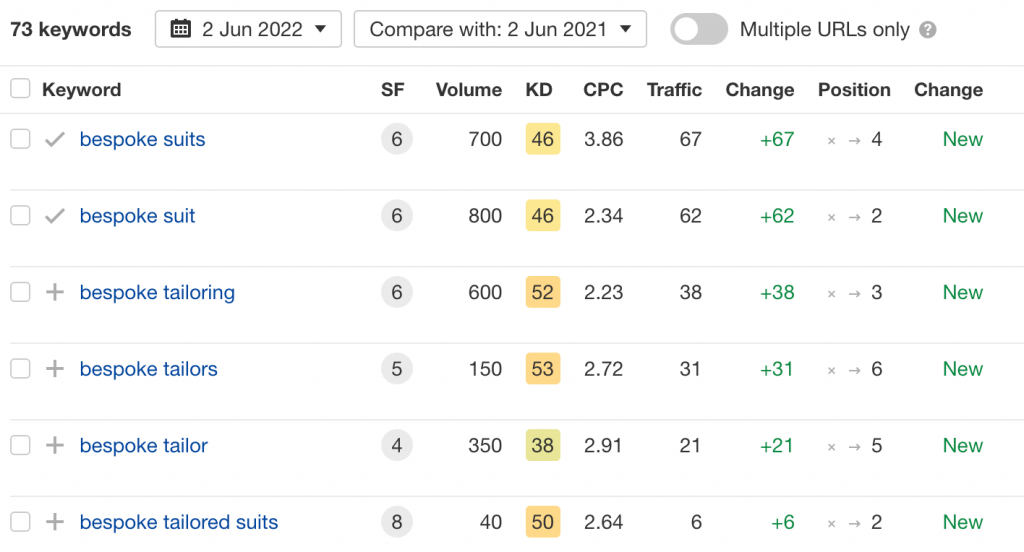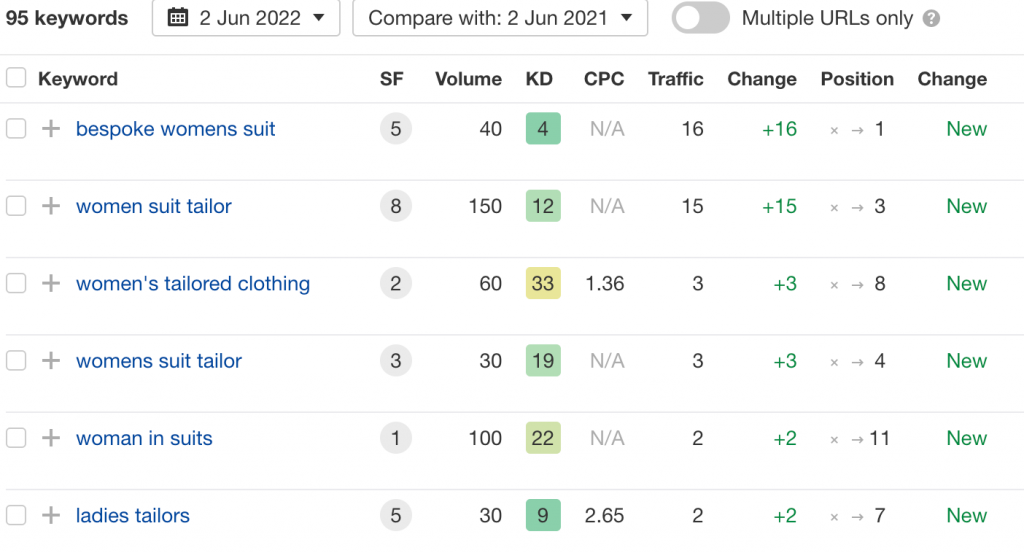 Image alt text optimization, a requirement for the US market, resulted in a 60% increase in clicks compared to the previous year.
Improvement highlights YOY
+170% revenue from organic traffic
+85% impressions
-26% bounce rate
+60% clicks.

Need a new SEO strategy to improve the search rankings of your store? Our SEO team is up for any challenge! Browse our SEO services or write us a message, and we'll get back to you within 48h.