About
Hairy Baby is an Irish clothing and accessories company selling t-shirts, sweatshirts, hoodies, different accessories, and other items with local sayings as part of the design. They pride themselves on a mission to spread good humor while ensuring that everything they do is sustainable.
Hairy Baby reached out to scandiweb with a plan to migrate from Magento to PWA and wanted to make sure that they don't lose organic traffic during the migration.
Challenge
The Hairy Baby team was concerned that the site was losing its main traffic source⁠—organic traffic since the lockdown ended. There was a 17% drop in overall clicks and a 30% drop in branded keywords compared to the previous 6 months. Therefore, they wanted to make sure that we work on content before going live with the new website.
When we started, they were mostly ranking for Irish saying-related keywords, but our goal was to try ranking for more generic keywords, like funny t-shirts, funny Irish t-shirts, etc.
Approach
Here are the main steps we took to ensure SEO support for Hairy Baby:
SEO audit and technical fixes before the go-live to prevent organic traffic loss during the migration to PWA
Site's organic performance report with additional UX & data tracking suggestions
Competitor and keyword research to find and implement new ranking opportunities within subcategories and target transactional keywords
Navigation menu audit, redesign, and recovery of lost traffic, organic clicks, and top-ranking keywords due to deleted subcategories
Go-live support with a focus on securing rankings.
Navigation menu redesign
We created a new navigation menu for Hairy Baby based on keyword research and previous organic traffic data. During the research, we found out that the main cause for organic traffic loss was subcategories that got deleted but not redirected. For example, historically, the landing page /funny-t-shirts was getting a lot of organic clicks on keywords we wanted to target, but since this landing page was deleted, keywords and traffic were lost.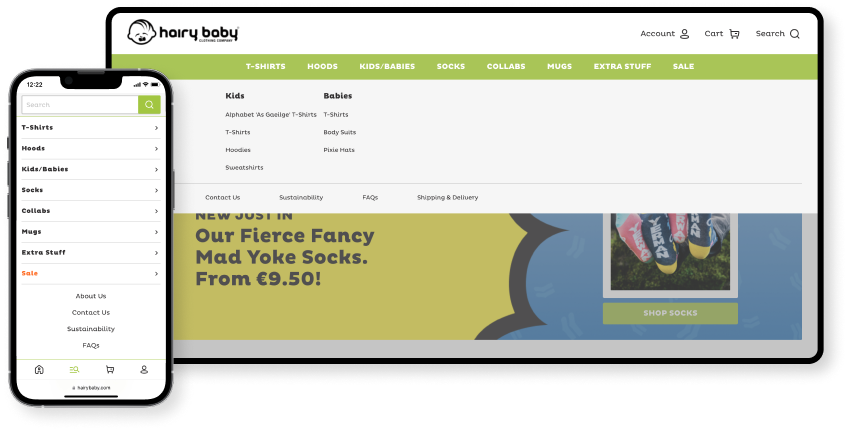 This gave us an idea to try and categorize their products more. Therefore, we performed competitor research to see what kind of subcategories are working for others. Most competitors used filters. Although they offered various subcategories, it had no value from an SEO perspective, but it was an opportunity for Hairy Baby.
We created the following new subcategories and did keyword research, mostly targeting specific, transactional keywords:
funny
vintage
tv
movies
Irish.
On-page optimization
Most meta titles and descriptions were missing on the Hairy Baby website. Based on the keyword research, we constructed meta attributes and added them to the content of each landing page.
Right after the migration, the client noticed a massive drop in organic traffic on Google Analytics. However, this was a false alarm connected to the GA setup and service workers. We identified a technical issue beyond the scope of SEO and CRO team efforts—the service workers were sending an additional request to the Hairy Baby servers when a new visitor landed on the site from a search engine. Given that the site is excluded from GA so that it doesn't refer to itself, the traffic falls under direct when it should be sent to organic. Developers were involved and the issue was resolved.
Results
As a result, we performed a successful migration from Magento to PWA for Hairy Baby without any drop in organic traffic after go-live, and we observed the results getting better every day with improvements across all KPIs.
Highlights MoM right after the migration compared to the previous period
+60% Google organic traffic
+300 additional orders
+123% additional revenue
+69% organic sessions
+139% revenue coming from organic traffic

After the go-live, Hairy Baby is ranking for many new keywords apart from the brand- or saying-related keywords. We also managed to increase their organic traffic from the UK and the US with opportunities to grow and attain clients outside of Ireland.
Are you planning a migration and need an experienced SEO team to support your website along the way? Let us help you! Learn more about the SEO services we offer or write us a message, and we'll get back to you within 48h.