Instagram has revolutionized the way we shop online, and one of its most notable features is the Instagram Checkout. If you're a business owner, understanding the intricacies of this feature can be a game-changer. In this guide, we'll delve deep into Instagram Checkout—how it works, its benefits for your business, eligibility requirements, and steps to set up your shop.
What is Instagram Checkout?
Instagram Checkout allows users to complete purchases directly from a business without ever leaving the Instagram platform. This feature is particularly beneficial for businesses as it offers a seamless shopping experience for customers. Currently, this feature is available only to eligible businesses in the US.
How does it work?
When you set up a shop on Instagram with checkout, customers can buy products from within the Instagram app. If your Instagram shop doesn't have checkout, product tags will direct customers to your website for purchases.
Benefits of Instagram Checkout
1. Streamlined and secure transactions
When a customer inputs their information to make a purchase on Instagram, the platform securely stores their payment details, eliminating the need for customers to create new accounts.
2. Outstanding shopping experience
Instagram upholds rigorous quality criteria for businesses and their merchandise. Each product undergoes a thorough review to guarantee top-notch listings and to restrict products that do not comply with Instagram's guidelines.
3. Reliable and precise descriptions
Throughout the review phase, Instagram verifies that images and product descriptions are accurate and consistent. This consistency fosters customer trust, assuring them that they receive precisely what they ordered.
4. Dependable payouts
Instagram partners with payment processors to manage all payments. Funds are typically transferred to the business's bank account between 8 and 10 business days.
5. Access to in-app product launches
Businesses can announce their product launches on Instagram. Customers can preview details and set reminders to purchase as soon as the product is available.
6. Dedicated product pages
These are product-focused pages that showcase all relevant information about a particular product. Businesses can also highlight products for sale and encourage people to purchase directly from Instagram posts without needing a catalog or shop.
Requirements for Checkout on Instagram
Eligibility and location
Currently, Checkout on Instagram is exclusive to businesses based in the US.
You must have a US bank account and a business address within the US to set up your shop with Instagram Checkout.
Essential information for setup
To set up Checkout on Instagram, you need the following information:
Business category and type: The nature and category of your business
US business address: A valid business address located within the United States
US bank account details: Necessary for collecting payouts from sales
State Tax Registration Number: Required for each state where your business operates, ensuring compliance with tax regulations
Federal Tax Identification Number: Should match the business representative's name and is used for financial reporting
Business representative's information: Personal or business identity details for verifying the authenticity of the business
Customer service details: Shipping options, return policy, and a dedicated customer service email for addressing customer queries and concerns
Instagram business account setup
Ensure your Instagram business account is linked to your Business Manager.
If you haven't set up a catalog or commerce account, you can create them during your shop setup process.
Steps to set up a shop on Instagram with Checkout
Begin by going to the Create your shop page and clicking Next.

If you're already selling through platforms like Shopify or BigCommerce, you can set up your shop by importing and synchronizing your products. Click on Sync a partner platform and proceed by following the provided link to finalize the setup on your partner's website.
Select a Checkout with Facebook or Instagram as your checkout method. Click Next.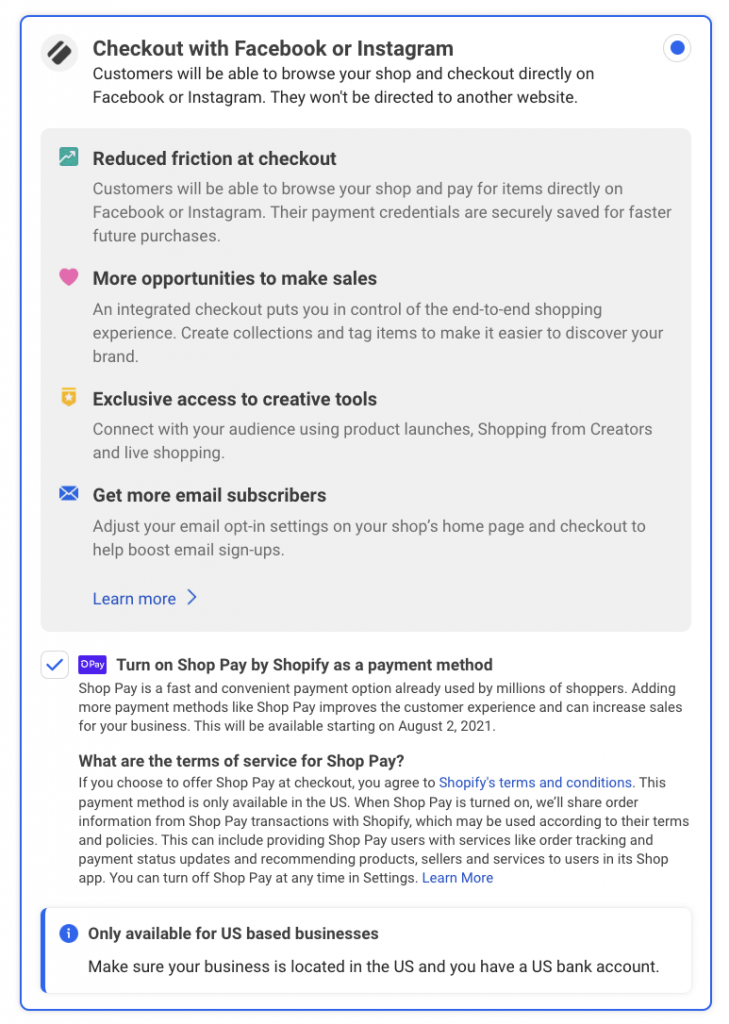 Select your Instagram business account or create a new one. Click Next.
Select the catalog you wish to use for your shop and click Next. Keep in mind that your chosen catalog must meet the eligibility requirements for shops, and it's important to note that you cannot change this catalog later.

If you don't already have a catalog, this step won't be visible. A catalog named "Items for (your Page's name and ID)" will be automatically created in Commerce Manager. You can add your items to it after completing your shop setup.
Review your shop details, agree to the Seller Agreement, and click Finish setup.
What to do next
Once you've successfully created your shop, your next steps should include:
Managing your catalog to add the products you want to sell (all catalog products are included by default, but you have control over which items appear).
Creating collections to feature specific groups of products.
Customizing the appearance of your shop.
Publishing your shop. Please note that people can view your shop once your collections have been reviewed and approved.
If you've set up a shop with checkout, note that Shop Pay by Shopify will be automatically enabled. You have the option to disable it if you don't want your customers to use Shop Pay at any time.
Frequently Asked Questions (FAQ) about Instagram Checkout
Are there any fees associated with using Instagram Checkout?
The processing fee is determined as a percentage of the entire transaction value, including taxes, surcharges, shipping costs, and state-mandated fees. It covers the expenses of payment processing and is applicable to all checkout transactions across various product categories on Instagram Shops. The current card processing fee is 2.9%.
How can I ensure my products meet Instagram's quality standards?
Instagram has a review process for all products listed for sale. Ensure your product images and descriptions are accurate, and avoid listing products that violate Instagram's policies. Regularly checking the checkout methods and eligibility requirements for shops on Instagram can also help.
I'm new to Instagram for business. How do I start with Instagram Checkout?
Starting with Instagram Checkout is straightforward. Follow the steps above on how to add checkout on Instagram.
Ready to supercharge your Instagram Shop? Reach out for a free consultation and let's elevate your sales strategy together. Your path to online shop success starts here!