Earlier this month we received a blocker regarding tracking issues for a client. The core issue was a missed step in our migration plan (download it here), specifically – several 3rd party service domains were not added to the Bypass cache host list.
What it is and why is this important?
PWA caches all scripts unless they are explicitly whitelisted in code. If cached, the scripts will not pass any data and will return errors in the console.
GTM debugger won't show any issues, thus it is important to always check the console when performing QA of tracking implementation, and skim for errors such as the following:


Additionally, you can inspect the Network log to see which requests have been blocked:
What do you need to do to prevent this?
When performing 3rd party script migration, make sure to gather all script domains and pass them to the development team.
In order to detect the script domains:
Go to GTM
Open the 3rd party script tag (e.g., Dotdigital tracking tag)
Within the script, check for the domain to which the data will be sent (in this case, static.trackedweb.net)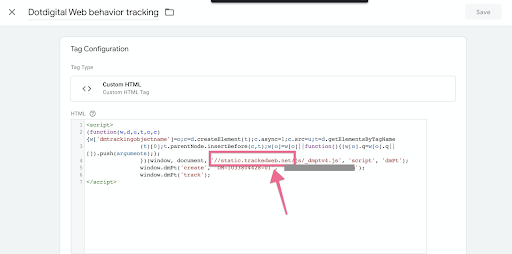 NOTE: As a rule, domains such as connect.facebook.net (Facebook pixel), www.google-analytics.com (GA), and GTM domains are whitelisted by default, yet it is still a good idea to double-check.
Need assistance on 3rd party script migration or expert advice on how to make your business decision-making more data-driven? Get in touch with our Analytics team and get a digital analytics health check as a first step!