The automotive industry has undergone a remarkable transformation through digitalization, with market leaders embracing cutting-edge technologies like Augmented Reality (AR) showrooms and 3D car configurators. This shift has paved the way for enhanced transparency in parts and pricing, making it easier for consumers to make informed decisions. Surprisingly, nearly two-thirds of potential buyers are now open to purchasing cars online, hinting at a significant shift in consumer behavior. By the year 2025, an estimated 6 million new vehicles are projected to be sold worldwide through eCommerce platforms.
Industry overview
In 2021, the global Automotive eCommerce industry achieved a valuation of $51.03 billion. The future looks even more promising, with a projected Compound Annual Growth Rate (CAGR) of 21.8% between 2022 and 2028, culminating in an anticipated market value of $202.94 billion by 2028. The rise of electrified and hybrid vehicles, coupled with the integration of 3D configurators and AR showrooms, fuels this remarkable growth. The benefits of eCommerce are clear: cost savings, improved customer experiences, and customer-centric protocols that drive sales.
Aftermarket car parts
Breaking down the market, aftermarket car parts play a substantial role. B2B transactions account for 34.7% of the aftermarket share, while B2C transactions make up the remaining 65.3%. This indicates a strong demand for quality auto parts in both commercial and individual contexts.
Embracing technological advancements
Staying ahead in a competitive market necessitates embracing technological advancements. Companies that invest in Research and Development (R&D) and adopt new technologies gain a competitive edge. Leading market players such as BMW, Volkswagen, and Audi are setting an example by incorporating AR and 3D configurator showrooms. This not only enhances customer experiences but also showcases the industry's commitment to staying at the forefront of technology.
The significance of configurators
When it comes to online car shopping, the devil is in the details—particularly with car configurators. The ways in which a configured car is displayed can significantly influence a potential buyer's decision. Ensuring comprehensive representations of vehicles, especially as technology becomes more sophisticated, is crucial.
Automotive eCommerce trends and data
The expansion of the automotive eCommerce market is primarily driven by increased demand for online retail solutions following Covid-19.
Around two-thirds of potential buyers are now open to purchasing cars online, with an anticipated 6 million new vehicles expected to be sold via eCommerce platforms by 2025.
Anticipate the adoption of multichannel outreach, stronger web presence, and cutting-edge options. This includes the rise of Augmented Reality (AR) buyer experience models and virtual showrooms.
Balancing virtual solutions with the preference for in-store experiences among consumers will be a key development to watch in the industry.
A study reveals that traffic distribution to automotive eCommerce websites is led by mobile devices, accounting for 61%, followed by desktop computers at 37%, and tablets at 2%.
Automotive eCommerce has firmly established itself as a significant and lasting presence in the market.
Dive deeper into the Automotive eCommerce industry by downloading the full report today.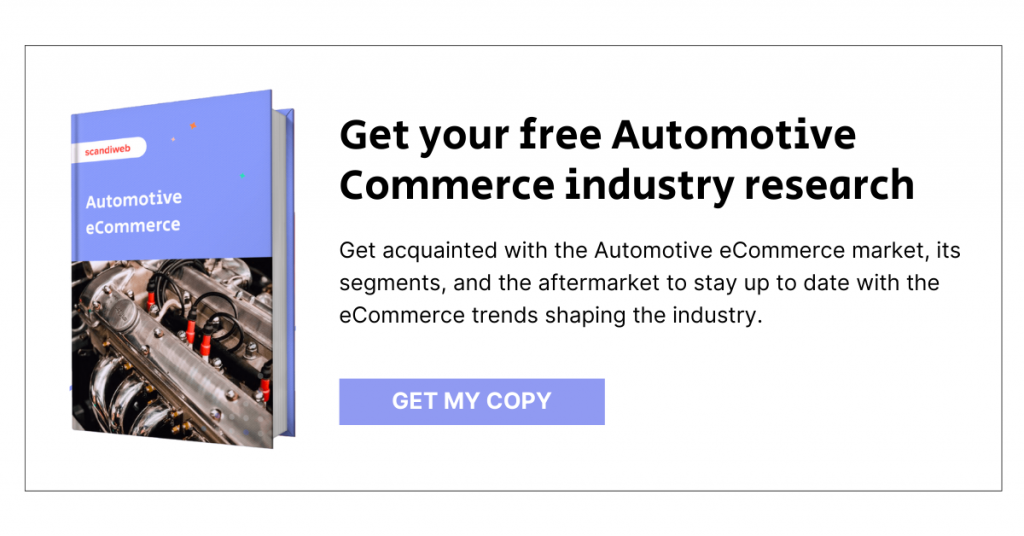 Get insights on automotive aftermarket and parts, configurators and VR showrooms, complement markets, market trends, and more.
Wrapping up
The automotive eCommerce industry is accelerating towards a tech-driven future, redefining the way consumers buy cars and car parts. As market players invest in technologies like AR showrooms and 3D configurators, and as consumers become more open to online car purchases, the industry's trajectory is clear. The automotive eCommerce landscape is undoubtedly one of innovation, growth, and transformation.
Explore our extensive collection of eCommerce industry reports covering the latest trends and strategies across various industries. All reports are free to download!