In the digital age, your most effective sales representative is your eCommerce site. For B2B suppliers, this means continuously embracing the ongoing demand for streamlined digital customer experiences to stay competitive.
Consumers don't want to depend on your working hours, your sales staff availability, and other aspects that may interfere with their shopping experience. And that's where eCommerce steps in. From a B2B retailer/wholesaler perspective, there's also resource dependency to take into account, as keeping a large customer service team involves costs you could use much more efficiently with eCommerce.
Avionos report found that 87% of B2B customers would pay more for a supplier with an excellent eCommerce portal, and 90% of B2B customers would turn to a competitor if a supplier's digital channel couldn't keep up with their needs.
How did we get here, and what does the future of B2B eCommerce entail? We discuss the ins and outs of B2B eCommerce today in this webinar. Feel free to check it out!
Although B2B users do form their online shopping habits as regular consumers, the B2B user journey has specifics that need to be accounted for.
B2B eCommerce tends to be more complex than B2C. It involves heavier research, an advanced pricing structure, more needs-based purchasing, and less marketing-driven buying. B2B online stores also tend to be visually more practical rather than focused on the look and feel of the site like it is in B2C. Let's compare the customer journey and customers' decision-making process between the two.
B2B customer journey
B2B vs B2C decision-making process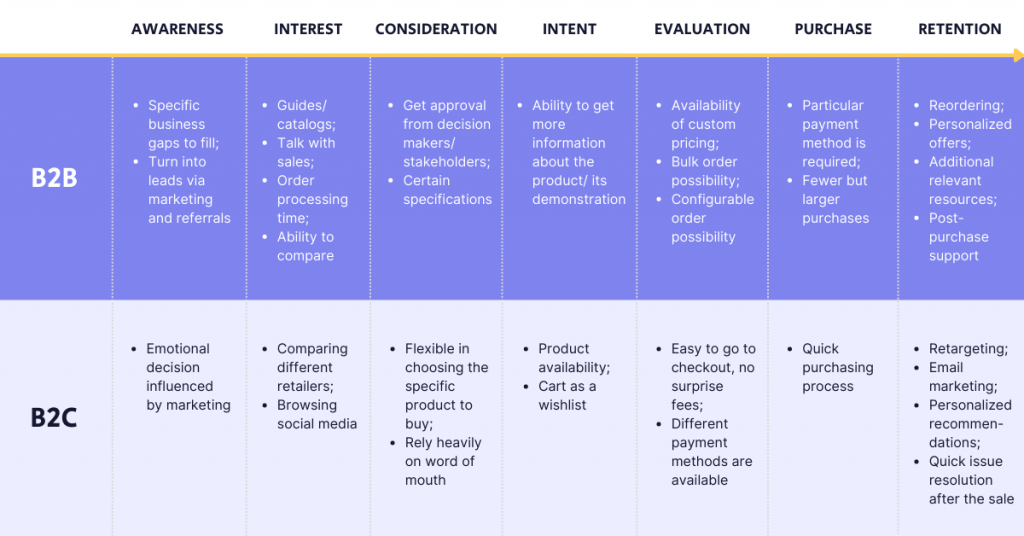 From awareness to purchase, there's a long way to go. In B2B eCommerce, you want to ensure your potential and returning customers encounter no roadblocks in their customer journey, whether it's product feature comparison, order processing, custom pricing availability, configurable and bulk order possibility, or payment selection and processing.
B2B customers are more rational than B2C and spend time researching and comparing different product options. Therefore, the customer journey you need to think about in B2B is more tactical and practical than in the marketing-driven B2C.
If your B2B customer journey has gaps, addressing them may help more customers to make a purchasing decision.
Further, we'll look at how you can match user needs at each stage of the journey through an example of a customer journey gap analysis we did for one of our B2B clients.
B2B customer journey gap analysis
Awareness
B2B buyers are rational consumers who have a particular product or problem in mind when coming to the site.
This is the first step in the journey, where the customer identifies the business need they want to resolve with a product or solution and searches for information about it.
Simplify site navigation by presenting main categories right away!
If you hide the menu with product categories, it requires more effort from users to navigate deeper into the purchasing funnel and to understand what products the website is selling. By displaying the main product categories right away, first-time visitors will be able to quickly understand the website's offering, as well as proceed deeper into the purchasing funnel.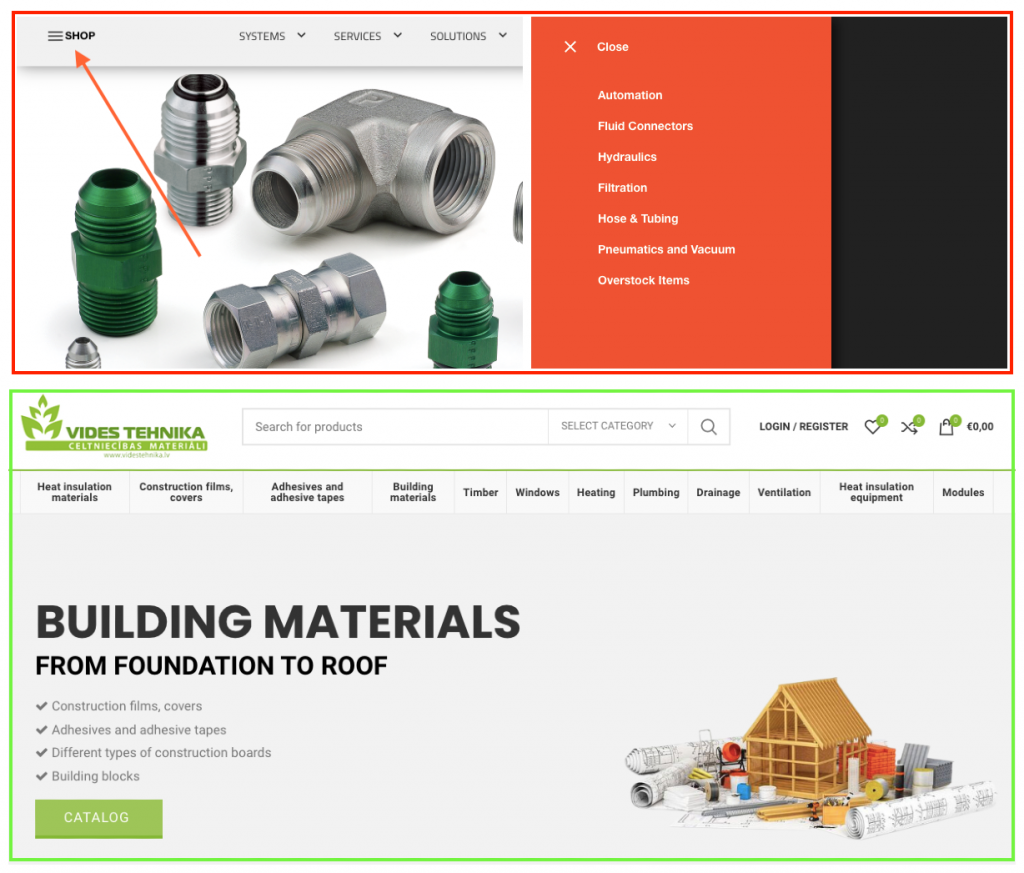 Interest
B2B customers tend to invest time in comparing different product options.
Interest is the second step of the journey. The customer looks at specific products, reviews testimonials from other customers, and compares them to identify options that may fit their needs.
Implement comparison functionality to the website!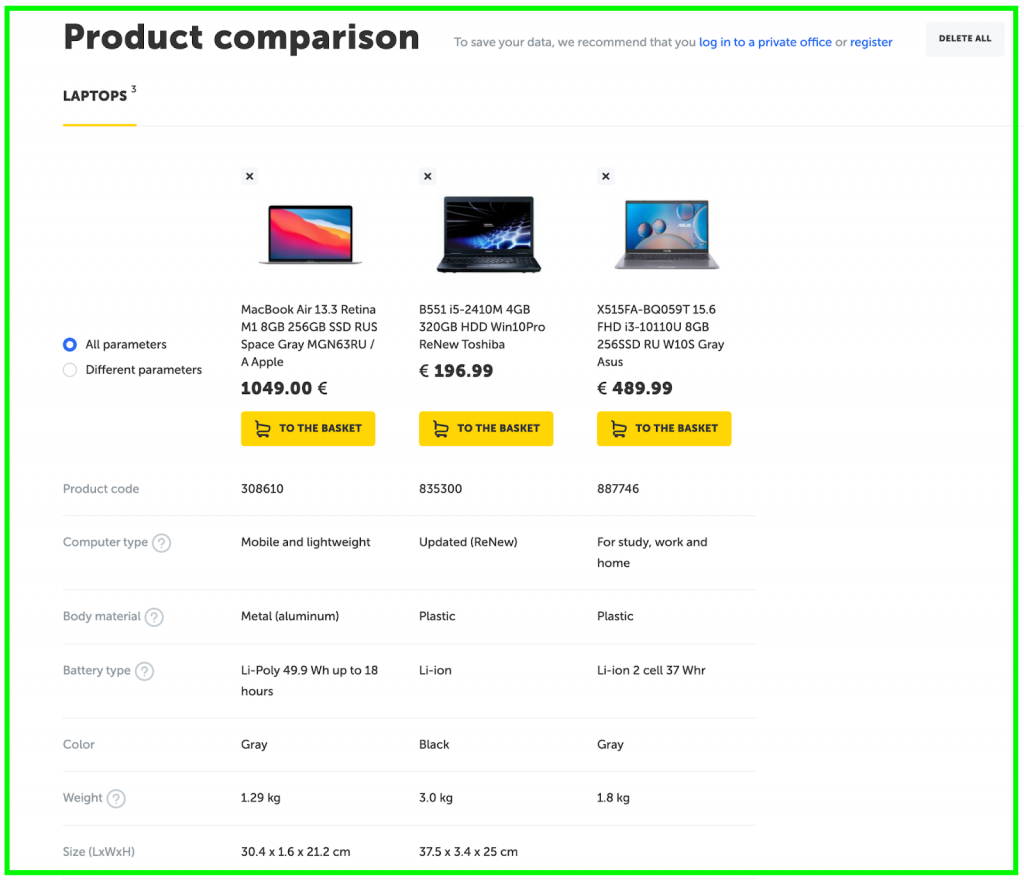 Ensure you allow visitors to compare several items simultaneously on your B2B site. By implementing the comparison function to the site, it becomes easier for users to compare several similar products and select the one that would fit their needs best.
Consideration
The decision to purchase in B2B eCommerce typically involves many layers of approval and the joint of many departments.
In this step, the customer shares information about the identified products with stakeholders, ultimately deciding on one or a few.
Allow users to easily save favorites and share the selected items!
If your website requires an account for users to create lists, that is not a convenient way for them to share information with their colleagues. Allow users to easily create lists and share them with their colleagues and other decision-makers to simplify user experience and potentially nudge them closer to making a conversion.
Moreover, add additional sharing options such as email, as Facebook and Twitter are not common corporate communication channels.

Intent
B2B customers always conduct a thorough research into product features and specifications.
During the 4th step of the journey, the customer obtains a demonstration of the product in some form and gets an in-depth look into product information and features.
Enrich product data!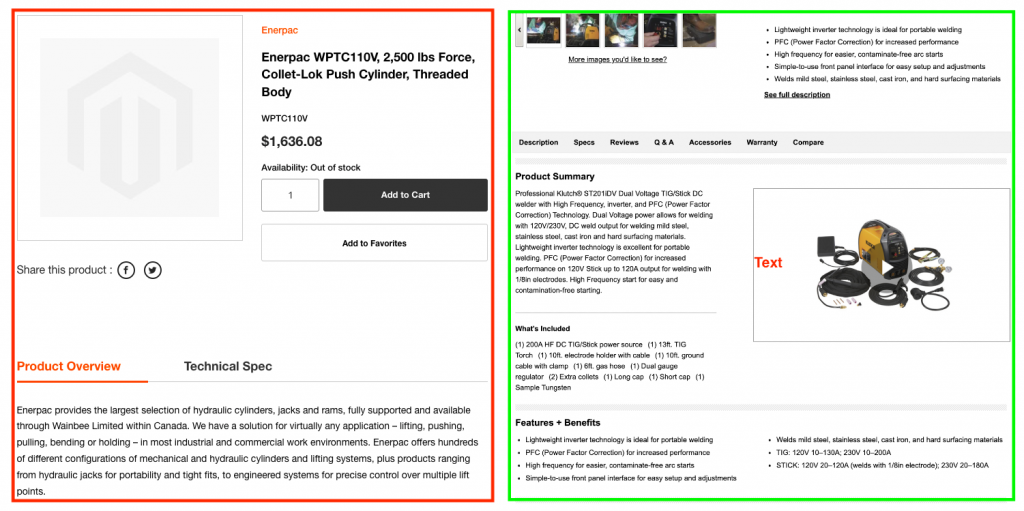 Ensure your site does not miss product information such as images, technical specifications, and shipping information. By enriching product detail pages with proper data, users can research the products on your site, increasing the likelihood of transactions.
Evaluation
The faster B2B customers can view products and add them to the cart in required quantities, the better.
This is the 5th step, where the customer receives an offer. At this stage, B2B customers already know the specific products they are interested in.
Allow users to easily select multiple items from the product list!

If products are aligned vertically by only a few products in a row, customers will need a longer time to scroll through and pick the products they are interested in, which may create friction. Display products as a list by default and let users select multiple items easily and quickly.
Purchase
In B2B, purchases are typically based on an ongoing and long-term relationship between suppliers and customers, which makes it necessary to have a user-friendly account section on the site.
You guessed it; this is the step where the customer makes a purchase.
Simplify the registration process!
There's hardly anything more frustrating than being ready to make a purchase but encountering a long, not-optimized registration form or an error while confirming the account creation. By simplifying the registration process and allowing users to sign up with their social accounts, more users might proceed to finalize the registration process and place an order without having to call customer service. Take a look at this good example!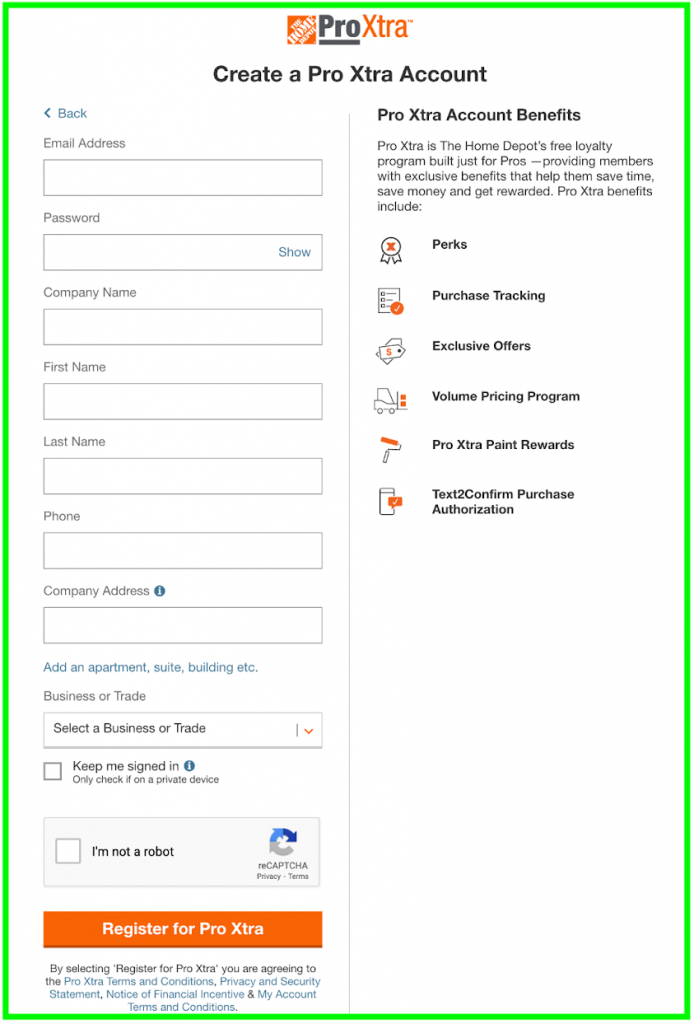 Retention
This is the final step of the journey, where the customer decides whether to stay with the seller for repeat orders.
One of the ways to build retention is by providing a flawless experience for your customers. If the first purchase was easy, customers would most likely consider you for the next ones. To keep your relationships with customers long-term, invest in optimizing the user account section of the site. Make sure users can reorder products in one click and offer relevant upsells, as well as learning materials.
P.S. We go into greater detail about what is a customer experience (CX) audit and why all eCommerce websites need it in this article.
If you want to find out more about B2B customer journey gap analysis or are ready to order an audit of your website, write to us at [email protected] or hit the orange chat bubble on the right to talk to one of our experts right away.