B2B eCommerce is on a remarkable upward trajectory. Valued at around $7 trillion in 2021, this market is projected to surge beyond $32 trillion by 2030. With a strong reliance on data analytics and the incorporation of machine learning and artificial intelligence, B2B eCommerce is witnessing a significant transformation. Stay with us to uncover all this and more as we navigate the ever-evolving landscape of B2B eCommerce.
Industry overview
B2B eCommerce's soaring growth and segmentation
The B2B eCommerce landscape is experiencing rapid growth, with a value of approximately $7 trillion in 2021 and an anticipated surge to over $32 trillion by 2030. This surge is fueled by the implementation of data analytics and advanced technologies such as machine learning and artificial intelligence. B2B eCommerce is categorized into buyer-oriented, supplier-oriented, and intermediary-oriented segments.
Notably, in 2021, the intermediary-oriented segment, facilitating trade between producers and customers, dominated with a revenue share exceeding 50%. This approach offers an attractive alternative by eliminating the need for hefty investments in website development, shipping, and customer service.
Complexities of B2B eCommerce niches
The complexity of B2B eCommerce operations becomes evident in the need for tailored solutions. Businesses in this realm must provide customizable catalog configurations, diverse pricing policies, and versatile shipping methods to cater to diverse customer demands. This includes bundling products from various companies with similar characteristics into easily navigable product types, allowing customers to filter specific criteria. The intricacies of catering to varied customer requirements within a cohesive framework present a significant challenge in B2B eCommerce.
Navigating B2B data analytics challenges
Effective B2B data analytics demands the consolidation and integration of information from diverse sources. This aggregated data serves multiple purposes, including customer acquisition analysis, eCommerce evaluation, marketing strategies, and broader research endeavors. The complexities of combining information from disparate origins present a hurdle in creating comprehensive dashboards that can provide valuable insights across multiple domains within the B2B eCommerce sector.
Complexities of B2B eCommerce
One of the complexities of B2B is the bespoke user experience that needs to be delivered in multiple aspects of the business model. Customers need to constantly be in the loop for changes in trends and best practices.
eCommerce platforms and shops for B2B businesses need to deliver customizable catalog configurations, multiple pricing policies, and shipping methods to align with customer needs.
Payment options are an essential integration feature for B2B eCommerce merchants, as having only two or three mainstream methods can prove troublesome for purchasers.
A significant increase in willingness to spend online has been observed. 35% of B2B customers state they would pay over $500 thousand in a single eCommerce transaction. Having just one payment method available could be a dealbreaker for many.
It is advisable to incorporate different user journey personalizations based on each B2B eCommerce company's specific industry, their current location, or even the demographics of customers.
Key trends in B2B eCommerce
Personalization with AI and ML
The integration of AI and ML technologies into eCommerce platforms brings about personalization and recommendations during the checkout process, enhancing user experiences.
The dominance of B2B marketplaces
Major marketplaces are the primary choice for most B2B buyers, providing transparency, information, and easy price comparisons. These large B2B marketplaces possess extensive audience reach, attracting emerging players in the B2B landscape.
Streamlining support processes
Lengthy and inconvenient support processes, especially for businesses with vast customer bases and catalogs, are being addressed. Self-service portals, equipped with FAQs and how-to videos, empower customers to find answers independently, thereby enhancing customer experiences.
Explore the world of B2B eCommerce with our free industry report.
Learn about B2B eCommerce and how it compares to other business models
Discover the advantages of B2B eCommerce
Get practical tips on lead generation
Explore different tech implementation ideas through real case studies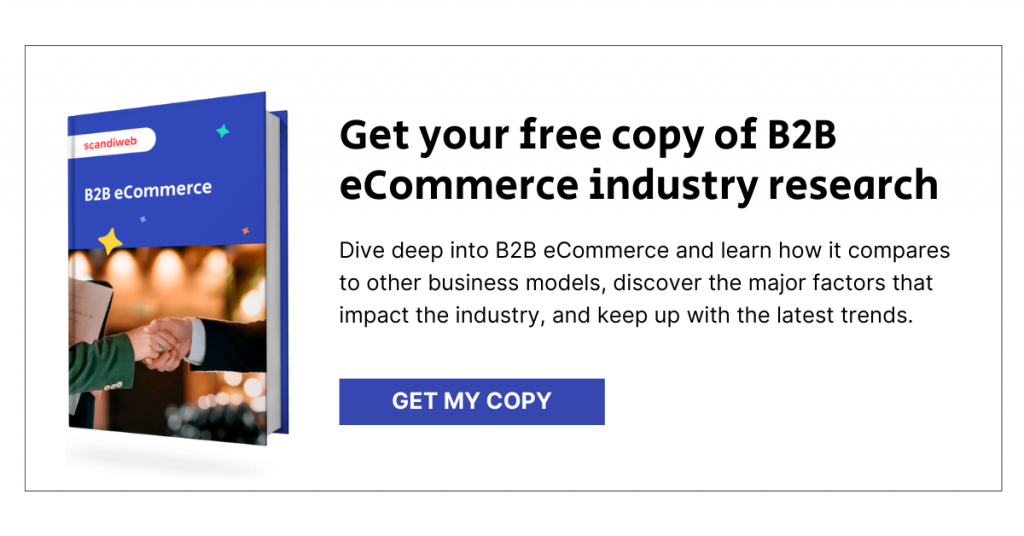 Wrapping up
B2B eCommerce is in the midst of a revolutionary phase, with exponential growth projected. The adoption of advanced technologies, particularly AI and ML, is reshaping the industry's landscape. The ascendancy of B2B marketplaces is reshaping how business transactions occur, fostering transparency and accessibility. As the industry strives to optimize customer experiences, it's embracing self-service solutions to streamline interactions and create a more efficient customer journey. In an era marked by rapid technological evolution, B2B eCommerce stands at the forefront of innovation, redefining how businesses engage and thrive in the digital age.
Explore our extensive collection of eCommerce industry reports covering the latest trends and strategies across various industries. All reports are free to download!